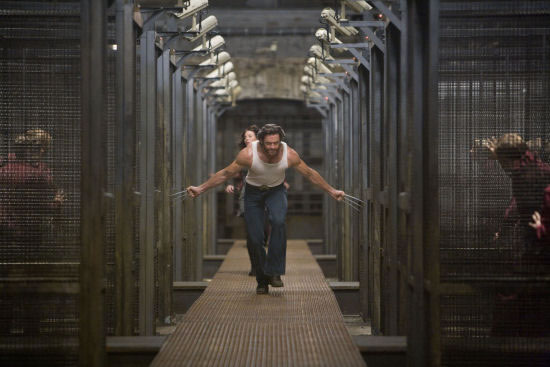 This news sounded suspect, having first broken on April 1, but since it has been reported by both  the BBC and CNN, I think we can trust it. Apparently, a work pint version of X-MEN ORIGINS: WOLVERINE – which does not open in the U.S. till May 1 – has been leaked to online file sharing websites. The copy is said to be of high quality, without the usual signs of an unfinished film (i.e., a timecode or a studio watermark):
The movie is incomplete, with some special effects still in need of fine tuning and green screens and wires attached to actors still visible.
[…] Since being uploaded to file sharing websites on Tuesday, more than 75,000 copies of the film have already been downloaded and reviews by users have started appearing online.
One user wrote on aintitcool.com: "The CGI is missing and the movie looks horrible without it….."
Collidor.com has posted a reponse from 20th Century Fox regarding the piracy of their blockbuster:
Last night, a stolen, incomplete and early version of X-Men Origins: Wolverine was posted illegally on websites. It was without many effects and had missing scenes and temporary sound and music. We immediately contacted the appropriate legal authorities and had it removed. We forensically mark our content so we can identify sources that make it available or download it. The source of the initial leak and any subsequent postings will be prosecuted to the fullest extent of the law – the courts have handed down significant criminal sentences for such acts and the last person who committed such a crime is still in jail. The FBI and the MPAA also are actively investigating this crime. We are encouraged by the support of fansites condemning piracy and this illegal posting and pointing out that such theft undermines the enormous efforts of the filmmakers and actors, and above all, hurts the fans of the film.
CNN notes the difficulties in tracking down the source of the leak and also in preventing the spread of the bootlegged version. Even though the website that first posed the workprint of X-MEN ORIGINS: WOLVERINE is shut down, the file has already spread to thousand of people who can make copies and share it with friends. There is concern that this could affect the opening weekend box office:
Steve Zeitchik, who covers the film industry for The Hollywood Reporter, said the studio's biggest concern may be that having people view a rough cut "completely throws the studios off their game" of building a positive buzz for the movie.
"If people see this movie, and they don't like it, and they tell their friends, and their friends blog about it, and it just spreads throughout the blogosphere, there are a lot of people that don't even get near a pirated copy of this film, who don't go see [the movie in theaters] because of this leak," Zeitchik said.
However, the fears may be ungrounded. CNN quotes 25-year-old movie reviewer Kent Lundbald, who got a copy of X-MEN ORIGINS: WOLVERINE from a friend, and his response was positive:
"Even in this rough form, it's much better than the last 'X-Men' outing or anything Fox has given us in a long, long time," Lundblad said…
Reviewboard Magazine has also posted a positive response that called the film "superb" and promises "a plot twist…that may or may not surprise some fans." Writes Edmund Torbet:
X-Men: Originsmaintains positive air surrounding the X-Men films. While its cast of mutants isn't nearly as spectacular and there's a certain charm missing without Patrick Stewart and Ian McKellen, X-Men: Origins manages to hold its own and even emerges as one of the finest action/fantasy films of 2009.