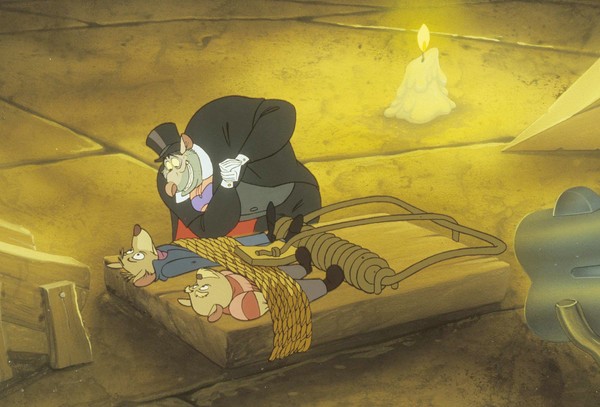 THE GREAT MOUSE DETECTIVE (1986) has just recently been re-issued on Disney DVD in an all new digital restoration and the movie now looks better than ever.  It was one of the first animated films to emerge from the studio after Michael Eisner, Jeffrey Katzenberg and Roy Disney took over  and brought new life to Disney animation, as can be seen in Don Hahn's current documentary WAKING SLEEPING BEATTY. In fact, Don Hahn was the  production manager on THE GREAT MOUSE DETECTIVE, which was directed by John Musker and Ron Clements, who would go on to great animated success  with THE LITTLE MERMAID, ALADDIN, and most recently THE PRINCESS AND THE FROG.
The Great Mouse Detective also marked the first and only time Disney asked Vincent Price to voice a character in one of their feature animated films.  Glen Keane who was supervising animator for the character of Ratigan related how Vincent Price came to be cast in the film:  "We found the voice for Professor Ratigan while watching the 1950 movie Champagne for Caesar. We originally decided to view the film since it starred Ronald Colman, and we were considering his voice as a possible model for Ratigan's. Vincent Price played the villain in that movie and as soon as he came on, we realized we had found the perfect actor for the role.  Price's expressive voice and attitude inspired us to further redesign the character."
Originally Ratigan had been designed as a thin and wiry rodent, but as Glen Keane notes, Vincent Price's magniloquent rendering of Ratigan's voice led the filmmakers to turn the part into a much larger and more powerful character.  Below are some of Vincent Price's comments made in 1985, when the film was still titled Basil of Baker Street.
Q: How do you feel about the musical scores in your movies? Boris Karloff felt that background music sometimes got in the way of an actor's performance.
VINCENT PRICE: It all depends on how well it's done. Laura has one of the most famous scores ever written and I never felt it got in the way at all.  When we all went to see Laura on opening night, Gene Tierney, Clifton Webb, Judith Anderson, Dana Andrews and myself, we had never heard the score! That was written long after the film was finished. So we sat there and thought, "isn't that marvelous."  We also watched ourselves, as well.  Sometimes though, the score does get in the way. I must say with some of those Alfred Newman scores, you often felt that the orchestra was swelling behind you, but nothing was swelling on the screen. For the most part I think the scores have fit very well. David Raksin, who did Laura was really a very good composer.  I just recorded a song a few weeks ago with Henry Mancini, who is doing the score to a full-length animated Disney feature called Basil of Baker Street.  Henry Mancini wrote two songs for me and one of them is done like a big Busby Berkeley production number called The World's Greatest Criminal Mind.


Q: You play the arch-villain?
VINCENT PRICE:  Yes…  naturally.  He's really Professor Moriarty but he's called Ratigan, because although he's a rat, he likes to think of himself as just a large mouse.  It's a Sherlock Holmes story, but Sherlock is a mouse called Basil.  Strangely enough, I seem to be overrun with Sherlock Holmes these days because every week I introduce a new episode of Sherlock Holmes on (The PBS-Television show) Mystery.
Q: You've done animated films before this, although this is the first time you've done a Disney animated feature.
VINCENT PRICE: Yes and Disney is really a magical name to me. They had never offered me one of these parts before, so I really wanted to do it because when you've been around as long as I have what you look for are new challenges and voicing Ratigan was a real challenge!  Of course I've always been visually minded and a big fan of animation, but when they first asked me to do it they wanted me to audition. If anyone but the Disney people had asked me to do that I would have been offended. I was actually in a state of real terror, because I didn't know what they wanted. In the end it turned out to be a very enjoyable experience. I loved doing it because I got to see the behind-the-scenes process of making an animated movie. The artists showed me hundreds of character sketches they had already made for Ratigan and they gave me the freedom to expand on that, because they wanted my interpretation of the character. So I was a part of the creative process. They ended up basing a lot of Ratigan's personality on my gestures and movements, because while I was recording the dialogue in the studio they videotaped me. It was wonderful, because in the final movie you can see the character taking on your humanity, which is what they like because the more human the mouse or the rat is, the better it is for the picture.
Q: Do you play Ratigan with a sense of humor?
VINCENT PRICE: Yes, he's got a  huge sense of humor about himself, although he is deadly serious about crime.  Ratigan is a real larger than life villain, so I did the part by exaggerating it. Besides being a great villain, Ratigan is also a great actor who plays at being a great villain in the story, which all great villains should be. This is his theory and it's mine, too.  A hero is just a hero, but a villain has to fool you all the time. He has many more facets to his character. He has to be charming, witty, decadent and funny. Everything is going on at the same time, so he's much more fun to play.
Q: I understand that the animators screened your old movie Champagne For Caesar thinking they could use Ronald Colman's voice as a guide for Ratigan and when they heard your voice in the film they thought you would be a good fit for the part.


VINCENT PRICE:  Well, you know Champagne For Caesar is one of my favorite pictures. It was one of the funniest scripts I'd ever read and my favorite actor of all the actors I ever saw on the screen was Ronald Colman. I really worshiped him. When I was a beginning actor, I made my first movie,  Service DeLuxe (1938)  and it was a disaster, because I didn't know how to do movie acting.  So I went to a woman, Laura Elliot, that everybody in the theater who came out to Hollywood went to. Helen Hayes and so on, they all went to her to study the technique of film acting. It involved learning how to control your face, because when you are thrown up on a huge screen, and your face is 20-feet high, when you start to talk it can suddenly look like your eating the screen, and a lot of actors do! So she taught us how to control our face, so we don't mug, because actors in the theater tend to mug a bit. She was invaluable, and we learned a great deal from her. One of her recipes for all of us, was to go and see two actors. She said, "I would recommend that you go and see any film that you can, whether it's a new film, or an old film, with Charles Boyer or Ronald Colman." So I went to see every film of theirs that I could to learn and I found that Ronald Colman was the master of his craft. He never really eye-contacts anyone, it's always a sort of lower case thing, so you wonder who's he's talking to. Then one day I found out I was being cast by my friend (director) Richard Whorf in Champagne For Caesar with Ronald Colman.  Ronnie was one of the most charming men in the business and I did his last picture with him, a little fantasy called The Story of Mankind that was a dreadful picture! A reporter came into the dressing room while Ronnie, Cedric Hardwicke and I were sitting around and this interviewer said, "Mr. Colman, where did they get the story for this picture?" He said, "from the jacket of the book!"
[serialposts]