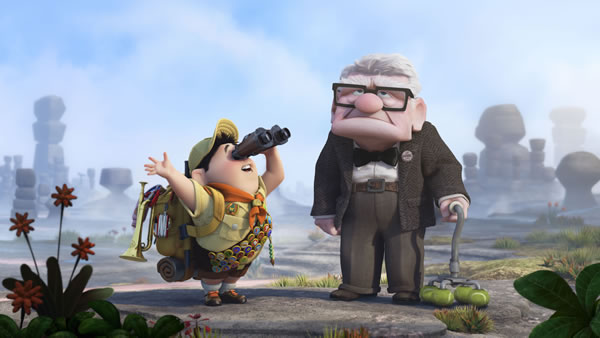 Pixar's 3-D animated blockbuster UP remained aloft at the box office during its second weekend in theatres, despite strong competition from THE HANGOVER, which made its debut in second place. Meanwhile, the weekend's big science fiction film debut, LAND OF THE LOST, came in a distant third.
UP earned $44.24-million, raising its two-week total to $137.3-million.
LAND OF THE LOST made its debut in over 3,500 theatres but earned only $19.5-million, below expectations for a comedy starring Will Ferrell.
As for other returning science fiction, fantasy, and horror films…
NIGHT AT THE MUSEUM: BATTLE OF THE SMITHSONIAN was in fourth place with $14.6-million, $127.3-million total.
STAR TREK was in fifth place with $8.4-million, $222.8-million total
TERMINATOR SALVATION was in sixth place with $8.2-million.
DRAG ME TO HELL fell from fourth to seventh place in its second weekend with $7.3-million, yielding a two-week total of $28.5-million – typical for a generic horror film these days.
ANGELS & DEMONS was in eighth place with $6.5-million, $116.1-million total.
X-MEN ORIGINS: WOLVERINE dropped out of the Top Ten, falling from #8 to #11 with $1.86-million. After six weeks in theatres, the film has earned $174.3-million.