There is a foreboding, even hellish, and opaque side to human nature that is no more explainable than the ludicrousness behind the 2008 remake of genre classic THE DAY THE EARTH STOOD STILL. (Sorry, I'm still flabbergasted over that utter mess.) And writer-director Bryan Bertino doesn't even try to offer answers in his feature debut, THE STRANGERS. That, I think, is to his credit in a movie that should be classified as a thriller, rather than a horror film (as it was sold by Universal Studios). I would argue that horror movies traditionally employ some sort of seemingly supernatural quality – something that mere mortals cannot escape or altogether defeat (i.e. Michael Myers, Jason or Freddy). If not that, then they should simply engage in over-the-top camp — intended or no — and gore, like THE TEXAS CHAINSAW MASECRE or MY BLOODY VALENTINE.
THE STRANGERS, which is simply about a couple who are terrorized in a rural home, fits in neither category. Its roots are entwined within something that can ultimately be even more terrifying – the dark reality of mankind's natural makeup. Bertino doesn't ask why evil is doing what it does; he simply explores the crumbling effect it has on the unfortunate couple trapped in his real-time story. One could think of it as a psychological thriller, minus most of the psychology. The only insight we're given as to why the antagonists act as they do comes in the form of the answer one of them gives to Liv Tyler's question, "Why are you doing this to us?!" The response is simply, "Because you were home."
I think one of the elements that bothered some folks is the events seems to occur for no rhyme or reason. But that is one of the more interesting aspects of the piece. We always want cathartic answers; we want to delve into the whys of things and find some sort of cleansing, but we simply cannot always understand. We are complex beasts, possessing the potential for both good and evil. THE STRANGERS takes things no further than that.
The film has been called sadistic among other things. But again, one of the things that disturbs some viewers who seem able to more easily sit through movies like SAW is the fact that we're watching people who are supposed to be real terrify a couple that is also supposed to be real. And that irritated and disturbed those viewers deep down, especially when they didn't get the answers they desired.
One of the more chilling moments — because we know the reality of such people exists — comes near the end when one of the antagonists says quietly, "It gets easier" to another, who a moment before had stepped out of their truck to retrieve a pamphlet from a passing Mormon boy. The film probably should have ended there, partially because shortly after this telling exchange comes one of the film's cheesiest moments.
The performances feel much more genuine than in typical thriller or horror fair, and this adds to the discomfort. Liv Tyler was a perfect choice, because of her soft, doe-like nature and her ability to act. Not only did one empathize with the terror that she portrayed, but she was also quite genuine in the other aspects of her performance, such as in her relationship with Scott Speedman's character (another rather intriguingly ambiguous aspect of the film).
Tyler's performance is underrated because it lies within the scare genre, and as we look back at overlooked genre films of 2008 I'd say she deserves to be held up above many of her peers. She has a refreshing natural quality about her that lends believability to her performances, even when her director puts her through some dopey moments.
I'm not sure how one jumps from a gaffer and bit actor to writer-director, but Bertino managed it. And though he puts his characters through some lunk-headed moves in both those areas, he does demonstrate a calm command behind the camera. He may grow into something of note.
THE STRANGERS is not a great film. It falters in several spots as it moves along — especially at its end — and it never lives up to the potential that its trailer suggested, but it does have its strong points, with Tyler and a controlled, methodic pacing being two of Bertino's smarter strategic employs.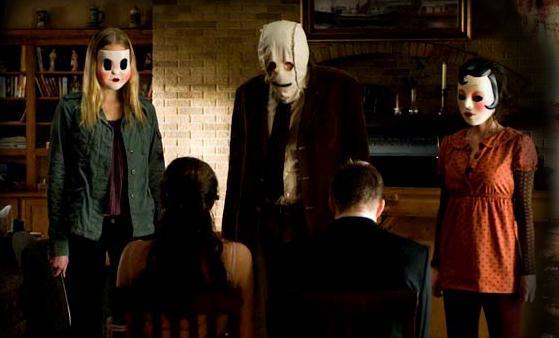 THE STRANGERS (Rogue Pictures, 2008; 107 min.) Directed by Bryan Bertino.  Screenplay by Bryan Bertino.  Produced by Doug Davison, Nathan Kahane and Roy Lee.  Executive Produced by Kelli Konop, Joe Drake, Sonny Mallhi, Trevor Macy, and Marc D. Evans.  Cinematography by Peter Sova.  Production Design by John D. Kretschmer.  Costumes by Susan Kaufmann.  Special Effects Supervision by Mark Freund.  Music by tomandandy.  Edited By Kevin Greutert.  Cast: Scott Speedman, Liv Tyler, Glenn Howerton, Gemma Ward, Kip Weeks, Laura Margolis, Alex Fisher and Peter Clayton-Luce.  MPAA Rating: R for violence, terror and language.