Pearry Teo's 2008 cyberpunk science fiction thriller, THE GENE GENERATION,  builds an effective futuristic environment, borrowing liberally from BLADE RUNNER, MAD MAX, and other cinematic cyberpunk landmarks, while creating its own unique post-modern landscape. The film is greatly aided by an excellent musical score from award winning composer Scott Glasgow, which provides a great sense of size and scope and expansiveness through massive chords of orchestra and choir, offset with ethnic instruments and vocalizations associated with Bai Ling's character. The music also emphasizes the underlying intimacy and emotional attachment sought by the characters, especially the pathos embodied in Bai Ling's Michelle.
Scott Glasgow came to Hollywood in 2001 after having earned his Masters degree from the San Francisco Conservatory of Music. He'd been awarded an ASCAP fellowship to study film scoring at the Aspen Music Festival with John Corigliano and recorded with David Zinman's Conducting Orchestra.
"When I was young I was watching BACK TO THE FUTURE and STAR WARS and all of these great movies, and the scores to those films really inspired me," Glasgow said, describing his journey into professional film scoring. "I was into classical music very early on, and I think there just was a connection that was made through those two things."
Since his arrival in Hollywood, Scott began working as an assistant for such composers as Christopher Young, Ed Shearmur, Bruce Broughton, Elia Cmiral, and others, lending a hand on the scores for THE GRUDGE, SPIDER-MAN 2, SKELETON KEY, WRONG TURN, and the like. These experiences were a perfect training ground to refine his skills in the business of making movie music.
"There are so many subtle things that you learn in those environments," he said. "It's learning the process in a way that you can't really get from a book or from a classroom. There are so many little things that you pick up by just being in the room and feeling the interaction between composer and director and just seeing how it works."
Since 2005 Glasgow steadily increased his exposure and reputation as a film composer in his own right. His first feature score was CHASING GHOSTS, a crime thriller for director Kyle Jackson, for whom he had scored a short film while at USC. The opportunity to use a live orchestra, rather than synth samples, was also a great experience for a young film composer.
"CHASING GHOSTS was a great first time experience," Glasgow remarked. "We ended up going to Bratislava to record about 35 or 40 strings. I think it is some of my best music so far."
The next film to come his way was ROBOTECH: THE SHADOW CHRONICLES, a big-screen animated feature based on the Japanese television series that had become popular on American TV during the 1980s.
"ROBOTECH is a very dense universe with a lot of characters and themes, so I thought a leitmotif type score would really fit this film," said Glasgow. "It was something that was brought up because of how well it worked in STAR WARS."
The music for Harmony Gold's original anime TV series, composed by Italian composer Ulpio Minucci, was not a heavily motivic score; however, Glasgow was asked to include Minucci's main theme in his music for the feature film.
"There was a time when I rewrote the title with different chords and counterpoint, but the night before the recording session I thought, 'Forget it! I'm going back to Minucci's exact notes!'" Glasgow recalled. "I took out his score, copied it out exactly and reorchestrated it for large orchestra, and pulled my changes out. I knew it was one of those things that needed to be as close as possible with some small updates."
By having specific musical themes associated with specific characters, the score helped keep track of them and their interactions as the story played out.
"Occasionally I'll bring a character's theme in who's not even on the screen yet, but he might be coming up, or there's some sort of allusion to that person," Glasgow explained. "There are themes that are not related to a specific character, such as the 'Hero's Theme' that pops up throughout the film. Generally, however, the use of a particular theme is dictated by what is on the screen and that's what makes the score so integrated with the film."
Like CHASING GHOSTS, ROBOTECH was an orchestral score, recorded with the Prague Philharmonic Orchestra. "We went for a lot of the big, classical orchestra sound," said Glasgow. "There's a lot of STAR WARS influence; there's some Holst's Planets type stuff; there's a Honegger Symphony No. 3 flavor in there; there's a Wagner kind of section in there. There's all kinds of things that influenced this score – but all in my own voice."
Glasgow reunited with Kyle Jackson in 2007, when Jackson, who was editing HACK!, a horror comedy directed by Matt Flynn in 2007, suggested Glasgow as composer. Glasgow wrote and conducted a large orchestral score, playing straight man to the film's multiple parodies.
"The film has THE SHINING and JAWS and THE RING, and so each time I came to those scenes, it was pretty much dictated that this is the music that was gonna be written for that scene" said Glasgow. "The story just weaves in and out between all these film parodies. I still tried to make it my own flavor, though – for example, on the JAWS theme, I just inverted the JAWS theme we are all familiar with."
The opportunity to conduct a fairly large sized orchestra – still a luxury for an independent film like this – made the experience particularly satisfying for the composer.
"I think HACK! is the only score of mine that was fully realized the way I intended it, and it was mostly recorded live," he said. "On many of these films, I'm writing orchestral music but we don't actually get an orchestra to record it, or we get a partial orchestra. On HACK! we went to Europe and recorded the orchestra like it's supposed to be done, and that's what came out. In some ways I think it's one of my best sounding scores I've written – it breathes really well."
Glasgow provided an exceptionally unique score for BONE DRY, first-time director Brett A. Hart's road thriller about a traveler (Luke Goss) confronted and pursued across the desert by an aberrant gunman (Lance Henriksen). The score broods with wicked intentions and cruel apprehension, its percussive undercurrents echoing throughout the dry, windless landscape of desert desolation. To give the score an authentic, if subliminal, aspect of the desert, Glasgow used the sounds of a plucked cactus as an instrumental color in the score. He recorded various spinal plucks from a barrel cactus he'd bought and brought into his recording studio, then mapped out the sounds to his keyboard.
"I had some that were just plunks, and some that were tuned like a piano, ultimately I had a cactus piano, if you will," Glasgow said. "I added a delay to it and processed it a little bit. Another sound I created for that score was the use of these rebound knives, as I call them. I literally went into my kitchen, took out every knife I had (even an old 4 foot broad sword), then held them on the edge of my kitchen counter and flicked them so they rebound off the edge of the counter. If you pull the knife in as it's rebounding, it speeds up, or if you pull the knife out, it slows down. So I created all these kind of crazy sound effects and combined them in the score, and it just worked really well with the desert scenes."
The sounds, scrapes, brushes, and other manipulata cactile and boinging knife-ends in the BONE DRY score are enhanced by heartbeats, bass drums, and a recurring stinger crafted out of piano harmonics with the piano strings held by a finger to change the sound when the key is struck. The score finds its center in this sonic texture and derives much of its power from the depth of that grain. At one point, the atmospheric music takes on an unassuming tonal cadence until it metamorphoses into brittle and bony atonal textures, slamming percussion, and distorted sonic abrasions, the music continuing to juxtapose the protagonist's confidence in being able to escape the stranger, and his seeming inability to do so.
The score concludes with an amazing 20-minute orchestral musical sequence performed by the 50-piece Filmharmonic Orchestra of Prague. These stirring climactic movements eschew the score's previous hybrid texture and in a profound way evoke the bare essence of the film's emotional human drama via the pure power of the symphony orchestra, performing not melodies but, like the earlier portion of the score, chord progressions and continuous layers of tonality and rhythm. As all forms of temperament and tactics and time and generation are worn away and the final confrontation between the two characters erodes down to a basic human struggle, climaxing with a significant plot revelation, Glasgow brings the score full circle back to the essential tonalities of its opening movement.
The ubiquitous sonic textures of the caryophyllales cactaceae throughout the score provide an organic sensation that worked subliminally to great effect, especially in contrast with the massive harmonic epiphany that blossoms during the film's climax.
"There was no money for an orchestra," said Glasgow. "I talked to Brett and said, 'If I do this with samples it's just not going to connect. We need to find the money to get these fifteen minutes recorded, because it's going to have so much more power and contrast.' That ending, with Lance and that whole reveal, is such a good turn around, and I'm glad that they trusted me and found the money to do it. It made a huge difference."
From orchestral cacti to strands of DNA helix, Glasgow's score for THE GENE GENERATION is equally vividly textured and sonically interesting. Glasgow said he had heard about the film and contacted director Pearry Teo via his MySpace page to ask if he had a composer on the film yet. It turned out that he did, an electronic artist from a German band called VNV Nation.
"But that composer had never done a score in the traditional sense before," said Glasgow. "The producers suddenly started talking about me, and that maybe they should get a film composer to score the film." It didn't hurt that the director was a huge anime fan and the concept of having the ROBOTECH movie composer score his film was very enticing.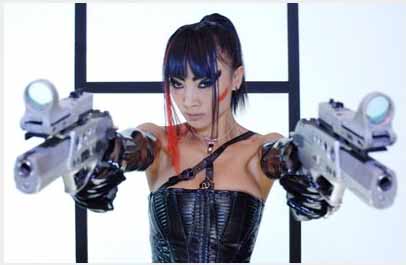 Bai Ling holds THE GENE GENERATION together as the leather-clad assassin in a future age when DNA is sold – and hacked – to forge and steal identities, leaving the former person lifeless and mutated. Because of the Asian ethnicity that runs throughout the film, not to mention with Bai Ling's character, Glasgow was initially drawn to the erhu, a Chinese violin that has a uniquely vocalistic tonality, and has flavored numerous recent Hollywood film scores from PIRATES OF THE CARIBBEAN: AT WORLD'S END and KUNG-FU PANDA to THE FORBIDDEN KINGDOM and STAR TREK. But Glasgow wound up using a related instrument called a zhonghu instead, which has more of a reedier, cello like sound.
Glasgow initially conceived of combining a number of ethnic instruments into an integrated, broad orchestral depth, but as he developed his ideas, he also started to whittle the sound down. Ideas for incorporating pipa, a Chinese guitar, or guzheng, a Chinese koto, were considered and discarded.
"All that plucky, guitary stuff just never felt right with the film," he said. "There are a few samples I did incorporate, but they just provide a flavor without being a featured player. I knew the zhonghu was going to be the main thing, along with the viola da gamba. The Bai Ling character was associated with the zhonghu and the Alex Newman character was going to be the viola da gamba. Granted they're both low cello type sounds, but they're different enough that I thought it would work. Ultimately I downplayed Alex's theme; it wasn't built up the way I had intended."
An orchestral crescendo accompanies the film's conclusion, over an enormous tracking pull-back that reveals for the first time the future world's particular environment and gives the story a strikingly different twist. Glasgow provided a suitable largess and dynamic scope to these moments.
"For these enormous cityscape scenes, I knew I had to create this giant, gothic choir and orchestra sound," Glasgow said. "There had been talk early on about doing a BLADE RUNNER type thing and going completely synths, along with the erhu. But I don't think that works now as much. It works for Vangelis; he's got a specific thing he does, but when I forayed into it, it just wasn't working, so I did my hybrid version instead."
Another striking aspect of the GENE GENERATION score is the use of voicings as a textural element within the musical sound. Glasgow turned again to his friend Melissa Kaplan, a vocalist formerly with the American pop band Splashdown. Glasgow has featured her voice in numerous scores since ROBOTECH, often inserting just a moment of two of her as a sonic coloration, as he did in BONE DRY and in Alan Pao's 2008 psychological thriller, TOXIC, to embellish the sound with her intriguing and affecting tonal harmony.
"I treat her voice like an instrument," he said. "It's a color, and with Melissa and the way that she does what she does, I don't really dictate too much to her. I'll give her kind of a guideline and let her change it. On THE GENE GENERATION, I created a melody and gave her the chords that she would be singing over, but then she created the other harmonies underneath it. She brings so much to the music."
Most recently Glasgow has had some opportunities to compose music for comedies – things like PATRIOTVILLE and HOLLYWOOD AND WINE – and gritty dramas like BRIDGE TO NOWHERE, but his proclivity toward scoring horror and fantasy seem to keep him from venturing too far away from these genres. His recent score for Travis Betz' LO, for example, was, like HACK!, a horror comedy. But it wasn't a specific parody the way HACK! was; rather a dark and quirky drama with comedic elements.
"With LO, you're in a quirky Danny Elfman zone; it's not exactly scary but it's not exactly funny, either. It's kind of tongue-in-cheek," said Glasgow. "I did some unique things musically with this score. If you bend a nylon guitar string over the other string it creates this buzz tone, it almost sounds like a percussion instrument. It only works on classical guitar and it was just that kind of strange, unique color I needed for this score. I also had this metal bar that was struck then immediately dipped into water to raise and lower the pitch."
In many ways, LO may be Glasgow's oddest film score.
"It was a difficult movie to score, because there were no sets, just black backgrounds with one guy in the middle of a pentagram with an overhead light on him. It is a very interesting and strange little film. Musically, I took it more seriously, and there are these wonderful violin solos by Mark Robertson. We did a variation on Saint-Saëns' Danse Macabre that was used under these 'cafe'' scenes. It's fun stuff."
Scott Glasgow hopes to continue to write orchestral film scores, although he recognizes that independent film budgets don't often achieve numbers high enough to warrant an actual orchestra.
"The challenge is always the budget," he said. "When I write an orchestral piece I want it to be played by an orchestra, not by samples. More and more each day it gets closer and closer to the point where a live orchestra is becoming less and less of a reality, except for the top ten percent. I'd like to be able to move into doing bigger features where the budgets get a little better. But I know, because I was working for those guys that were working on those big films, even at the top it can be a challenge."