Film composer Maurice Jarre passed away March 29th in Los Angeles at the age of 84. One of the finest craftsmen during what is called the "Silver Age of Film Music," Jarre left a legacy of significant and influential scores, including some notable efforts within the fantastic genre.
The French-born composer began scoring movies in his native France in 1952, but it was his work for massive Hollywood blockbusters like LAWRENCE OF ARABIA and DOCTOR ZHIVAGO that made him a legend. With more than 160 movies to his credit, Jarre is one of the second wave of Hollywood film composers who helped shape the form of film music throughout the 1960s and beyond.
Born in Lyon, France, in 1924, Jarre discovered an interest in music in his late teens. He went on to study at the Conservatoire de Paris and later with noted inventor Joseph Martenot, whose electronic keyboard, the Ondes Martenot, would foreshadow the modern synthesizer and become a key element of Jarre's later musical pallet.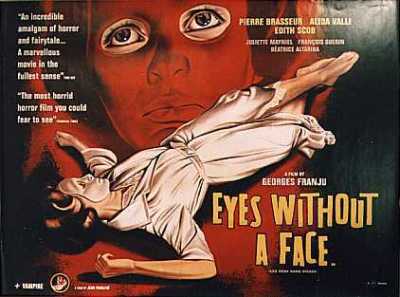 Jarre met filmmaker Georges Franj  and he become the director's primary composer for the next several years. When Franju made his first feature film in 1958, Jarre came along to score it. Franju's second feature film, 1960's LES YEUX SANS VISAGE (EYES WITHOUT A FACE; aka THE HORROR CHAMBER OF DR. FAUSTUS), became the director's masterpiece and remains one of Jarre's most potent fantasy film scores. A beautifully poetic story of a mad doctor whose efforts to replace the face of his disfigured daughter with those of murdered women, EYES featured an exceptional score with a jaunty, carnival-esque waltz associated with the doctor's assistant, Louise (Alida Valli) as she locates and abducts potential women for the doctor's fiendish work, and a lighter, sadder piece for the melancholy heroine, Christiane (Edith Scob).
Jarre's music for Franju's elegantly dreamlike JUDEX (1963), a remake of a 1916 silent film about masked avenger, also featured lyrical waltz melody. The music is used sparingly, which makes its presence especially provocative, as in the expressive version of the waltz heard when Judex, wearing a feathered bird headdress, walks though the dancers at Favreux's masked ball carrying the still form of a bird. Jarre's music for the nightmarish, ballet-like struggle between the two women on the rooftop at the film's climax is an austere mélange of eerie strings, echoing low piano notes and furtive xylophone tones, giving the scene not a dramatic energy but a haunting and unrelentling atmosphere of strangitude.
Jarre came to the notice of Hollywood in, 1960 scoring Richard Fleischer's crime drama, CRACK IN THE MIRROR and his 1961 comedy, THE BIG GAMBLE, but had his first real hit in 1962 with the all-star World War II blockbuster, THE LONGEST DAY. That brought him to the attention of producer Sam Spiegel, who brought him on board David Lean's epic historical drama, LAWRENCE OF ARABIA and an ongoing association with Lean that would result in three more of Jarre's finest and most popular scores, DOCTOR ZHIVAGO (1965), RYAN'S DAUGHTER (1970), and A PASSAGE TO INDIA (1984).
Jarre was not one to settle into a comfortable style and remain there. His music of the 1960s remains fairly symphonic and melodic, although in the 1970s and 1980s his interest in electronic music resulted in scores like that for Peter Weir's WITNESS being composed and performed entirely electronically, yet with no less emotive quality. Despite his popular successes of the 1960s, some of his most inventive music came about during the 1980s, embracing all manner of styles and musical modes. The 1970s and 1980s also saw Jarre provide some excellent scores for science fiction, fantasy, and horror films – genres that had been absent in his Hollywood film scores up until then.
It wasn't until Disney's ISLAND AT THE TOP OF THE WORLD (1974) that Jarre really dabbled in an outright Jules Verne-esque fantasy, providing a light and melodic adventure score. Clint Eastwood's science fictionesque FIREFOX (1982), about a stolen supersonic jet fighter that can be controlled by a neuralink, was scored with a brassy adventurous flavor that really comes to life in the film's climactic aerial dogfight sequence. The earlier part of the film, emphasizing intrigue and suspense, is fairly innocuous and furtive, but once the aerobatic combat ensues the music really takes off as well. Jarre's high-register melody, delivered by strident brasses, drives the aeronautics effectively and gives the film a splendidly energetic propulsion.
Jarre provided a melodic score for synths and acoustic keyboards for the 1987 Japanese science fiction disaster movie SHUTO SHOSHITSU (TOKYO BLACKOUT), contrasting a lovely romantic piano ballad with some brooding and suspenseful sound design material that emphasizes the danger of the electromagnetic cloud that shrouds Tokyo. Jarre also wrote some percussive synth riffing for some of the heavier action scenes, and an overall main theme with a martial cadence associated with the military efforts to protect the city.
The eerie music for DREAMSCAPE (1984) utilized a sensual saxophone theme for the protagonist and rhythmic synthesizer material for the dream landscape through which he roams. FATAL ATTRACTION (1987, the PSYCHO of the 1980's) was scored mainly for synths, emphasizing the madness and malevolence of Michael Douglas' partner in illicit dalliance.
More symphonically oriented was Jarre's music for the romantic horror tale, GHOST (1990). While overshadowed by the film's use of the pop song "Unchained Melody" (originally written by film composer Alex North for the 1955 prison drama, Unchained, with lyrics by Hy Zaret), Jarre provided the film with some excellent spook music, low brooding synths for the demons, with more angelic melodies for the "good" afterlife.
His score for 1985's MAD MAX BEYOND THUNDERDOME was written for a symphony orchestra and chorus, augmented by four grand pianos, a pipe organ, digeridoo, fujara, a battery of exotic percussion, and three ondes Martenot. In 1985's BRIDE OF FRANKENSTEIN revision, THE BRIDE, Jarre's romantic score reflects the sensuality, not the horror, of this female monster and underlines the friendship and rap-port between the male monster and his diminutive circus friend, Rinaldo. The compelling psychological horror thriller JACOB'S LADDER (1990) featured an imaginative score for keyboard, voice, pizzicato strings and Japanese flutes that effectively externalized the tortured psyche of guilt-haunted Jacob Singer; the score reflected much of the film's stylistic hallucinations as well as its pervading pessimism.
Jarre retired from movie music in 2001, after scoring John Avnet's UPRISING, a film about the Holocaust, leaving behind a legacy of significant music for cinema, and a new generation of music and movie artisans. His eldest son, Jean-Michel Jarre, is a pioneer in the world electronic music with numerous recordings to his credit; his youngest son Kevin Jarre is a screenwriter who worked on such movies as TOMBSTONE and GLORY.