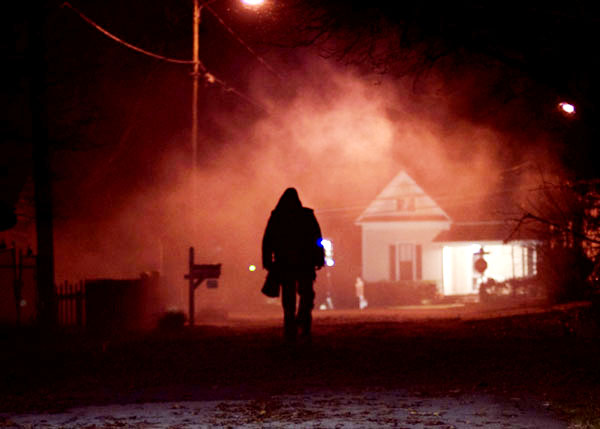 In his last few scores, composer Tyler Bates has watched the WATCHMEN and observed THE DAY THE EARTH STOOD STILL, spent a DAY OF THE DEAD and survived DOOMSDAY, but as potent – and as diverse – as those scores were, it's been his work for Rob Zombie that continue to be his edgiest, evincing the most severe sound design and the most potently frightening musical attitudes. Currently, this aggressive approach is audible in HALLOWEEN II, which opens nationwide today.
Bates first hooked up with the head-banging rocker-cum-director in 2005, when he scored Zombie's second feature, The Devil's Rejects, a follow-up to 2003's House of 1000 Corpses, which Zombie had scored himself along with producer Scott Humphrey. Bates' had scored a little more than two dozen films since moving to Los Angeles from Chicago, where he had grown up writing, recording, and playing in local rock bands. Most of his soundtrack work was TV-movie fare, a couple of forgettable sci-fi- spoofs like Tammy and the T-Rex (1994) and Roger Corman's Alien Avengers (1996), but when his powerful score for Zach Snyder's remake of Dawn of the Dead (2004) came out of the blue like a furious, rampaging dead thing, Rod Zombie took notice. He brought Bates in to score Devil's Rejects, asking for music that reflected "bleakness." Bates provided just that, with an array of ambient sounds and layered sonic textures that gave the film a clear sense of malformed naturalness.
"I wanted it to feel like you were underneath a car muffler, because you feel so dirty when you watch the film, because of the visuals," Bates said. "I wanted the music to reflect some of that."
Bates continued to provide music macabre for movies malevolent, scoring Slither for James Gunn and See No Evil for Gregory Dark (both 2006), not to mention rejoining Zach Snyder for his epic incarnation of Frank Miller's 300 (2006), and then found himself in Rod Zombie territory once again. First, he scored the Zombie-directed fake trailer, Werewolf Women of the SS, included in the Tarantino-Rodriguez double feature, Grindhouse, and then he scored Zombie's pointed remake of John Carpenter's seminal 1978 slasher film, Halloween.
In revisiting Halloween and its unique piano-and-synth score, which Carpenter had composed and performed himself for the original film (and many of its sequels, later assisted by synthesist Alan Howarth), Bates paid tribute to the original by arranging a version of the Carpenther theme in the darker aesthetic in which Zombie had crafted his remake.
"We would definitely respect John Carpenter's original score," Bates said as he was embarking on his score for Halloween. "I'm not really too interested of making it orchestral, but I would imagine you could expect a similar graininess to that of Devil's Rejects, but a different timbre, ultimately. I create sounds for each movie, besides the few synths that I have. I like to make as many of the sounds from abstract sources as possible for each specific movie. We'll see where it goes, but it's definitely going to be kind of grimy and organic. I think that going back and trying to maybe [rework] it in a unique way that's still within the same parameters John Carpenter had at the time are what makes that music work. He didn't have all the bells and whistles available to him, and probably not all the skills of today's film composers, so I think getting as much into that mindset is going to be necessary to make the music pay off, and give people the intense experience that they had when they saw first film."
Bates' music for Zombie's Halloween, released in 2007, was a potent mix of organic and synthetic musical disturbia, effectively washing the film in an undertone of continual unease.
"It was difficult trying to adapt the classic John Carpenter themes into the context of Rob's filmmaking style," said Bates. "The nature of those classic themes works really well with an inhuman and sometimes robotic 'bogeyman' type character, but in Rob's films Michael Myers is humanized, which calls for a broader musical palate than the design of the original film. I reworked John Carpenter's classic theme for Rob's initial presentation to the studio when he decided to do the first of the two movies, which came together pretty naturally, but when I actually began scoring to picture, the two did not coexist very naturally."
Tyler Bates's latest score finds him joining forces with both Rob Zombie and Michael Myers again, on the director's re-imagining of Halloween II. The film picks up where Zombie's Halloween left off, and focuses on the struggles of Laurie Strode (played by Scout Taylor-Compton) and killer Michael Myers (played by Tyler Mane). Bates' score gives due cognizance to the classic John Carpenter theme from the original film, but quickly dispenses with it and delves headlong into even darker and very distressing musical landscapes.
"In the new film we decided to do more of our own thing instead of being reliant on the classic themes as much as the first film. This enabled me to really expand the sonic and melodic scope of the film. I think the end result is a movie that really feels like a Rob Zombie film through and through."
The new score is thick with dissonance and disharmony, occupying a territory of unusual percussive electronic effects, heavy chords of synth and horn, and multiple processed effects that wash the film in nightmarish tonality that is thoroughly disquieting.
"Like each of my projects, I try to expand the sonic palate on each of Rob's films," said Bates. "In this case, my primary goal was to create new ways of sonically unsettling an audience. I approached this score with the knowledge that we would be more reliant on original motifs as opposed to the classic Halloween themes, so it freed me up melodically, and also provided the opportunity to implement different rhythms that aren't particularly characteristic of the classic themes we all associate with Michael Myers."
The Halloween II score is viciously bleak, with barely a respite existing within its omnipresent relentlessness. Bates characterized Michael Myers and his unstoppable presence through that aggressive, driving ruthlessness.
"Rob really wanted to imbue this movie with an underlying emotional current," he said. "There is quite of bit of 'head space' music in this film, which is where the emphasis on emotion is most apparent."
In working with Rob Zombie on this film, Bates was brought in earlier than usual and actually began scoring immediately when footage was available during filming.
"Rob and I had a lengthy discussion about the movie before production began," said Bates. "The music process started with working up the new version of 'Love Hurts,' which is in the end credits crawl. It served as an inspiration piece for Rob. The editor Glenn Garland, sent cut footage to me during principal photography, and I wrote music for every scene that came my way."
By the time Rob was done filming, the new music served as the temp score for the entire film, said Bates.
"From there, Rob experimented with placing various cues in different spots of the film, then sending me a new cut of the movie to show me exactly how the music worked in the context of scenes I had not scene to that point. This was an unusual process for us, but Rob wanted to edit the film on the east coast for a change of scenery. I continued to work on music as the film took shape, then Rob and I finally got together to finalize the cues in the film."
In crafting his sound design, Bates has put together an interesting array of textures, sound fragments, percussive tonalities (indeed), and grating sonic intensity. The score is completely captivating in its method of crafting scary music and upping the ante of fear in the film.
"The most challenging aspect for me is to do better than the last one," said Bates. "I don't think that is a challenge necessary to overcome. Some degree of dissatisfaction with your previous projects is a healthy motivational tool for doing your best work."
Bates' first Halloween score was never released as a soundtrack album (two cues, including his reworking of the Carpenter theme, were included on the Hip-O records soundtrack album). The currently available soundtrack CDs for Halloween II feature only one cut by Bates (the rest of the tracks being pre-existing songs); fortunately, an entire album of his music marks the debut of his new label imprint, Abattoir Recordings, which is digitally distributed by E1 Music. A physical CD release with previously unreleased music will follow later with the DVD release of the film.
[serialposts]