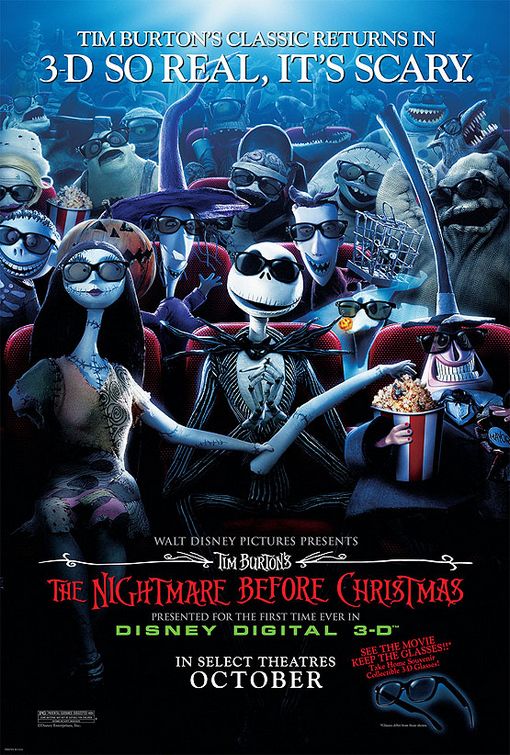 Tim Burton's THE NIGHTMARE BEFORE CHRISTMAS gets another go-round in theatres beginning this week. Last year, the film was digitally enhanced with 3D for its annual Halloween reappearance. Disney puts the film into its El Capitan Theater in Hollywood every year; for 2006, the 3D presentation warranted  other theatres around the country – a tactic being repeated this year. If you have yet to see the 3D version, you should not miss this second opportunity. The results are not spectacularly eye-popping. Because NIGHTMARE was not designed as a 3D movie, there are few of the obvious sight gags we associate with the process: a couple of ghosts seem to float out of the screen early on, but there are no objects hurtling straight into our eyes. Instead, you perceive a wonderful depth and dimensionality to the stop-motion characters, as if looking into a window on their world. The digital enhancement seems to have sharpened the image, making everything seem real enough to touch. The beauty of the imagery – which contrasts the moody Halloween Town with the brightly colored land of Christmas – is more breath-taking than ever before, even if the characters are not leaping off the screen into our laps. 
Tim Burton`s skewered sensibility finds excellent expression through the masterful stop-motion of director Henry Selick. The songs and score by Danny Elfman are wonderful; the characters are engaging; the visuals are enthralling. Amidst all the weirdness of Halloween Town, the film still strikes a wonderful sentimental chord, emerging as a wonderful Christmas movie even more than a wonderful Halloween movie. Even the muted romance between Jack Skellington and Sally is poignant, and Jack`s reawakening to the joys of being the King of Halloween is invigorating.
A technical marvel of special effects, the film is also magical and beguiling in a way that few films ever are. Credit is due to all the wonderful talent assembled by Burton: especially stop-motion director Selick, composer Elfman, and screenwriter Caroline Thompson. Their combined efforts make this one of the greatest fantasies every committed to celluloid. Despite availability on VHS, laserdisc, and DVD, this is a film well worth seeing on the big screen again. In fact, why not turn it into a Rocky Horror-type experience and start singing the lyrics out loud along with the rest of the audience?
One of the great things about this movie is that it's not afraid to be creepy, yet at the same time it has a warm and lovable feeling about it, although sometimes that seems to be more apparent to younger viewers. Let's face it: any film that has parents saying it's too scary for their children, while the children themselves love it, has something going for it.
Another interesting point is that, in a curious way, the film is a companion piece to JURASSIC PARK (which also came out in 1993), in that both are about the limits of intellect: JURASSIC's John Hammond mistakenly thinks he and his staff can plan for every exigency and control the consequences, whereas Jack Skellington thinks he can know Christmas without really understanding it. In trying to analyze this alien (to him) holiday, Jack misses its spirit (or gestalt, if you prefer a less metaphysical term) and, unable to find it, mistakenly concludes that it doesn't exist. Jack's attempt to reinvent the yuletide season is somewhat less disastrous than Hammond's attempt to recreate the Jurassic Period, but he nonetheless learns his lesson, and by the end, has found a renewed vigor for returning to what he knows best: being the Pumpkin King of Halloween.
All this may be a bit too intellectual for a film that truly is just a joy to watch. So just sit back and enjoy.
LASERDISC/DVD DETAILS
The The Nightmare Before Christmas "Special Edition" DVD is filled with the same extras and supplemental material that should mad fans drool when they appeared on laserdisc; the DVD basically replicates everything from the magnificent laserdisc box set, except the price: the laserdisc ran for about $100; you can own the DVD for closer to $20.
In either format, this presentation really is the last word on the film. Of course, DVD picture quality is, technically, superior, and you don't have to get up and change discs (there were three to contain the film and the supplemental material). On the other hand, the laser presentation was more lavish in terms of packaging: the set came in an impressively sized box, with a rich velour interior, which also contained the coffee table picture book The Film, The Art, The Vision: Tim Burrton's The Nightmare Before Christmas, written by Frank Thompson. The book, with an introduction by Tim Burton and the complete lyrics by Danny Elfman, was quite a prize in and of itself, filled with behind-the-scenes photographs and information that would fascinate any true fan of this classic film masterpiece. Needless to say, that tiny CD case has no room for this lovely item.
Other than that, the two packages are almost identical in terms of content: a "making of" documentary, animation tests, deleted story boarded sequences not filmed, deleted scenes, an alternate ending with a surprise revelation about the identify of Oogie Boogie, a still frame archive, early pencil tests, audio commentary by director Henry Selick and director of photography Pete Kozachik, and three great short subjects: Tim Burrton's "Vincent" and "Frankenweenie" and Henry Selick's "Slow Bob in the Lower Dimension."
As a film, The Nightmare Before Christmas is probably the greatest achievement of Tim Burrton's career, but that credit must be shared with his many collaborators, including director Henry Selick, composer-lyricist Danny Elfman, and screenwriter Caroline Thompson. The making-of documentary helps gives some insight into the various contributions of these people, while tracing the origin of the project back to Burrton's days at Disney (when he hoped the project would be a half-hour holiday TV special, along the lines of Rudolph, the Red-Nosed Reindeer). You'll also get a glimpse of the "frame-grabber" that helped elevate the quality of the stop-motion animation to new levels. Basically, the device allows the animators to reference the previous five frames of animation, in order to make sure that the puppet's next photographed position will blend together for a smooth illusion of movement when projected.
The audio commentary by Selick and Kozachick is dense and informative; in fact, the only problem is that, with literally every shot being an elaborate special effect, there is not time for them to dwell on specifics—each images ranks only a few brief comments, and then it's on to the next. Still, this is hardly much of a problem, as the film is then followed by a making-of documentary and loads of behind-the-scenes footage that fills in the details that have been only briefly discussed in the commentary. Curiously, throughout most of the film, it sounds as though Selick and Kozachick were recorded separately and then edited together, with their voices carefully alternating back and forth; only near the end do they finally overlap and actually address a comment or two to each other, revealing that, yes indeed, they were recorded together. Presumably, they realized they didn't have time for chit and chat, and most likely they stopped and started the recording several times in order to make their comments as to-the-point as possible. One only wonders whether Kozachick's verbal references to the "laserdisc" will survive on DVD. (At one point, he suggests spending a Saturday afternoon counting the number of shots in the movie, which he reckons to be near 800.)
The storyboards show some interesting material, including an abandoned last-reel revelation that Oogie Boogie was supposed to be Dr. Finklestein in disguise. This twist was wisely abandoned, as it adds nothing to the plot; it's just one of those movie moments that's there because—well, audience expect twists endings, right? Deleted footage contains some early test scenes, without the final dialogue as heard in the finished movie; in fact, it sounds closer to Burrton's original poem, which formed the basis of the story (and was later published as an illustrated book).
The three short subjects throw some light onto the creative input of Burton and Selick. Burrton's "Vincent," in particular, reveals a visual style that is strikingly similar to Nightmare (there is even a briefly glimpsed cat that looks the same in both films), and the black-and-white Universal horror pastiche of "Frankenweenie" also foreshadows some of the monochromatic imagery of Halloween Town. Selick's "Slow Bob," on the other hand, has a more brightly colorful palette, suggesting both Nightmare's Christmas Town setting and also Selick's later feature film, James and the Giant Peach.
Of the shorts, Slow Bob and "Frankenweenie" are both charming efforts, and you'll be happy to own them as part of this disc. But the real stand-out is "Vincent," a wonderfully ghoulish little gem that resonates like a film version of Burrton's twisted tales as seen in his book The Melancholy Death of Oyster Boy, and Other Stories. Structured like a music video, the film is set to a series of verses that tell the tale of Vincent, a young boy who wants to emulate his hero, Vincent Price (who reads the narration on the soundtrack). The images segue and shift to keep pace with the verses, switching back and forth between Vincent's real life and his imaginary one (think of Calvin and Hobbes, if conceived by Gahan Wilson, Charles Addams, and Gary Larson). My personal favorite is "Vincent performs experiments on his dog Abercrombie/In the hopes of creating a horrible zombie." A mini-masterpiece, it's almost worth buying this disc just for this short subject.
In short, whether on laserdisc or DVD, this package is a must-have for fans, presenting an excellent film with a multitude of extra features and supplemental material. Somehow, the large-sized box set seemed a more appropriate package for such a wonderful collectors edition, but that little DVD fits much more easily onto your shelves.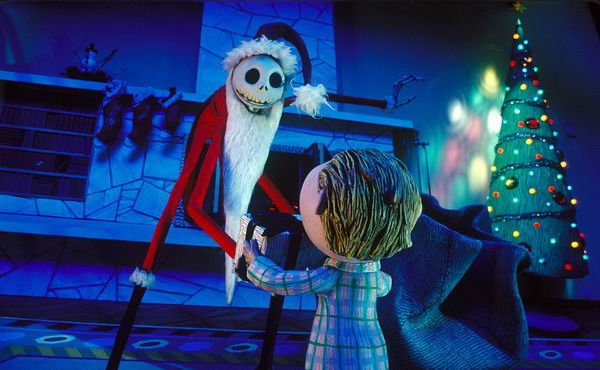 TIM BURTON'S THE NIGHTMARE BEFORE CHRISTMAS (1993; 3D versio 2006). Directed by Henry Selick. Story by Tim Burton, adaptation by Michael McDowell, screenplay by Caroline Thompson. Voices: Danny Elfman, Christ Sarandon, Catherine O'Hara, William Hickey, Glenn Shadix, Paul Reubens, Ken page, Edward Ivory.