For fans of science fiction, fantasy, and horror movies, this week's DVD and Blu-ray releases are not the most exciting. The only major theatrical release reaching home video is THE SPIRIT, Frank Miller's disappointing filmization of the Will Eisner comic strip, which arrives on Blu-ray, DVD, and a Two-Disc Special Edition DVD. Also of interest is SPLINTER, a low-profile title from last year, which makes its bow on DVD and Blu-ray. (Randall Larson interviewed the film's composer Eli Cmiral, back in December.)
As for the rest, it is mostly re-issues of previously available titles, resurrected through the modern technology of Blu-ray – or simply because somebody got ahold of the rights and thought there were a film more dollars to be milked out of the old titles.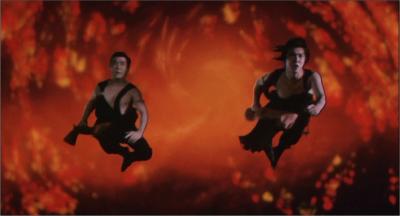 One oldie worthy of return is ZU – WARRIORS OF THE MAGIC MOUNTAIN, from producer Tsui Hark. This is the film that more or less launched the wave of fanciful Fant-Asia films back in the late '80s, a movement that extended into the '90s, eventually culminating in CROUCHING TIGER HIDDEN DRAGON. ZU is a bit uneven, but it is loaded with colorful action, achieved with old fashioned stunt work and wires instead of CGI. It is also infinitely better than Hark's 2001 remake ZU WARRIORS, a dreadfully dull piece of work.
In the "Back on Blu-ra"y category are THE THITEENTH FLOOR, a disappointing journey into virtual reality presented by Rolland Emmerich and Dean Devlin; and UNIVERSAL SOLDIER: THE RETURN, a forgotten Jean-Claude Van Damme sequel from 1999.
In the "Back Just Because" category, Lionsgate is releasing several older titles under a new banner, "The Lost Collection," which they claim are the "best movies you totally forgot about." A glance at the titles (REPOSSESSED, SLAUGHTER HIGH,  MY BEST FRIEND'S A VAMPIRE) render this description highly suspect, but hey, that's Hollywood Ballyhoo for ya. As an extra added inducement to purchase, the DVD boxes include trivia packs – which makes you wonder who in the company got tapped with the job of watching the films in order to come up with some trivia about them (or did they simply log onto IMDB?).
Finally, an obscure DTV title makes its bow this week, NOVEMBER SON, whose main claim to distinction seems to be the joint casting of scream queens Judith O'Dea (NIGHT OF THE LIVING DEAD) and Brinke Stevens (just about anything directed by Fred Olen Ray). It may not quite equal pitting Bette Davis against Joan Crawford in WHATEVER HAPPENED TO BABY JANE?, but you have to give the filmmakers credit for trying.