This genre film is not very generic, which is to say it has a distinctive personality that sets it apart from run-of-the-mill fairy tale films. The personality happens to be British (despite the American stars), but that's all to the better: the ghosts, witchcraft, flying pirates, and other fantastic imagery filling the film are treated with a distinctive touch of deadpan black humor that prevents STARDUST from lapsing into formulaic family fantasy film-making. It's not Monty Python or HITCHHIKER'S GUIDE TO THE GALAXY, but if you have a taste for either of those, you should be on the correct wavelength to receive transmissions from this particular star.
The story follows young Tristran (Charlie Cox), whose father crossed the wall that separates an English village of Wall from an enchanted land, where a dalliance with a Princess in servitude to a witch resulted in the conception of our hero. In order to gain the love of the lovely Victoria (Sienna Miller), Tristran follows in his father's footsteps, crossing the wall to retrieve a fallen star. The star, however, turns out to be in the lovely human form of Yvaine (Claire Danes). For reasons of their own, Yvaine is also being sought by the witch Lamia (Michelle Pfeiffer) and by the surviving heir to the magical kingdom (who has killed off his brethren to insure in ascension to the throne).
The coming attractions trailer does a poor job of representing the film, suggesting an insipid, almost childish comic fantasy. STARDUST contains humor to be sure, but it tends to be of the quirky, English variety, and the tone is distinctly adult, although children should be pleasantly amused. Contrasting with the whimsical charm and romantic adventure, we see witches divining the future by carving up the entrails of harmless animals; there is a wonderful running gag about the growing ranks of dead heirs to the throne, who must remain on Earth as ghosts until a new king is finally selected; and to top it all off, the film serves up a decapitation when Lamia grows tired of a rival witch. Not your typical Disney film by a long-shot.
One of the many droll highlights is Robert DeNiro's turn as a pirate (who literally captures lightening in a bottle) named Captain Shakespeare. Although he poses before his crew as a threatening, murderous rogue, the captain has a softer, effeminate side that he reveals to Tristran and Yvaine in private. In plot terms this explains why he aids the besieged couple (who certainly could use some aid, considering that they are pursed by multiple villains), but the true value lies in the bizarre delights of seeing Travis Bickle turned into a transvestite. (The trailer's brief glimpse of DeNiro is unimpressive; the revelation that he is hiding a personal secret makes sense of his off-kilter performance.)
Danes is lovely and convincing as Yvaine, a role that could have been a non-descript love interest. Being non-human, she has none of the personality quirks that distinguish the other characters; her only distinctive characteristic is her disparaging, almost but not quite modern "attitude" toward the naive Tristran. As the male lead, Cox initially seems too boyishly bland, but that is merely part of the film's strategy, which charts his change into a dashing romantic hero. (If he can do it, there is hope for us all!) If one were forced to make comparisons, it would be to Orlando Bloom As Will Turner, but frankly, Cox has more genuine panache, and the romantic triangle in STARDUST is handled far more deftly than the belabored soap opera theatrics in the PIRATES OF THE CARIBBEAN sequels.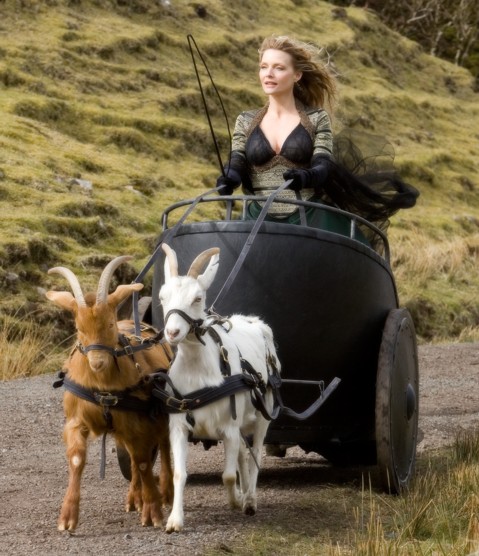 Peter O'Toole shows up for a few moments of fun as the dying king, who is amazed to see that he still have four out of seven sons living (he had killed his brothers long before his own father's death). Rupert Everett generates laughs as the first royal heir we see tossed to his death by a rival brother. However, the real scene-stealer is Pfeiffer, who has not had this much fun on screen since playing CATWOMAN in 1992's BATMAN RETURNS. As the evil Lamia, she makes Glenn Close's Cruella DeVille in 1010 DALMATIANS look like a mildly annoying spoiled brat in comparison.
The only area where STARDUST sometimes falls to Earth is in the special effects department. The early attempts to wow the audience with visual pyrotechnics feel like a desperate attention-grabbing device, as if fearful that bored viewers will walk out if there is nothing spectacular in the first five minutes. The computer-generated imagery is distinctly lacking in magic and often ill-conceived; for example, the falling star is astronomical in approach, suggesting science-fiction rather than fantasy. Fortunately, at some point the filmmakers seem to realize that the effects work best when they are punctuating magical moments in the story; from then on, they augment the fairy-tale feeling of the film.
A bit like SHREK, STARDUST puts a spin on familiar fairy tales; this is, thankfully, not a made-to-order fantasy flick. The oddball elements may surprise viewers expecting something a bit more ordinary in approach, but the surprise should be a pleasant one, even for those without a predilection for quirky British humor. The nice thing about STARDUST is that, for all the knowing winks at the audience, it never undermines the magic and romance at the heart of the story, which works just as well as – in fact much better than – more earnest endeavors. It just goes to show that you can have your cake and eat it too, even with your tongue pressed in your cheek.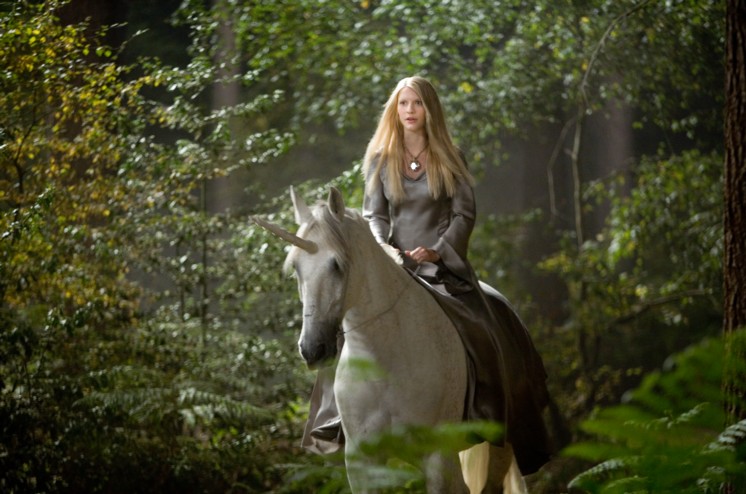 STARDUST (2007). Directed by Matthew Vaugn. Screenplay by Jane Goldman & Matthew Vaughn, from the novel by Neil Gaiman. Cast: Clare Daines, Charlie Cox, Michelle Pfeiffer, Mark Strong, Jason Fleming, Sienna Miller, Robert DeNiro, Peter O'Toole, Rupert Everett
[serialposts]