I didn't see BLOOD AND ROSES when it was originally released; I first encountered it while reading early books on genre films, where it was  mentioned very favorably, and I was particularly haunted by the image of a man in a bat-mask with spread wings bending over a beautiful woman, which appeared in the book The Seal of Dracula. The director was Roger Vadim, a French filmmaker whose work I would come to know well, both for its positive attributes (Vadim specialized in featuring the most beautiful women in Europe, and his work tended to have a lush look) and for its failings (consistently, he was an awkward storyteller with threadbare characters and not much substance). For those who view films for their storytelling, Vadim consistently disappoints, but for those who view movies for their indelible imagery, his work has many delights, and BLOOD AND ROSES remains one of his strongest features.
I was not impressed by Vadim's other cinefantastique offerings (the first — and worst — part of SPIRITS OF THE DEAD and the Jane Fonda vehicle, BARBARELLA). Though BLOOD AND ROSES shares the same pros and cons, it is by far the best of Vadim's genre films, and it is significant and important in its own right. Once more, the words are often stilted, the characters underdeveloped, and the plot barely coherent, but this film has images that will haunt you and become part of our collective consciousness.
Vadim's original title for the film was ET MOURIR DE PLASIR, which translates as "To Die With Pleasure," and the European version was 13 minutes longer than the 74-minute re-edit that made it to U.S. shores . Still, to see Americanized BLOOD AND ROSES is to see the origin of  so-called Eurotrash horror; much of the basic imagery would be mined in that particular sub-genre for decades to come, including the pioneering effort to feature a lesbian subtext.


Since BLOOD AND ROSES is difficult to see, I will provide some details concerning its plot and characters. The film is narrated by the spirit of Millarca, a member of the Karnstein family, who kept a villa in Italy and were rumored to be vampires. Though set in what was then contemporary times, Millarca identifies with the world of the spirit, which she says is the Old World. She begins relating the story of her current incarnation.
At Karnstein Castle, Carmilla Karnstein (Elsa Martinelli) from Austria has come to visit her beloved cousin Leopoldo (Mel Ferrer) before his wedding to Georgia (Annette Vadim). Leopoldo has hired a premier pyrotechnician Carlo Ruggieri (Alberto Bonucci) to put on a fireworks display for the engagement party, which he intends to set up at the site of a ruined abbey nearby, along with its adjacent cemetery.
Gradually we discover that Carmilla has fallen deeply in love with her cousin Leopoldo and has become bipolar — one minute deliriously happy and the next hopelessly depressed. Ruggieri's fireworks set off a hidden cache of German explosives, frightening the crowd and loosening Millarca's sepulcher. Dressed in a white wedding dress, Carmilla wanders through the smoke-drenched abbey, drawn by the presence of Millarca, who takes possession of her body.
The next morning Carmilla walks back to the castle and falls asleep on a bed, where Leopoldo and Georgia find her. Georgia watches as Leopoldo takes Carmilla to her room, observing, "I ought to be jealous of her, but I'm not." Later, Georgia bends over Carmilla only for Carmilla to suddenly grab her by the wrist with an ice-cold hand. This bit of entrapment becomes linked to a subsequent scene in which groundskeeper Guiseppe (Serge Marquand) has captured a fox and put it on a leash for Georgia, only for it to break away from her at the approach of Carmilla.
BLOOD AND ROSES then delights in giving hints that Carmilla has become a vampire, as when Georgia asks her if she likes the sun, and Carmilla replies, "No, it burns." There is a dream-like scene of Guiseppe standing next to a fire, and through the flames we see the approaching figure of Carmilla in a white dress, only for her to appear on the other side of him, moving away. Carmilla recalls the abdication of the Hapsburgs as if it were a recent event, and suddenly knows how to dance to classical music, connecting her to another time. Once a talented equestrienne, Carmilla now finds horses start and shy away in her presence.
Millarca, having taken possession of Carmilla, announces that she has to return to her grave and that she needs "nourishment — blood!" as she eyes Lisa (Gabriella Farinon), the family's servant girl who lives in a cottage nearby. Carmilla pursues her, and Lisa is later found dead by two young girls who tend the sheep. The doctor who examines the body pronounces her death an accident, though Guiseppe tells the girls that a vampire is to blame, and the girls later take to wearing garlands of garlic.

There follows a few set pieces that BLOOD AND ROSES is most famous for. During a rainstorm, Georgia confronts Carmilla, telling her that she knows Carmilla is in love with Leopoldo. Carmilla tells her that she's wrong as Carmilla is dead. Georgia gives Carmilla a red rose and promises to always be her friend. A thorn of the rose pricks Georgia's lip and Carmilla kisses the blood away, thinking, "One drop is not enough. I must have more, much more." (How much more is probably part of what was excised from the American release). Per vampire legend, the rose quickly loses its color once Carmilla touches it.
Complicating matters, Leopoldo invites Carmilla to join them on their honeymoon to the Caribbean, but when Carmilla sees herself in a mirror, she sees a spreading bloodstain on her white blouse near her heart — the stain only visible in the mirror image. This panics her, causing her to flee to her bedroom and rend her dress. Concerned, Leopoldo comes to her and begins kissing her on her bed.
The final great setpiece is a dream sequence reminiscent of the work of Cocteau. The dream is Georgia's and is presented in black and white with color vividly intruding in two instances. The first is of Carmilla with a white scarf around her neck from which spurts crimson blood. The dead Lisa swims by the window and Georgia follows her by opening the window and diving into the water – wandering past dancers at the estate, a gateway to the real world (with color and a man on a horse carrying a woman), a corridor with many women, and finally two nurses escorting her to an operating room with all the nurses wearing bright ruby gloves. There she sees Millarca as the surgeon and Carmilla as the patient on the operating table. The two women seem to embrace and spin as Georgia wakes up screaming.
The cinematography is by Claude Renoir, who worked with Renoir on THE GOLDEN COACH and THE RIVER, and later shot SPIRITS OF THE DEAD and BARBARELLA for Vadim, as well as the James Bond adventure THE SPY WHO LOVED ME. The great costumes, including that haunting bat mask, are by Marcel Escoffier, and Juan Andre and Robert Guisgand handled the memorable production design.

As in Hitchcock's PSYCHO, near the end a doctor offers a rational explanation of what has been transpiring. He says that Carmilla has been sick for some time now and, given the impossibility of her love for Leopoldo, retreated into a world of fantasy, living like a child in a dream where she could take Georgia's place and have Leopoldo all to herself. Overhearing the explanation, Carmilla wanders off toward the abbey, where the army is detonating remaining explosives, and she is killed, with blood dripping down her blouse as in the dream when her body lands on some barbed wire.
However, Millarca gets the last word: as Leopoldo and Georgia return from their honeymoon and travel from Paris to Rome by plane, Leopoldo fails to notice that the rose he gives to Georgia suddenly fades at her touch. Millarca has finally claimed her elusive lover by possessing yet another victim.
Though talky and slow at the start, BLOOD AND ROSES features ripe imagery that would keep other filmmakers such as Mario Bava and Roger Corman very busy over the rest of the decade, doing their own variations of the tropes Vadim presents here.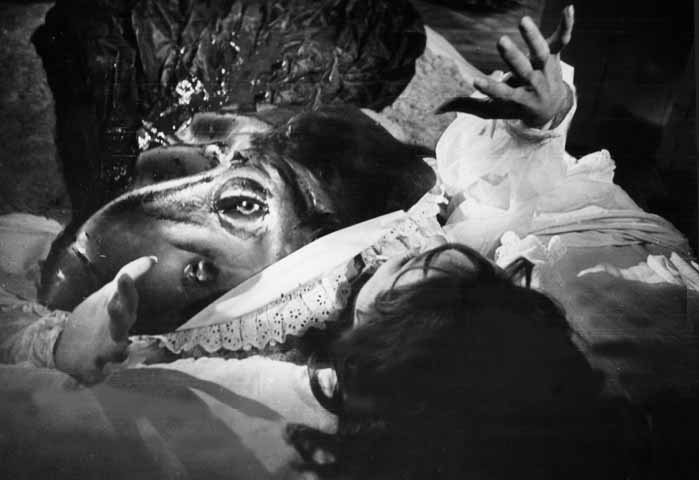 While BLOOD AND ROSES was lensed in Technicolor and the Technirama widescreen process, thus far Paramount has seen fit to release only a faded pan & scan presentation on VHS in the ep mode, and then only in its dubbed and shortened American version. Now if only dedicated cultists could convince Paramount that this rarely screened classic deserves to be seen on video in this country in its original and complete form.
BLOOD AND ROSES (Et Mourir de Plasir ["To Die with Pleasure], 1960). Directed by Roger Vadim. Screenplay by Claude Brule, adaptation and dialogue by Roger Vadim and Roger Vailland; based on "Carmilla" by J. Sheridan LeFanu. Cast: Mel Ferrer, Elsa Martinelli, Annette Vadim, Rene-Jean Chauffard, marc Allegret, Alberto Bonucci, Serge Marquand, Gabriella Farinon, Renato Speziali, Edith Peters, Giovanni Di Benedetto.
[serialposts]