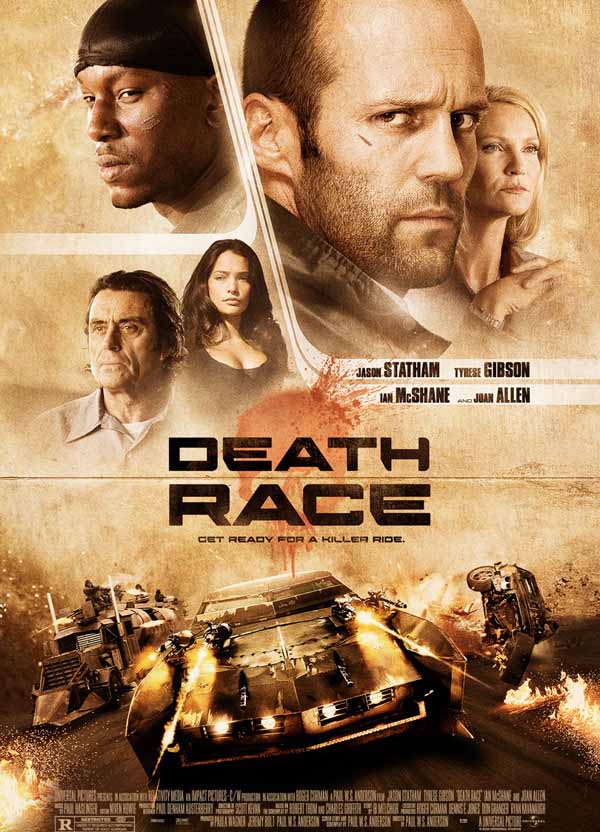 As the dog days of summer approach, its only natural that the studios begin to unload their dogs on unsuspecting moviegoers. For instance, after 20th Century-Fox passed on Lucasfilm's made for TV-movie THE CLONE WARS, Warner Bros picked it up, but decided to dump it on the market last week, in an effort to squeeze every last drop of money out of loyal STAR WARS fans.
This week, it seemed like Universal might be attempting to do the same thing, after bringing us the impressive triumphs of WANTED and THE INCREDIBLE HULK earlier in the summer. So it's quite a pleasant surprise to report that they were saving the best for last. It turns out that DEATH RACE is quite an intelligent action movie, with first-rate acting, scripting and producing chops (Paula Wagner and Roger Corman) behind it.
It will easily power Universal across the finish line to become the major studio winner at this summer box-office stakes.  And it's certainly the Gold metal champion among this week's new releases, as Joan Allen and Ian McShane turn in the kind of nuanced performances that in any other kind of movie would make them top contenders for Oscar gold. But like Heath Ledger's turn as the Joker in THE DARK KNIGHT, it seems very unlikely any of these fine actors will get nominated. Let's not forget that even RETURN OF THE KING (absurd as it may seem) received no nominations for acting!

In any case, DEATH RACE is not at that exalted level, but it is certainly notable as Roger Corman's first production where he has had anywhere near the kind of Hollywood mega-budget (over $50 million) that almost all futuristic action thrillers now routinely cost.  In a career spanning 54-years, Corman's biggest budget was probably his last directorial effort, FRANKENSTEIN UNBOUND. And in actuality, Corman's own input into this re-make was likely very minimal, although he still gets the rather unusual credit, "Based on the film DEATH RACE 2000 produced by Roger Corman," along with credit as executive producer. In any case, Corman's name on the picture can only be considered of great publicity value, since he's easily had the greatest influence of any producer still alive in Hollywood, in terms of discovering and influencing both directors and actors. If you happen to one of the group of directors or actors who hasn't actually work for Roger Corman, it seems more than likely you were at least influenced by one or more of his movies! Certainly that is the case for such famous non-Corman alumni as Tim Burton, Sam Hamm, Peter Jackson, Quentin Tarantino and obviously Paul W. S. Anderson.
"I was a big fan of the original Corman movie," admits Anderson. "I saw it on video when I was still living in England as a teenager. It was the movie your parents didn't want you to see, because it was just packed with senseless violence and unmotivated nudity. So, of course, I just loved it."
Anderson wisely decided to ditch the highly satirical tone that Paul Bartel brought to the original movie, but certainly not the fun. The end result is a re-imagining of several standard Hollywood genres, including the prison movie, the car chase movie, and just a dash of social conscience, by asking the question "Could this ever happen here?" Given that the first title of DEATH RACE is: "In 2012 the United States economy has collapsed," It would appear the answer is an emphatic, "Yes!" Not only that, it seems like DEATH RACE is perfectly positioned to tap into the current zeitgeist, as economic news gets grimmer by the day. The truth is, whatever your politics, the opening title of DEATH RACE may prove to be far from fiction, four years from now.
To explain, let me digress, to point out another "frightening" new movie, that is also opening this weekend. However it's actually a documentary, called I.O.U.S.A. While we all bury our collective heads in the sand, this movie notes that as a country, America, during the last 8 years has gone into debt to the tune of over 3 Trillion dollars! Now, how could any sane person pretend that everything is fine in this country, when we have that kind of debt to pay off? Of course, the republican nominee for President, who is worth well over $100 million dollars, is against raising any taxes, at any level, to bring down this crushing debt load. He's also so out of touch with reality that he can't even recall that he owns SEVEN luxury homes in four different states! But no matter, he's a man of and for the working people, even he if he's never actually met very many of them!
Meanwhile, to return to the hero of DEATH RACE, as the movie opens, like many Americans, his job has just disappeared. The factory he works at has just closed it's doors, and its outsourced all it's jobs overseas. So Jensen Ames (Jason Statham) is given his last paycheck of $300–quite ironically in what may be the final days of John McCain's first term, in 2012!
With this trenchant opening, Paul Anderson precisely sets up a not-very-far- fetched vision of America's future. It's also a clever riff on all of the genre action movies by one of Roger Corman's own favorite directors, Howard Hawks. Hawks own early sound genre movies, THE CRIMINAL CODE (with Boris Karloff) and THE CROWD ROARS (with James Cagney) echoed the disastrous times of the depression era and President Herbert Hoover, before the election of 1932 brought America's economy back on track with the "New Deal" policies of incoming Democratic President, Franklin D. Roosevelt.
In explaining why he set his movie a mere four years in the future, Anderson says, "It's a slightly rougher world than we live in now, but still very much recognizable. The explosion in crime rates and the fact that reality television is big have led to the Death Race. It's the ultimate in reality television: nine racers who race to the death on this sealed course. They're the gladiators of our time, and the racetrack is their coliseum."
Anderson's script can easily be criticized for taking a group of well-worn movie clichés we've seen many times before, but that is actually part of his point. It's how he subverts, combines and amalgamates these familiar genre elements into a uniquely new whole, that actually gives them renewed life and makes the movie so much fun. Of the many character stereotypes, we get the evil Prison warden, and the vicious Russian mother-fucker who wants to kill the hero, but how many Prison Wardens have you seen who are prim and proper ladies dressed in immaculately tailored skirt suits? And how many bad-ass black inmates have you seen who are gay?
It's these quirky details that give the film it's extra frisson and make it such a subversive experience. Plus, the basic structure of Anderson's script has been quite carefully worked out. It's neatly divided into a pre-credit sequence, followed by a prologue, and three acts. The Death Race itself takes places over three days, inside the sealed off Terminal Island Prison. So between each day of the action-packed racing, we have a chance to rest and visit with the characters. What's even more impressive is, unlike many of today's directors raised on MTV videos, Anderson actually seems to know that there is such a thing as a dissolve. After the first race we get a couple of beautiful dissolves that perfectly punctuate the more static dialogue scenes, that come after the kinetic action of the first leg of the Death Race.
Actually, Anderson sets such a high bar of action during the first race, I actually was thinking to myself, "What can he possibly do to top this for the second day?" It turns out Anderson does manage to top it, with a little surprise called the "Dreadnaught," and the less I say about it, the better, except it certainly makes anything you've seen in THE ROAD WARRIOR look tame by comparison. By the third day, things do seem to get a bit repetitious, but then suddenly, we get another big surprise that takes us satisfactorily through the end of the film.
To give any of these plot details away would be near criminal, so suffice it to say, I found the various twists and turns of the race to be quite unexpected and very enjoyable. Of course, I hadn't seen the trailer that apparently gives many important plot points away, but that seems to be typical for most movies these days. I think it's really a very poor way to market a picture that has any kind of surprise elements in it. Can you imagine if PSYCHO were marketed as the movie where a meek motel clerk is revealed as a serial killer?
In a movie like this, usually the actors are upstaged by the true stars, which are the stunts and cars themselves. I must say, that's not the case in DEATH RACE. Here we get a perfectly cast group of actors who all do superlative work. At the same time, there is no doubt Americans have a long history of being in love with their cars, and while I haven't paid any attention to fast and sexy cars since I was a teenager, it appears Anderson must have taken a page from Roger Corman's often-stated desire to include a "subconscious theme" in his movies. Certainly any man who  ever was a boy that sees the fabulous collection of customized cars on view in DEATH RACE, will surely get a real adrenaline rush and bring him back to his AMERICAN GRAFFITI days.
Among the nine seminal cars featured in the Death Race are:
Jason Statham's 2006 Ford Mustang GT, known as Frankenstein's Monster—armed with a ¾-inch steel tombstone and two mounted mini-guns that spit out 3,000 rounds per minute.
Tyrese Gibson's armor-plated 2004 Dodge Ram 1500 Quad Cab 4WD. "My car was a reflection of my character in the movie," said Gibson. "I have the biggest car because I'm a bully."
Pachenko drives a 1966 Buick Riviera chop top, lovingly known as the "Death Machine."
Travis Colt's 1989 XJS Jaguar V12, with two M2s on the hood front.
Grimm's 300 monster car is a 2006 Chrysler 300C with three MAG 58s rocket-tube machine guns on the hood front and hellfire missiles on the back.
A 1978 Porsche 911, outfitted with four hellfire missiles on the roof and four mini-rocket clusters on the hood.
A 1989 BMW 735i made to look like an aircraft cockpit. The design team imagined one-half would be cut out of it, and they put the navigator behind the driver (with a mini-gun on the side) to create a different silhouette.
A 1971 Buick Riviera "boat tail" with a pointed back nose, quite the contrast to Pachenko's '66 Riviera chop top—with its points on either side, front and back.
A 1979 Pontiac Trans Am with a cattle guard, .50-cal. gun on the hood front and .308-cal. mini-gun.
Finally, since this is a high budget remake of what is essentially an exploitation movie, its too bad Universal's publicity dept. didn't let Roger Corman lend a hand with some of his classic ad lines. The best tagline Universal could come up with was: "Get ready for a Killer Race."
Why not use some of the really classic exploitation ad lines, such as these actual gems from past Corman movies:
They ride their hot throbbing machines to a brutal climax of violence!

AMES: He had a chip on his shoulder, a monkey on his back and a hate for the world!
MACHINE GUN JOE: Swinging a chain in each hand and lusting for action!
PACHENKO: The neo-Nazi. Show him a badge and he sees red!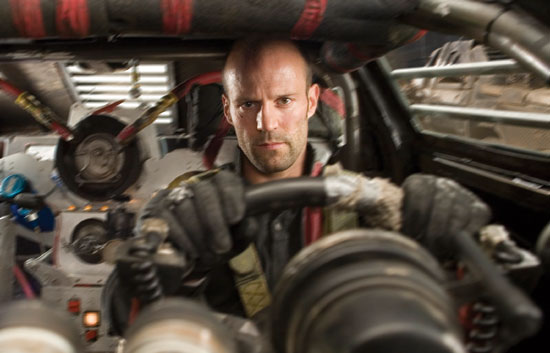 DEATH RACE Written and Directed by Paul W. S. Anderson. Based on the movie Death Race 2000 produced by Roger Corman and written by Robert Thom and Charles B. Griffith. Produced by Jeremy Bolt, Paul W. S. Anderson and Paula Wagner. Executive producers: Roger Corman, Dennis E. Jones, Don Granger and Ryan Kavanaugh. Director of photography: Scott Kevan. Production designer: Paul Denham Austerberry. Music: Paul Haslinger. Costume designer: Gregory Mah. Editor: Niven Howie.
Starring: Jason Statham, Joan Allen, Ian McShane, Tyrese Gibson, Natalie Martinez, Max Ryan, Jason Vargas.