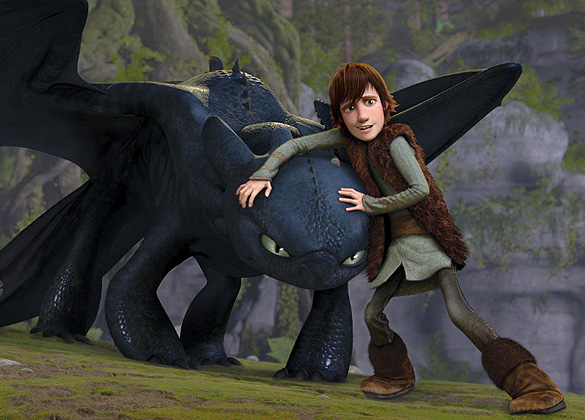 Business Week has posted an article examining DreamWorks CEO Jeffrey Katzenberg's strategy to push for 3D as the future of Hollywood film-making. Before the current back-to-back blockbuster success of AVATAR and ALICE IN WONDERLAND, Katzenberg had long been advocating for wider acceptance of 3D and pushing for more theatres to install the latest technology necessary to project films in the format. According to Katzenberg, every DreamWorks film will now be made in 3D; their current slate of releases includes a trio of computer-animated fantasy/science fiction tales: HOW TO TRAIN YOUR DRAGON (this Friday), SHREK FOREVER AFTER (May 21), and MEGAMIND (November 5).
Part of the reason for adopting 3D (especially IMAX 3D) is that it offers viewers an immersive experience that cannot yet be replicated even on high-def televisions, let alone iPods. Also, theatres can charge more for tickets, boosting the box office results.
The tricky part is that, as more and more films are made in 3D competition grows more stiff, not only for viewer attention but also for available screens. One week after its debut, DreamWorks' HOW TO TRAIN YOUR DRAGON will have to fend off the mythical monsters of Warner Brothers CLASH OF THE TITANS. Two weeks after SHREK FOREVER AFTER, Disney will launch TOY STORY 3 in 3D.
The article fails to note the commonality between all these films, which fall comfortably into either the fantasy or science fiction genre. Although not all 3D movies are cinefantastique, there has been a close connection between the eye-popping technology and genre entertainment. It is relatively easy to imagine how 3D could improve the experience of visiting an alien world in AVATAR or a fantasy land in ALICE IN WONDERLAND. It is a bit more difficult to imagine that PRECIOUS or UP IN THE AIR would be much enhanced by 3D.