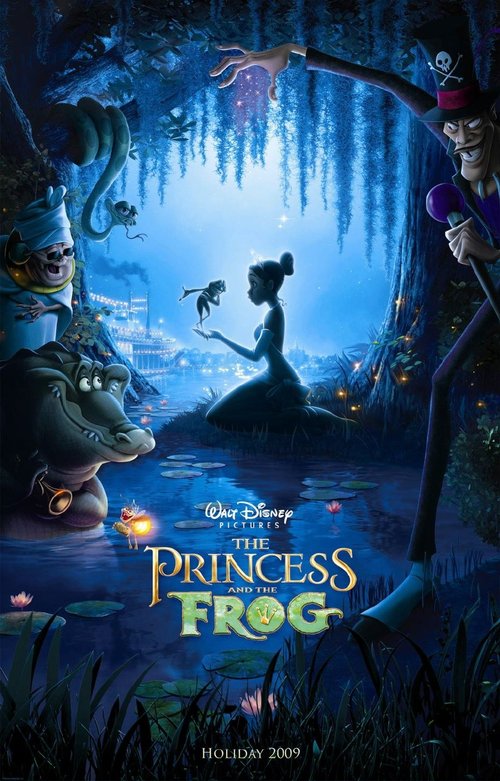 Walt Disney Pictures' THE PRINCESS AND THE FROG offers solid support of at last two maxims:
Never say never
Disney's still got it when it comes to traditionally animated 2D movies.
Not since 2004 has the studio produced a hand-drawn animated film: HOME ON THE RANGE, which Disney studio brass claimed would be the last traditionally animated film from their hallowed halls. Disney sited a declining interest in such animation and pointed to the disappointing box-office returns for RANGE as evidence. Apparently it didn't strike them – at least publicly – that one of the major factors in its lackluster performance (it pulled in $50-million domestically while its budget came in at $110,000,000) was its flat plot and uninspired animation.
THE PRINCESS AND THE FROG, on the other hand, does not lack care or inspiration. The work put into it shows – and does so quite appealingly. Its combination of soft, pastel colors and more primary tones are pleasing to the eye, as are the renderings of the draping landscapes surrounding New Orleans and the swamp lands that skirt it. And the filmmakers managed this on a budget of $5,000,000 less than RANGE – five years later down the road, no less.
All of the characters, too, are drawn with the same care and just the right amount of flair. Tiana is (as most know by now) Disney's first black animated princess, and she is handled with as much love and attention to detail as any in the Disney portfolio. Anika Noni Rose voices her with fitting sums of strength and femininity. Bruno Campos (Prince Naveen), Keith David (the evil voodoo practitioner, Dr. Facilier), Michael-Leon Wooley (Louis, the trumpet playing, jazz loving alligator), and Jim Cummings (Ray, the scruffy but ever-romantic firefly) all bring fun and a good deal of personal style to their vocal performances.
Something else that impresses is the THE PRINCESS AND THE FROG's approach to the character of Charlotte (voiced lively by Jennifer Cody). She could have been relegated to the simple dimension of a spoiled, jealous girl. Instead, although she is certainly spoiled, she does remain a steadfast friend and shows no embitterment in connection with Tiana's eventual outcome, even though it's what she wished for herself. In fact, she even wants to help. It was nice to see a true kind soul within this goofy, self-centered lass.
And this may seem an odd little notice to some, but another nicely handled aspect was the sound editing (supervised by Odin Benitez) and sound mixing (steered by David E. Fluhr, Gabriel Guy, and Dean A. Zupancic). It is subtle where called for, yet otherwise affecting at the appropriate points. It never makes an improper leap into simple or silly cartoon noise.
THE PRINCESS AND THE FROG also refuses to fall back on the I-just-wanna-hold-on-'til-my-prince-charming-comes-along line of thinking. Tiana's father works his fingers to the bone to support his family and build on a dream, and Tiana has his same attitude and work ethic. She holds down two jobs, saves every penny possible, and foregoes many of the little pleasures in life so that she can move forward toward her and her now-deceased father's dream of owning and operating a restaurant-night club. This sends a good message to dreamy youngsters.

Things do awry, however, when a frog – who was transformed by the sinister Dr. Facilier – thinks Tiana is a princess after seeing her dressed in a tiara and an elegant gown at a costume ball. He talks her into kissing him so that he can be turned back into his princely self, but because she's not really a princess the kiss backfires, and poor Tiana is transformed into a frog as well.
The rest of the time is spent with the two frogs trying to make their way to the good voodoo priestess Mama Odie in the hope that she can reverse Dr. Facilier's evil spell. They meet several colorful characters along the way, including the aforementioned Louis the alligator and Ray the firefly. Incidentally, Ray and his firefly friends add a nice touch by creatively lighting up portions of the Louisiana bayou as our friends press on in their adventure.
As in all Disney fairytales, love strikes our two little frogs, so the ride's end is a traditional one. Some "modernists" may complain about this aspect, but to them I say quit your whining. Almost all classic tales involve love on one level or another. "No man is an island," as they say, and it's a potent human need to seek out companionship and, yes, love. It rarely matters what one's aspirations are in life; a desire for love always comes into play somewhere along the line. It's a basic element in life and art, so I have no issue with it here.
No, my issue in this regard is the motivation for Tiana's falling into love with the frog prince. He's an amusing fellow, but the reasons for her eventual feelings for him seem relatively unmotivated. If THE PRINCESS AND THE FROG has an obvious weakness it is within the story itself and in some of its supporting characters, as in the case of the slightly underdeveloped, and thus underwhelming, Mama Odie (though still voiced affectively by Jenifer Lewis). While these flaws are certainly not glaring or destructive, the tale doesn't quite hold up to the likes of relatively recent Disney classics such as THE LITTLE MERMAID (which kicked off the studio's second "golden age"), BEAUTY AND THE BEAST, or ALADDIN. However, it mounts a stronger rally for the position of Disney classic than POCAHONTAS, HERCULES, or TARZAN.
Though not rising fuly to the level of a Disney classic, THE PRINCESS AND THE FROG was obviously inspired by the style of some of them (particularly BAMBI and LADY AND THE TRAMP), and it is a fun story. After all, it does take its cues from the famous inspirations of E. D. Baker's novel The Frog Princess and the Grimm Brothers' fairy tale "The Frog Prince." (By the way, Baker took his cue from the Grimm brothers too.) Ron Clements and John Musker (who previously collaborated on BEAUTY AND THE BEAST, ALADDIN, and HERCULES) certainly wanted to do justice to these famous stories, yet fell a bit shy of greatness. But that's okay; it's still a nice cut above the average fare.
The same can be said for Randy Newman's scoring and song arrangements. He's handled at least five Pixar films and has never failed to delight. His efforts here may not quite rise to the level of some of his best memorable work, but it's easily more than serviceable, thoughtfully mixing things up with ragtime, big band, gospel, zydeco, and jazz. He employs some wonderful horn work at the beginning, letting one know he's going to have some fun with this movie and that audiences can too.
Inescapably, there will be those who see fit to attack THE PRINCESS AND THE FROG for its perceived black stereotyping in relation to New Orleans and its cultural history, including an interest in voodoo. However, to run from certain aspects of cultural heritage is to live in a kind of wishful denial. To show disdain for employing familiar beliefs and traidtions in a piece of popular art is to show, to some degree, a type of disdain for those beliefs and that culture as well. Isn't it the varied beliefs and traditions within humanity that create its unique intrigue and lend themselves to exploration and expression through avenues such as art, philosophy, psychology, and anthropology?
In any case, THE PRINCESS AND THE FROG makes no attempt to cast a negative light on anything, save for the evil of greedy selfishness. An open mind will see that steps were taken to implement Disney story traditions that date all the way back to its – and the – very first full-length animated film, SNOW WHITE AND THE SEVEN DWARFS. And, of course, the specific story technique in question dates far back beyond that.
A few have also criticized THE PRINCESS AND THE FROG's style of animation, but I believe that by and large these people are bringing their own cynical baggage to the picture (and perhaps they thrive on their role as "critic," rather than reviewer). If you're a true animation fan, you should find plenty to enjoy and even admire. And I, for one, send kudos to John Lasseter and supporters for reviving Disney's traditional 2D, hand-drawn technique. Far from being a "step back in technology," as I've heard at least one chap say, this form of animation is its own solid art form, and I'm happy to see that its death knell has been overstated by many these last several years. Disney, ya may not have done big classic great, but ya done good.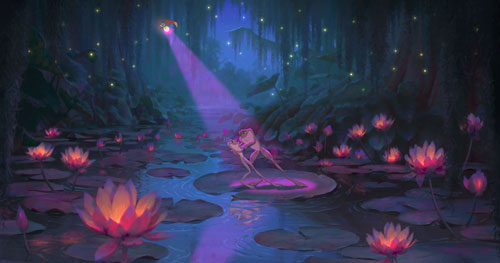 THE PRINCESS AND THE FROG (Buena Vista, 2009; 95 min.) Directed by Ron Clements. Screenplay by Ron Clements, John Musker, and Rob Edwards. Based on the works of E. D. Baker and the Grimm Brothers. Produced by Peter Del Vecho. Associate Produced by Paul D. Lanum and Craig Sost. Executive Produced by John Lasseter. Technical Direction by Eric Daniels. Production Design by James Aaron Finch. Art Direction by Ian Gooding. Visual Effects Animation Supervision by Marlon West. Music by Randy Newman. Edited By Jeff Draheim. Casting by Jen Rudin. Cast: Anika Noni Rose, Bruno Campos, Keith David, Michael-Leon Wooley, Jennifer Cody, Jim Cummings, Peter Bartlett, Jenifer Lewis, Oprah Winfrey, Terrence Howard, John Goodman, Elizabeth M. Dampier, Breanna Brooks, Ritchie Montgomery, Don Hall, Paul Briggs, Jerry Kernion, Corey Burton, Michael Colyar, Emeril Lagasse, Kevin Michael Richardson, Randy Newman, Terence Blanchard, and Danielle Moné Truitt. MPAA Rating: G.