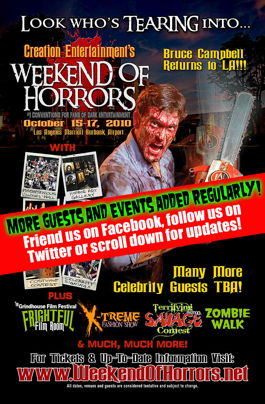 CREATION'S
WEEKEND OF HORRORS
LOS ANGELES, CA
Fri., Sat. & Sun.
October 15-17, 2010
Marriott Burbank Airport Hotel
With Guests Including
BRUCE CAMPBELL
SEAN PATRICK FLANERY (SAW 3D)
NORMAN REEDUS (THE WALKING DEAD)
TROY DUFFY (BOONDOCK SAINTS)
SID HAIG (SPIDER BABY & MORE)
KEN FOREE (DAWN OF THE DEAD)
ADRIENNE KING (FRIDAY THE 13th — Crystal Lake Wine)
ROBERT Z'DAR (MANIAC COP)
WILLIAM LUSTIG (MANIAC — Blue Underground Video)
FRANK HENENLOTTER (BASKETCASE)
"UNCLE BOB" MARTIN
NATHAN HANNEMAN (HORRORHOUND)
Plus JEFFREY COMBS' One Man Show NEVERMORE
A complete schedule of events will be posted shortly before the convention. Check their NEW webpage for Updates.
Note: Cinefantastique is a Media Sponsor of this event.