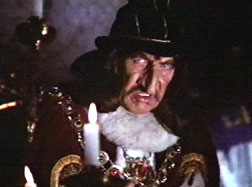 Seventeen years ago on October 25 1993 at the age of 82, Vincent Price met the end of his adventure on Earth. To commemorate his passing, several Facebook groups are having a "Vincent Price Day" including Rick Squire's The Vincent Price Exhibit. As is well-known, Mr. Price was a life-long devotee of all the arts and often defended the motion-picture as a great art form before it was fashionable to do so in the fifties and early sixties.   In this homage Price wrote in 1986 for Forrest J. Ackerman,  he offers a splendid tribute not only to "4 E" but also to the many fright films that will forever be associated with the name of Vincent Leonard Price.
HOMAGE TO 4E  ACKERMAN

A tribute by VINCENT PRICE

March 24, 1986

I've done my share of horror films. Some were meant to be, some weren't. Some actors are so connected (to the genre) in the public's mind, that they mind the association–I do and I don't. All of us have done other things, many of which we are more proud of than the horrors, but what the public remembers demands a certain amount of gratitude from all of us. The public can so easily forget.

Now there are people whose role in life is to perpetuate the public's memory in certain ways, in specific areas of every field of endeavor. Some do it with a heavy hand and some with a touch of genius. Some even combine genius with humor and they are the very special few. To name the one special, unique, all by himself, we must come up with the name of Forry Ackerman. He is a gentle wit, full of fun and funniness. He loves a quip and is not above treating us to some striking punning. He wrote me that, "Twenty-seven years ago I brought forth upon this continent a genre magazine conceived in jeopardy and dead-icated to the proposition (13) that all monsters are cremated evil." Now you see what I mean. And not even the slightest apology to Lincoln.

Quite seriously, Forry has indeed punned, joked and consciously smiled his way into millions of young hearts. To appear on a cover of his magazine is to become immortal. In a rather ghoulish way. The recipient of the cover honor can be sure of thousands of imitators. He or she takes a place in the make up's of many Halloweens. They become collector's items and are framed, hung, adored and almost worshipped throughout Monsterland. Landis, Lucas, King and Spielberg all owe him some of their devoted followers. Single handed he has kept alive many a lessening legend putting them under his list of ghost writers on the heading of his always imaginative stationary. Tod Browing, George Zucco, Jack Pierce, as well as the obvious greats, Karloff, Lorre, etc.

On a personal note he is a great and loyal friend and career supporter. When you're with Forry or 4 E and his enchanting wife Wendayne at a movie opening or film festival as I was two years ago in Madrid, or at some especially enchanted Hollywood affair you know you've in the company of royalty. In his kingdom of the bizarre, weird and wonderful he is supreme ruler, keeper of the keys to monster immortality. He pictures himself crowned with Jack Pierce's famous top part of Frankenstein's monster's head.

Forry has made monsters fun, vampires good company. His address in Hollyweird, Karloffornia has become a Mecca for young monster lovers and serious students of one of the oldest cinema genres. He is a collector extraordinaire as he truly collects extraordinary things and has made the grand gesture of giving it to the city of Los Angeles, which with it's typical lack of concern for an industry that has made it famous, still doesn't have a place to house it.

Eventually he and his collection will become monuments to a (but for him) much neglected cinema art form. We all owe him a great debt for keeping alive his favorite genre of movies and best preserving its mementos. We should thank him for his fun, devotion, and generous giving of it to his avid public. His fans are legion.
___________________________________________

Celebrate Halloween this year with the magical voice of Vincent Price:
WITCHCRAFT & MAGIC: An Adventure in Demonology. Capitol Records 1969 SWBB-342 Stereo. Two Record Set. Written and Directed by Terry d' Oberoff. Producer: Roger Karshner. Electronic score by Douglas Leedy.
The secrets of witchcraft and magic revealed by Vincent Price, distinguished actor and demonologist.
A Note from producer Roger Karshner:
"In this album we have attempted to bring to the listener the essential elements of Witchcraft and Magic, authentically and dramatically. Terry d'Oberoff's script is historically sound and is beautifully written, with satanic, dramatic brilliance. Mr. Price's interpretation is indeed masterful. His voice surrounds you, lifts your mind and transport it across the landscape of Hell."
This is easily one of the best of Vincent Price's many sound recordings. Here Price's superb dramatic reading is beautifully enhanced by an inventive use of stereo sound effects that most of Price's other recordings lack. There is also a very subtle music score and atmospheric readings from three un-credited actresses who play the witches from Shakespeare's Macbeth.