Henry Selick's film of Neil Gaiman's book ranks alongside the classics of fantasy filmmaking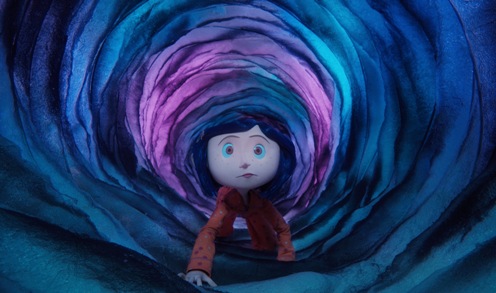 10 years ago, in February, 1999, Cinefantastique celebrated the 100th anniversary of stop-motion with the publication of a special double issue. At the time, it looked very much like stop-motion might be poised to go the way of the dinosaur, as CGI threatened to make it obsolete as a viable movie form. However, director Henry Selick never stopped believing that stop-motion was still the best way to make certain animated movies. Now, 10 years on, Selick has proved his point most spectacularly with an adaptation of Neil Gaiman's book CORALINE.
Selick and his cadre of talented animators (Anthony Scott, Travis Knight, Trey Thomas and Eric Leighton) have toiled away for four long years, and the result has to be considered (to borrow an ad line from THE 7TH VOYAGE OF SINBAD), "nothing less than a miracle in motion pictures!" Indeed, I'm sure that CORALINE will thrill all stop-motion aficionados to their bones. One reason for this, no doubt, is that Henry Selick has managed to make the film so appealing to all ages. When, for instance, was the last time you heard a lengthy quote from Shakespeare in an animated film? As a result, I daresay CORALINE can rank alongside such classics of fantasy filmmaking as Jean Cocteau's BEAUTY AND THE BEAST and Alexander Korda's THE THIEF OF BAGDAD.
So special thanks for this success must go to all of the studio executives at Focus Features, along with producer Bill Mechanic, for shepherding such a time-consuming project to it's successful fruition. Unfortunately, these days there simply aren't that many producers like the late Charles H. Schneer, who can guide a stop-motion picture to completion.
Below are some of director Henry Selick's comments about the film (from the press notes), along with excerpts from my interview with Mr. Selick, taken from CFQ's special stop-motion issue.
What a piece of work is Man! How noble in reason! How infinite in faculty! In form and moving how express and admirable! In action how like an angel! In apprehension how like a god! The beauty of the world! The paragon of animals! And yet, to me, what is this quintessence of dust? Man delights not me: no, nor woman neither, though by your smiling you seem to say so.

—Shakespearian actresses Miss Spink and Miss Forcible, while performing in a theater for 248 Scottish Terriers and Coraline.


HENRY SELICK: When I first read Neil's manuscript, I was struck by the juxtaposition of worlds; the one we all live in, and the one where the grass is always greener. This is something that everyone can relate to. Like Stephen King, Neil sets fantasy in modern times, in our own lives. He splits open ordinary existence and finds magic.
Coraline is very appealing to me, and I hope that she will be very appealing to children seeing the movie for a variety of reasons. She's brave and imaginative and has got an overwhelming curiosity; if she sees something interesting, then she has to know about it. I loved that her 'grass is always greener' scenario turns out to be scary. When Coraline – an ordinary girl – faces real evil and triumphs, it really means something, as Neil has said.
Neil invites the reader in to participate in Coraline's adventure, and I wanted to do the same for the moviegoer. This was an ideal opportunity to take all I know about storytelling through animation, bringing those tools to bear on a story with a strong lead character. Neil was there with help and advice right from the start, yet was not overly precious with his book and would step away when I needed to focus. You want to honor the important parts of a book in adapting it, but you also have to invent and change as well.
LAWRENCE FRENCH: John Lasseter was telling me that one of the things he has discovered is that people are inherently fascinated with the idea of miniature worlds. Whether it's in CGI, stop-motion or in model railroads and cars.
HENRY SELICK: That's probably what drew me into stop-motion, after having been a 2-D animator first, and having come to stop-motion from that tradition. I can't get around the fact that you actually see the world in front of you, three dimensionally, lit, with the puppet there on the set. It may not be moving, but you know it's going to be brought to life in the camera. I love that tactile, touchable realness of the miniature world. It's something you can never get with drawn or computer animation. I've always loved Ray Harryhausen's work, George Pal and later on Starewicz. I'd always loved it, but I didn't really know how to do it, so I gradually shifted from one form to the other.
LAWRENCE FRENCH: Besides Starewicz, you also like a lot of the eastern European animators, don't you?
HENRY SELICK: Yes, I love Jan Svanjkmajer, who did FAUST, and CONSPIRATORS OF PLEASURE, that's quite a brilliant piece of work. It's 90% live action and incredibly entertaining, and he uses stop-motion in a very powerful way for the climax. He's one of my all time heroes. The ideas behind the animation in his films are always really powerful. He's the inspiration for the Quay brothers. And in Jiri Trinka's film, THE HAND, he has a really free spirited character.
LAWRENCE FRENCH: How do you define good stop-motion characters?

HENRY SELICK: That's hard to say. For me, I'd say the more stylized or simplified way you go, combined with really believable acting. That's where you find the best characters developing. The way the puppet moves has to make it really seem to be alive, depending on both the design and how well it's lit. But I've never really gone for realism. I've never had the job of doing realistic effects for a film.
LAWRENCE FRENCH: Are you committed to stop-motion over the long haul, depite the rise of CGI?
HENRY SELICK: Yes, I love stop-motion, so I'm pursing projects in stop-motion. I've talked to people about them, but it's got to be the right story and done economically, so it can continue to be commercially viable. Also, now with the help of video cameras, and computers, it's easy to do stop-motion on your own. I have a 13-year old nephew who has a camera with single frame capability, and he's making movies. He goes from live action to animated figures, and edits in the camera. It's so simple. You can animate aluminum foil, blobs of clay, G.I. Joe dolls, anything! So I always think there's going to be some kid doing stop-motion, it's so accessible and low-budget. Over the years, most of what has been done in stop-motion is pretty awful. Not just a little bit bad, but usually very bad, and that really bothers me. When that gets out, it can really hurt the reputation of stop-motion. We are in this era of BEAVIS AND BUTTHEAD where animation is the last thing on the list of what's important to those shows. I'm committed to it, but I'll have to take it a step at a time. I also need to do what I need to do to survive. I almost feel that Phil Tippett, in his heart, still is dedicated to stop-motion, but he's also not foolish, so he's going to do what he has to do, to continue making his brilliant special effects.
LAWRENCE FRENCH: Phil Tippett told me that his argument for using stop-motion was you would get the input of one animator in creating a character.
HENRY SELICK: Yes, that's right, because very often one animator could do the entire scene. You cast the animators, just as you'd cast actors. Sometimes according to characters, or sometimes according to the scene. Trey Thomas, who is a kind of motorcycle guy, ended up doing a lot of the most delicate female animation to Sally in THE NIGHTMARE BEFORE CHRISTMAS. Josephine Haung did the most gorgeous close-ups of James face, in JAMES AND THE GIANT PEACH.