If a film is to be of interest to me, it must have something experimental in it.

—Alain Resnais
As Steve has noted in his Laserblast comments, Criterion's Blue-ray and DVD edition of Alain Resnais' LAST YEAR AT MARIENBAD is now out, right on the heels of the 87-year old director's latest film, WILD GRASS , which has received rave reviews at the recent Cannes film festival. Variety's Jordan Mintzer said, "the pic is marked by superb performances and a dazzling technical display by the helmer and cinematographer Eric Gautier." At Cannes, Resnais himself was also cited with a "Lifetime achievement award for his work and exceptional contribution to the history of cinema."
Unfortunately, given the sad state of foreign film exhibition in America, it seems probable that like most of Resnais' last eight films, WILD GRASS will not even be distributed to American cinemas!
Ironically, the last real success Resnais had in the U.S. was when Roger Corman, a huge fan of his work, successfully marketed MON ONCLE D'AMERIQUE (MY AMERICAN UNCLE) in America via his New World Pictures.  Of course, it's a given that Resnais' experimental style is never going to set box-offices on fire, but even the easily accessible musical-comedy SAME OLD SONG (1997) played for only a few weeks in most American cities.  However, at least that Resnais film got shown! Most of his previous six pictures were all passed over by American distributors, including such gems as LOVE UNTO DEATH and SMOKING/NO SMOKING. Luckily, Kino Video has recently put four of the missing Resnais films out on DVD.
Some notes on selected Alain Resnais movies with themes that relate them to cinefantastique:
1959 HIROSHIMA MON AMOUR (New Yorker Films, 91 min).
Marguerite Duras and I agreed that we would attempt an experiment in film by not having the characters directly participate in the tragic action but rather remember it, react to it. I asked Duras to write a story, in the style of a recitative, in which the past would not be manifested through real flashbacks but would remain present throughout the story; a love story within a framework of other people's suffering; two characters whose memories are always present in their actions. The entire film then was to be built on contradiction.
—Alain Resnais

1961 LAST YEAR AT MARIENBAD (Astor Pictures, 94 min.)
One of the themes which interests me in the film is that of the parallel universe. It is quite possible that all the characters are speaking the truth. We didn't deliberately organize the film around this possibility, but there is a certain connection with "automatic writing" …We wanted the film to work quite differently from a conventional entertainment; by a sort of contemplation, of meditation, a series of advances and retreats from the subject.

—Alain Resnais


1968 JE T'AIME, JE T'AIME (I LOVE YOU, I LOVE YOU) (Fox Europa / Parc – 91 min).
I thought it was fun to have the film begin as a B movie. Like a kind of bad serial, but maybe that was a little too perverted. JE T'AIME, JE T'AIME for me is a very ironical film—with a lot of sadness. But I would have preferred to hear people laugh more.
—Alain Resnais.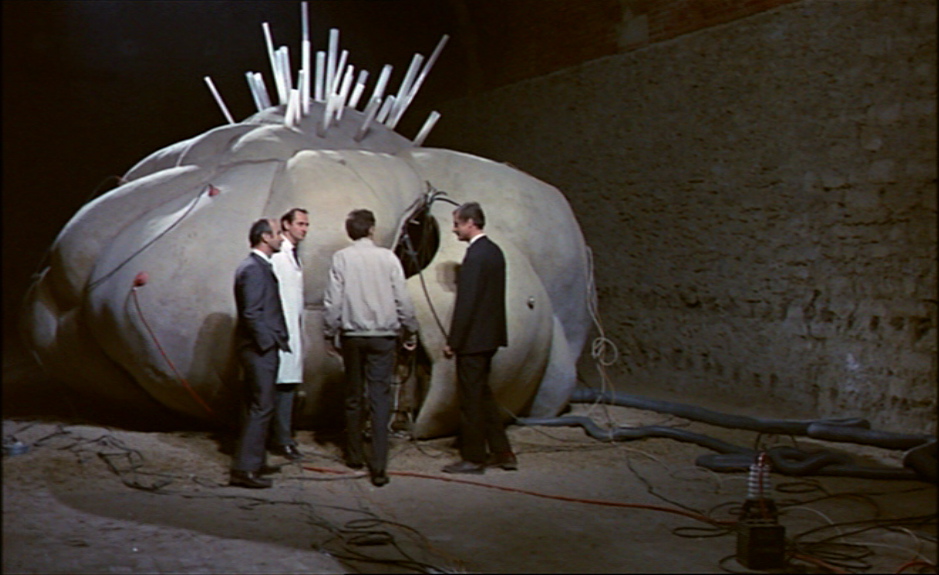 This rarely-screened Resnais film is perhaps his most audacious look at the workings of human memory, here examined through the pretext of a time travel experiment gone awry. After an unsuccessful suicide attempt, Claude Ridder (Claude Rich) agrees to become a human guinea pig in a scientific experiment at the Crespel Institute, located in a country chateau. The scientists there propose to send Ridder back in time one year previous, for exactly one minute (along with a white laboratory mouse). But something goes wrong and the scientists are powerless to help Ridder, who begins to repeatedly relive fragmented moments from his past, including his tragic love affair with Catrine (Olga Georges-Picot), her accidental death, and his own suicide attempt. The film is composed of over 100 different scenes set in 13 different time periods from Ridder's life, all of which are presented in no particular order, making it Resnais' supreme triumph in the art of film montage. Scored by the experimental Polish composer, Krzysztof Penderecki.
1983 LIFE IS A BED OF ROSES (LA VIE EST UN ROMAN) (New Yorker Films, 113 min).
A legend imagined by children and played by adults. Three stories, or rather one story with three themes.
—Alain Resnais
Resnais second film with writer Jean Gruault is often mistakenly listed as being part of a trilogy, when in reality this film has almost nothing to relate it to MON ONCLE D'AMERIQUE or LOVE UNTO DEATH (other than the fact that the writer and director are the same). It is actually much closer in theme and style to I WANT TO GO HOME and SAME OLD SONG. The plot focuses on the search for Happiness, illustrated by two stories set in Count Michel Forbek's (opera star Rueggero Raimondi) utopian castle, "the Palace of Happiness." After a brief introduction showing the origins of the Count's castle, Resnais continually cuts between two different stories. The first is a bizarre cult like meeting in the 20's, where the Count attempts to regress his willing friends and guests back to a near natal state, from which they will emerge without their memories, and thus be able to see the world with re-awakened senses. The second story, set in the present day, has the castle turned into a progressive school, where a conference for teachers is underway and various affairs are pursued among the free-wheeling participants. Resnais' first film with Sabine Azema and Pierre Arditi who would go on to act (usually as a couple) in many of the director's subsequent films.
1984 LOVE UNTO DEATH (L'AMOUR A MORT) (MK2, 93 min.)
Resnais once explained that his work dealt with the desire to "stop death in its tracks—the toll that time takes on us, just as the photographer or the painter wants to capture forever the face and body of the woman they love." This remarkable film offers Resnais and screenwriter Jean Gruault the chance of doing just that. Simon (Pierre Arditi), is an archeologist at work excavating Roman ruins at Uzes in southern France. After being mysteriously pronounced dead by the local doctor (Jean Daste), Simon revives, and begins to re-examine the meaning of his life. His devoted girlfriend, Elisabeth (Sabine Azema) tries to comfort him, but finds her own love for Simon faltering when the memories of his 'death vision' begin to become a morbid obsession. Co-starring André Dussolier and the radiant Fanny Ardant as a team of husband and wife ministers who advise Simon and Elizabeth when they both most come face to face with the consequences of Simon's experience.
With this film Resnais visits Bergman territory, using many of the Swedish directors favorite themes, but in a totally unique way. And ever the experimenter, Resnais continually cuts away from his characters in the middle of scenes, showing a lightly falling snow, or sometimes just blackness, accompanied by the dissonant music of Hans Werner Henze, to suggest a limbo (or gateway) to whatever awaits one beyond death. Easily ranks among Resnais' greatest films, with fine performances and beautiful cinematography by Sacha Vierny (in widescreen Panavision, marking Resnais' first use of this format since LAST YEAR AT MARIENBAD). Fascinating, rigorous, and a dazzling meditation on death, resurrection and the power of love. Described by the modern French philosopher Gilles Deleuze as "one of the most ambitious films in cinema history," which, quite shamefully was never picked up for U.S. distribution.
1989 I WANT TO GO HOME (JE VEUX RENTRER A LA MAISON) (MK2, 105 min.)
For what I know about the cinema, I owe as much to the comics as to the films. The principles of scripting and editing are the same for comic books and films. Long before films, they employed CinemaScope. And further, they have always been able to change their proportions. They also know how to use color for dramatic purposes.
—Alain Resnais
Based on a script by satirical cartoonist Jules Feiffer, I WANT TO GO HOME explores Resnais' life-long love for the art of comic books. An American cartoonist (played by legendary SINGIN' IN THE RAIN composer Adolph Green) travels to Paris for an exhibition of his work and a reunion with his estranged daughter Elise (Laura Benson). Gerard Depardieu (in his first English-speaking part) co-stars as Elise's professor at the Sorbonne. The ending, like PROVIDENCE, takes place at a baroque chateau in the countryside, where all the principals comically interact at a masked party.
1993 SMOKING (USA Films, 146 min.) and NO SMOKING (USA Films, 147 min.)
"I wanted people to get lost in a sort of labyrinth, and enjoy it. In France, many more came to see SMOKING, than NO SMOKING. I'm sure that means something, but I don't know what. It was the 'NO' in NO SMOKING that made people want to see the other one first. Originally, I thought of calling one 'Either,' 'Or' and the second one 'Like that,' 'Or otherwise.' But then it seemed a bit patronizing, a bit Pirandello.
—Alain Resnais
Although acquired by October films, this inventive two-part narrative was never released to U.S. theaters. Based on INTIMATE EXCHANGES, a cycle of 8 short plays by English playwright Alan Ayckbourn, which are all set in a small Yorkshire village, focusing on the same basic set of characters, starting with the alcoholic headmaster of the local school, Toby Teasdale and his long suffering wife, Celia Teasdale. Resnais' favorite actors, Pierre Arditi and Sabine Azema play all of the nine main characters. Both films start with the exact same openings and the subsequent scenes go their divergent ways, depending on whether Celia decides to smoke a cigarette or not. Then, half-way through each film (after establishing the basic situation), six different endings are presented, one right after the other. Resnais hoped that audiences would go to see each film on subsequent evenings, in whatever order they preferred. However, that was probably one of the biggest stumbling blocks to it's being shown in America. Theater owners, no doubt, resisted the idea of playing the two films on alternate nights. Of course, an easy solution to that marketing dilemma would have been to release the films one at a time, a few months apart.
See posters for Alain Resnais films at my FaceBook page HERE.