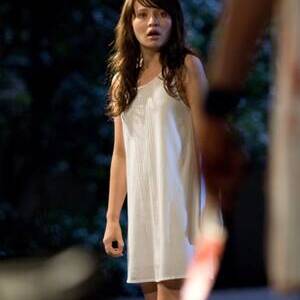 According to Entertainment Weekly's Hollywood Insider, actress Emily Browning (most recently sceen in the ghost story THE UNINVITED) will takeover the role SUCKER PUNCH, which was vacated by Amanda Seyfried, who had to drop out due to scheduling conflicts with her HBO series BIG LOVE:
Seyfried had received the offer and was very interested in the starring role as an insane asylum inmate who loses herself in a fantasy world where she dreams about escaping with her fellow inmates. But she had to decline due to scheduling conflicts with the fourth season of Big Love. (HBO wouldn't release Seyfried from her shooting schedule.) Shooting on Sucker Punchis set for the fall. Evan Rachel Wood, Vanessa Hudgens, Abbie Cornish, and Emma Stone are all still in talks to costar.
The film is being directed by Zach Snyder, who was recently named Showest Director of the Year. Since making the transition from music videos to feature films with 2004's DAWN OF THE DEAD, Snyder has directed two graphic-novel adaptations, 300 and WATCHMEN, and he seems content to continue working in the realm of cinefantastique.
For now, Snyder is working on the director's cut of [WATCHMEN], due out in July, which he says will be a bit more inside for fans of the comic and clearer to nonfans. His next projects remain genre-based — the fantasy adventure "Sucker Punch," an animated film called "The Guardians of Ga'Hoole" and Ray Bradbury's "The Illustrated Man"— but he says he'd do another comicbook adaptation if the right one came along.
"There are millions of genius pieces of work out there, but nothing's keeping me up at night," he says. "Nothing since 'Watchmen.'"