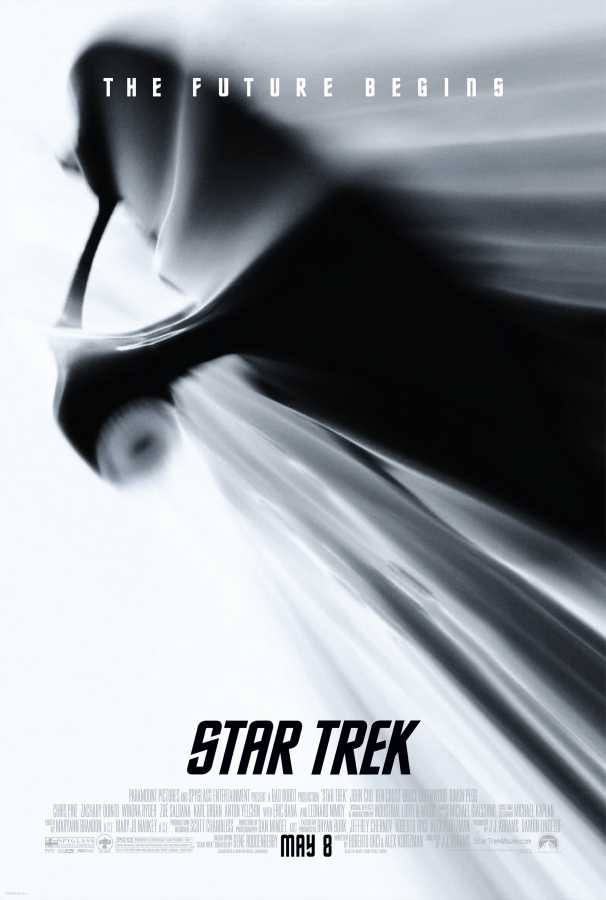 Okay, boys & girls, this little look at the 2009 STAR TREK movie is gonna get a tiny bit nit-picky and point out a few details that some other folks are letting slide. It also assumes that you've seen the film. So if you're one of those viewers who thinks the new picture is 'totally awesome,' then you'd better not read on. Because although I enjoyed it quite a bit, I've got a few thoughts & questions I'd like to get off my chest. Sure, you'll no doubt think they're petty, but I happen to think some of those little details can hinder the film's chances at being taken seriously as big screen cinema and something that works on a global level.
Now, remember, I did enjoy the new STAR TREK film; I just didn't love it to death. There were certain aspects that seemed to pull it back into the realm of that television feel I've never liked from the films. The impetus behind the baddie's desire for revenge and the new timeline that develops because of his embittered actions smack of been-there-done-that, and it feels like the type of plot structure we'd see on the itty-bitty screen. Besides, it's pretty hard to beat Khan in that realm.
There's the obligatory mind-meld scene in which young Kirk (Chris Pine) is told why angry Nero (Eric Bana) is mad at well-meaning Mr. Spock (Leonard Nimoy/Zachary Quinto) and wants to destroy Vulcan. It's supposed to be important for Kirk to go through the mind meld to better understand what has transpired, but then we're subjected to a flat and redundant voiceover from future Spock (come on, doesn't that stick in your craw even a little?) explaining everything to Kirk — and us. Crikey, if that's all there was to it, they could have sat down by the fire while Spock simply wove his tale verbally. The meld came off as superfluous, and again, the whole explanation felt like TV.
And what about that mining drill in Nero's ship? What was that all about? They lower this thing down from on high via what looks like some sort of mangled bicycle chain just so they can shoot a 'drilling' beam into the body of the planet. Uh, in the STAR TREK universe, why can't they just shoot a beam from the ship itself to achieve their end? Heck, they've done it plenty of times before for other purposes. Oh wait, but then we wouldn't have that cool skydive & fight scene.
Here's another question about the whole drilling thing. Why do they have to drill into the center of the planet to set off the red matter and generate a black hole? It seems to me that if they just shot it into the surface of the planet and let it explode the hole would generate just the same and consume any surrounding matter, so Spock's planet would be toast anyway. Oh wait, but again we wouldn't have that cool skydive-and-fight scene. Jeez though, didn't that come off a little gimmicky?
What about the monster chase? Seriously, if you were really hungry and somebody set a nice plump chicken to the left of you and a scrawny rat to your right, and then said, "Take your pick." Would you really throw the chicken aside and go for the rat? Then later, of course, all it takes to scare the giant beast off is a measly puny torch being waved in front of it. Yeah, the chase was kind of fun, but the motivation and resolution? Homey, don't buy that.
Something that really grated on my nerves was watching certain bit actors come off as though they were just playing dress-up for a Star Trek convention. That screamed geekboy TV show. Frankly, so did the red academy uniforms; scenes with cadets dressed up in those things felt un-cinematic and yanked me completely out of my suspension of disbelief.
Now I know STAR TREK's visual effects have been getting solid word of mouth; though some of them did look quite nice—especially on good ol' planet Earth—I gotta say some others simply looked like pumped up versions of what we've been seeing on TV for the last few years (did Titan honestly look real?). It was easy to feel the CGI. Some of the sound effects lacked a true big-screen punch too, especially gun battles — I'm sick and tired of pew-pew futuristic weaponry visuals & sounds. When is somebody going to sincerely get innovative in that area again?
Speaking of weapons fire, if Nero's ship was getting consumed by a black hole, why did Kirk have to order for all weapons to fire at it? I'm just askin', but it seemed to me that it was for little purpose other than to show us some more visuals. In the time they sat around doing that and watching things, they could have skedaddled and Scotty (Simon Pegg) wouldn't have had to save their butts. Oh, and Eric Bana? He struck me as a very forgettable member of STAR TREK's  'pained' villain roster – less a character than a device for the plot to hang its hat on.
Here's another pet peeve most of you will wanna slap me for: I hate the words "space dock!" Every time I hear 'em it's like Quint from JAWS scraping his fingernails across that chalkboard. It sounds so 1950's or Saturday morning TV (anybody remember SPACE ACADEMY or JASON OF STAR COMMAND?). The only classy and time-honored way to refer to a docking status is "dry dock!" Grrrrr!
Yes, I know how I sound grousing about stuff like this. Yet, it's little weaknesses like these — to my way of thinking — that make me wonder if the film can play world-wide. I was really hoping this movie would kill off that American-TV-centric feel that only STAR TREK: THE MOTION PICTURE (think of it what you may) was able to avoid. In many ways this TREK did that, but in other, important ways it didn't and me thinks that can hurt its overall world market potential.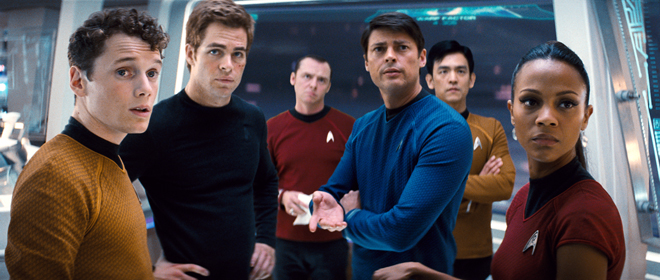 I know after that big list of peeves it's gotta sound like I have it out for poor STAR TREK. However, after having said all that, I can still tell you it was a very fun, zippy ride that is much livelier and more colorful than all of the past films and most of the TV incarnations. They went in a direction I've long felt they should go – the early days of the original crew. I dug Scott Chambliss' production design, and the young cast is extremely likeable in their roles. Everyone got their moment to shine too. Chris Pine made for a witty, rousing young Kirk (though I did think he seemed just a little too eager to blow everyone off and become boss) and I very much enjoyed everyone else as well, save for the bloke who played Bones (Karl Urban). He looked great, but came off as playing (and over playing) his character instead of being his character.
One of my favorite performances came from Bruce Greenwood as Captain Pike. That man's got style and presence. I've always really liked him and look forward to him one day receiving an Oscar nomination (he's already been nominated for several other awards). Heck, he practically deserves it in this film. He delivers his lines with an expertise and commanding control that should elicit more attention and mention. Many of those lines might come off like geekboy talk were it not for his smooth, reasoned delivery. He also managed to pull off a big-screen feel in an outfit or two that wouldn't have looked thus on someone else.
Lastly, I hold Michael Giacchino higher than most in terms of the newer film composers, so I was hoping to be wowed a bit more by his music for the new STAR TREK film. Though it's a pleasant and workable enough offering, it lacks that certain zing. Still, he's got two other big summer movies coming out this year (UP, LAND OF THE LOST), so I know he's been a busy boy and probably had to work quickly on this one. And we'll see, sometimes it takes a little while for a work to grow on ya.
Look, folks, all I'm trying to tell you is that STAR TREK, though a mighty good ride, ain't perfect and wasn't quite able to shed some of the small screen feel and sensibilities that have virtually always plagued the other big screen efforts. Nonetheless, it was brisk, clever, funny, sexy, nostalgic, contemporary, forward-thinking, optimistic, and even moving at times. It was certainly made with love and respect. So before you diehard fans come looking for my head, remember, I give it all that. That's quite a lot.
STAR TREK (Bad Robot/Paramount Pictures, 2009; 126 min.) Directed by J.J. Abrams. Screenplay by Roberto Orci and Alex Kurtzman. Based on the television series by Gene Roddenberry. Produced by J.J. Abrams, Damon Lindelof, and David Witz. Executive produced by Bryan Burk, Jeffery Chernov, Alex Kurtzman, and Roberto Orci. Cinematography by Daniel Mindel. Production Design by Scott Chambliss. Costumes by Michael Kaplan. Special Effects Supervision by Roger Guyett, Matt McDonald, Thomas Nittmann, Kelly Port, Daniel P. Rosen, Stefano Trivelli, and Edson Williams. Music by Michael Giacchino. Edited By Maryann Brandon and Mary Jo Markey. Cast: Chris Pine, Zachary Quinto, Leonard Nimoy, Eric Bana, Bruce Greenwood, Karl Urban, Zoe Saldana, Simon Pegg, John Cho, Anton Yelchin, Ben Cross, Winona Ryder, Chris Hemsworth, and Jennifer Morrison. MPAA Rating: PG-13 for sci-fi action and violence, and brief sexual content.