The third SPIDER-MAN film is a bit like a web that's been hanging in a dusty corner for years: it's so weighted down with sticky bits and pieces of past detritus that it's in danger of being ripped apart by the struggles of the new prey caught in the strands. Fortunately, the franchise strengths remain strong enough to support this wobbly structure: SPIDER-MAN 3 is still about ordinary people whose ordinary problems are complicated by the burderns of superherodom.
The first half is a a slow-moving unruly mess that desperately tries to introduce new characters while simultaneously re-introducing continuing plot threads from the previous two films. Flint Marko (Thomas Haden Church) escapes from prison and turns into Sandman. Harry Osborn (James Franco) adopts the mantle of the New Goblin and tries to avenge himself against Spider-Man for the death of his father in the first film. Eddie Brock (Topher Grace) seeks to usurp Peter Parker's position as photographer at the city newspaper; eventually, so late in the film it almost feels like an afterthought, he turns into Venom, a sort of evil version of Spider-Man.
Meanwhile, what should be the focus of the story appears only in bits and pieces: Peter Parker (Tobey Maguire) lets being Spider-Man go to his head, first succumbing to the adultation of fans and later succumbing to his dark side when he uses his powers to extract revenge on Marko (who it turns out is the real killer of Parker's uncle, who died in SPIDER-MAN). This plot thread is pretty thin at first, with Parker evincing disinterest at the plight of his long-time girlfriend Mary Jane Watson (Kirsten Dunst) when her Broadway singing career bombs; however, it kicks off to hilarious effect later in the film, giving Maguire a chance to show that, beyond playing a nerdy nice guy, he can really excell at playing a self-absorbed, arrogant dickhead. (The sight of him walking the street – a la John Travolta in SATURDAY NIGHT FEVER, dancing to the music in his head and obviously thinking he is the epitome of cool even  while everyone else is rolling their eyes – is a wonder to behold.)
Once the movie finally gets all its ducks lined up in a row, the later half does serve up the requisite action thrills, with Venom and Sandman teaming up against Spidey, who gets some help from an unlikely ally. As in the previous films, there is lots of comic book action rendered courtesy of computer graphics; it's almost never convincing, and it's seldom genuinely exciting, but it is colorful, and at times the drama of the situation helps us overlook the technical shortcomings (shortcomings to which the filmmakers themselves seem blissfully indifferent – they serve up webfuls of the CGI, especially of Spidey's web-swinging among skyscrapers, as if no one's going to notice how cartoony it looks).
Maguire gets to stretch out this time, thanks to Parker's flirtation with the dark side. Dunst is lovely, but there is not much she can do with Mary Jane, who is a bit of a self-pitying whiner in this film. Bryce Dallas Howard barely registers as Gwen Stacy, the new woman in Parker's life, and Topher Grace is a bit too wimpy to make a truly threatening villain, even with the help of the special effects, but Church pulls off Marko with aplomb (he actually sells the character's last-reel change-of-heart, something the script expects us to accept on faith). And Bruce Campbell, veteran of many early Sam Raimi films, is terrific in a bit as a waiter in a French restaurant where Parker blows his attempt to propose to Mary Jane.
In the end, SPIDER-MAN 3 – at least in its later portions – stands alongside its predecessors reasonably well, evincing many of the same strengths and weaknesses. What lifts the franchise above most comic book fare is the wonderful way it focuses on Parker as a nerdy do-gooder, uncomfortable with his powers and how they impact his personal life. This creates an instant identifiability that makes the movies engaging – they have a ring of recognizable truth about them, even though they are about a guy who dresses up in a costume to fight crime. On the other hand, when Parker dons the Spider-suit and the special effects take over, the SPIDER-MAN films have yet to deliver a truly out-standing display of virtuoso superhero theatrics. Sure, there has been some fun stuff, but they have yet to deliver a scene as breath-taking as the jet plane rescue in SUPERMAN RETURNS.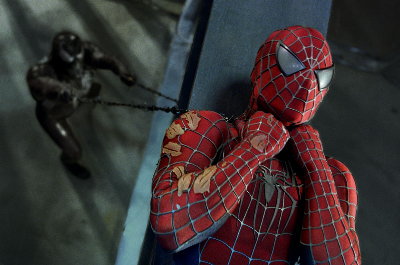 TRIVIA
The conclusion of SPIDER-MAN 3 features a confrontation between the hero and the villains in the skeleton of a building under construction. A similar setting was used for the conclusion of DARKMAN, director Sam Raimi's attempt to create an original comic book-type anti-hero for film.
SPIDER-MAN 3 (2007). Directed by Sam Raimi. Written by Sam Raimi & Ivan Raimi and Alvin Sargent; screen story by Sam Raimi & Ivan Riami, based on the comic book character by Stan Lee and Steve Ditko. Cast: Tobey Maguire, Kirsten Dunst, James Franco, Thomas Haden Church, Topher Grace, Bryce Dallas Howard, Rosemary Harris, J.K. Simmons, James Cromwell, Theresa Russell, Dylan Baker, Bill Nunn, Bruce Campbell, Elizabeth Banks, Ted Raimi Perla Haney-Hardine, Willem Dafoe, Cliff Robertson.