Summers seems to start earlier every year. It's not even June and We are already being bombarded by big-budget blockbusters. There are other genres (comedy, action) on display, but by and large summer is the season when science fiction and fantasy rule the box office (with some horror movies tossed into the mix, in order to be ready for DVD release by Halloween). So far, the summer movies are doing a decent job of living up to the hype: X-MEN ORIGINS: WOLVERINE was a disappointment, but STAR TREK was a genuinely joyful blast from the past, brought up to date for today's audiences. One positive note for dinosaur fans, the season offers at least three dino-pics: LAND OF THE LOST, ICE AGE: DAWN OF THE DINOSAURS, and NIGHT AT THE MUSEUM: BATTLE OF THE SMITHSONIAN (with walking T-Rex skeleton). No word on whether prehistoric beast will show up in YEAR ONE, but here's hoping.
Below, we offer a schedule of the science fiction, fantasy, and horror movies that Hollywood has lined up for Summer 2009.
MAY 1
Battle for Terra.
Director: Aristomenis Tsirbas. Stars: Evan Rachel Wood, Luke Wilson, Justin Long. Studio: Lionsgate. This animated film Canadian production company Snoot Entertainment follows an astronaut (Wilson) who ends up on the peaceful planet Terra, where he struggles to stop prevent his fellow Earthmen from invading. The film has earned a 63% fresh rating at Rotten Tomatoes.  Roger Ebert called it a "bewitchingly animated story."
X-Men Origins: Wolverine
Director: Gavin Hood . Stars: Hugh Jackman, Liev Schreiber, Ryan Reynolds. Studio: Twentieth Century-Fox Film Corporation. Finally, we learn how Wolverine became Wolverine, losing his memory in the process. His battle with his loose-cannon brother Victor Creed/Sabretooth (Schreiber) suggests an old Warner Brothers gangster picture, wherein one brother would become a cop, the other a criminal; unfortunately, the scenario scuttles the dramatic conflict by dragging in lots of other mutants.
MAY 8
Star Trek
Director: J.J. Abrams. Stars: Chris Pine, Zachary Quinto, Simon Pegg. Studio: Paramount Pictures
The plot devices may be amongst the most obvious ever seen on the big screen, but they really don't matter, because this film revives the classic cast of characters with all the joy and exhuberance – and drama – that any viewer (not just Trekkies) could want.
MAY 15
Angels & Demons
Director: Ron Howard. Stars: Tom Hanks, Ayelet Zurer, Ewan McGregor. Studio: Sony Pictures Releasing. Tom Hanks is back in another contrived adventure about "symbologist" Robert Langdon (Hanks), who winds up in the middle of a centuries-old conflict between the Vatican and the Illuminati. Throw in a sci-fi MacGuffin fueling the plot (an anti-matter bomb) and the whole thing sounds just ridiculous enough to be fun.
BIG MAN JAPAN
Directed by Hitoshi Matsumoto. Stars: Hitoshi Matsumoto, Riki Takeuchi, UA (sic), Ryunosuke Kamiki. Distributor: Magnet, 2007; 113 mins. After starting in New York and Los Angeles, this Japanese mockumentary (with English subtitles) moves to a handful of art house engagements around the country (See playdates here). A spoof of giant-sized ULTRA-MAN type shows, this one feels a bit like a Japanese version of HANCOCK, with a superhero who's a bit of a loser, held in contempt by a public that thinks he is almost as destructive as the monsters he battles. It's droll and amusing, but the joke-to-length ratio is way too low, testing the audience's patience more than it should. You really need to a fan of this kind of thing, but if you are it's worth sitting through the slow moments and the confused ending: the film suddenly shifts from modern computer-generated effects to old-fashioned suitmation, leading you to suspect that you're seeing a film-within-a-film (as if the title character's "real" life exploits had been turned into a bad TV show). Weird, but interesting.
MAY 21
Terminator Salvation
Director: McG. Stars: Christian Bale, Sam Worthington, Anton Yelchin. Studio: Warner Bros. Pictures. TERMINATOR 3 gave us no reason to expect anything good would ever again come out of this franchise, but Cinefantasitque Online's Lawrence French gave this film a thumbs-up:
[Director McG] has managed to weld some very memorable action sequences, of quite searing intensity, onto a framework that carries themes with a certain amount of resonance. In short, it's a formula that makes for a nice restoration of the TERMINATOR franchise, especially after the previous installment was clearly heading in the wrong direction.
MAY 22
Night at the Museum: Battle of the Smithsonian
Director: Shawn Levy. Stars: Ben Stiller, Owen Wilson, Amy Adams. Studio: Twentieth Century-Fox Film Corporation. Ben Stiller is back as security guard Larry Daley (Stiller), who must sneak into the Smithsonian to retrieve Jedediah (Wilson) and Octavius (Coogan), who have been shipped to the museum by mistake. But who cares, really? The plot is just an excuse for more mayhem of the kind seen in the previous film, and as long as the T-Rex skeleton is back, I'll pay to see this (though I may hold out for a bargain matinee show).
MAY 29
Up
Director: Pete Docter Bob Peterson. Stars: Edward Asner, Jordan Nagai, John Ratzenberger. Studio: Buena Vista Pictures. Pixar is back with another computer-animated comedy, this tme in 3-D. Hollywood Reporter's Michael Rechtshaffen thinks it may be their best film yet:
Winsome, touching and arguably the funniest Pixar effort ever, the gorgeously rendered, high-flying adventure is a tidy 90-minute distillation of all the signature touches that came before it.
It's also the ideal choice to serve as the first animated feature ever to open the Festival de Cannes, considering the way it also pays fond homage to cinema's past, touching upon the works of Chaplin and Hitchcock, not to mention aspects of "It's a Wonderful Life" "The Wizard of Oz" and, more recently, "About Schmidt."
Drag Me to Hell
Director: Sam Raimi. Stars: Alison Lohman, Justin Long, Ruth Livier. Studio: Universal Pictures. A young loan officer proves she is willing to make tough decisions: she forecloses on an old gypsy woman. Big mistake: the gypsy puts a curse on her, and mayhem ensues. Early reviews from hard-core horror fans suggest that, over two decades since THE EVIL DEAD, director Sam Raimi has not lost his touch. IGN Movies opines: "It's a visceral assault on the senses and will have you gasping for breath as the laughs and scares mount. Raimi directs with the confidence and flair of a genre master."
JUNE 5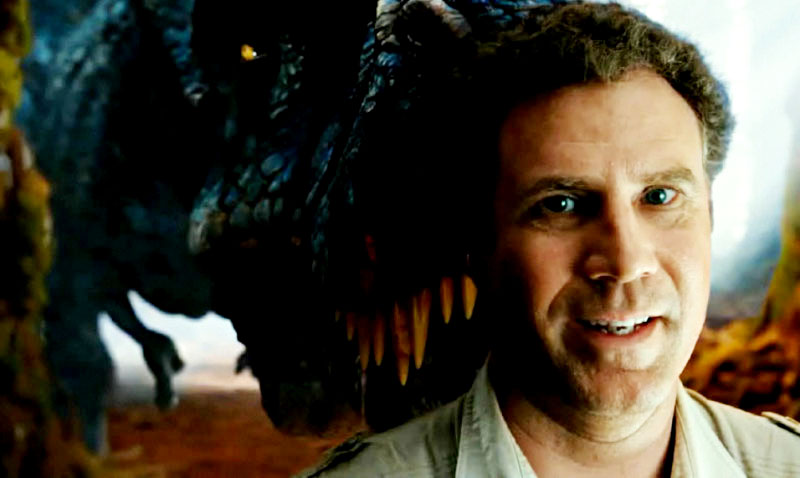 Land of the Lost
Director: Brad Silberling. Stars: Will Ferrell, Danny McBride, Anna Friel. Studio: Universal Pictures. Another old television show spawns a feature film. The trailers for this one look like fun. I mean, it has dinosaurs – what else do you want? (Well, the sight of a T-Rex actually eating Will Ferrell would be worth the price of multiple admissions – hell, I'd pay to see it in IMAX 3-D with special over-priced VIP tickets, but I just don't think that's gonna happen.)
JUNE 12
Moon
Director: Duncan Jones Stars: Sam Rockwell Studio: Sony Pictures Classics. This excellent little science fiction film – with elements of 2001: A SPACE ODYSSEY, SILENT RUNNING, and SOLARIS – gets a limited release. Hopefully enough people will buy tickets so that the distributor will role it out into wider distribution, because the film really deserves it. The story follows astronaut Sam Bell (Rockwell) who has been working on the dark side of the moon for three years, accompanied only by computer, GERTY (voiced by Kevin Spacey). An intriguing plot twist takes place in the first act (the kind of thing you normally see in the last reel) leading to a fascinating story about identity. Online critic Scott Weinberg called MOON "One of the most compelling sci-fi films of the past 20 years," and we find it impossible to disagree.
Imagine That
Director: Karey Kirkpatrick (Over the Hedge, Chicken Run). Stars: Eddie Murphy, Thomas Haden Church. Studio: Paramount Pictures. Eddie Murphy stars as a financial executive who finds solutions to his career problems in his daughter's imaginary world. Sounds too much like BEDTIME STORIES, no?
Dead Snow
Director: Tommy Wirkola. Stars: Jeppe Laursen, Charlotte Frogner, Jenny Skavlan. Studio: IFC Films. Another little movie gets a limited roll-out, hoping to generate some publicity that will boost home video sales. The plot involves young people who run afoul of Nazi zombies. We haven't seen it, but Eric Snider of Cinematical says that once you get past the novelty of zombie Nazis, the film is only so-so.
JUNE 19
Year One
Director: Harold Ramis. Stars: Jack Black, Michael Cera, Olivia Wilde. Studio: Columbia Pictures
Black and Cera star as a couple of lazy hunter-gatherers who encounter various Biblical and historical figures after being banished from their tribe. The humor seems mostly based on anachronisms – having characters speak in contemporary slang even though they are in historical – or pre-historical – situations.
JUNE 24
Transformers: Revenge of the Fallen
Director: Michael Bay. Stars: Shia LaBeouf, Megan Fox, Josh Duhamel. Studio: DreamWorks SKG. Director Michael Bay is back with another film about those toys that turn into robots or something. The first one wasn't any good, but it made a ton of money, indicating that Bay had finally found his true calling: making films for kids.
JULY 1
Ice Age: Dawn of the Dinosaurs
Director: Carlos Saldanha. Stars: Ray Romano, John Leguizamo, Denis Leary. Studio: Twentieth Century Fox Animation. The beloved animated characters are back in action and apparently going back in time, since the dinosaurs lived and died well before these wooly mammoths and sabre-tooth tigers, etc. Whatever, as long as Scrat is back, yearning for his beloved acorn, we're happy (and this time he meets a female of the species).
JULY 10
Blood: The Last Vampire

Lots of anime fans enjoyed the 48-minute anime from 2000 on which this live-action films is based, but I was less than enthusiastic. Slated for theatrical release in Japan on May 29 and in the U.K. on June 12, this live-action remake is scheduld to reach U.S. theatres on July 10.  The animated film earned some accolades for being ground-breaking in its technique – using computer-generated imagery to simulate the traditional look of Japanese anime – but it was rather dull piece of work, featuring a mono-expression heroine who walks around looking nothing but sullen at school until she flashes her sword from time to time to kill off some mutant vampires. It's basically a Japanese Buffy, without the humor, and the vampire-slayer is (apparently) half-vampire (harkening back to VAMPIRE HUNTER D and BLADE). Hopefully, this film will exceed its source. You can check out the trailer here.
JULY 15
Harry Potter and the Half-Blood Prince
Director: David Yates. Stars: Daniel Radcliffe, Emma Watson, Rupert Grint. Studio: Warner Bros. Pictures. Things get dark in Harry's sixth year at Hogwarts, as the inevitable confrontation with Voldemort grows ever closer. Except blood, tragedy, and tears…
JULY 17
All the Boys Love Mandy Lane
Director: Jonathan Levine. Stars: Amber Heard, Anson Mount. Studio: Senator Distribution. The Weinstein Brothers bought this slasher film after it earned positive buzz on the festival circuit two years ago, and then they just sat on it. Thankfully, a new distributor aquired the rights and plans to let the movie finally see the light of a projector bulb.
July 24
G-Force
Director: Hoyt Yeatman. Voices: Will Arnett, Penélope Cruz, Zach Galifianakis, Nicolas Cage, Steve Buscemi, Tracy Morgan. Studio: Walt Disney Studios Motion Pictures. You though chihuahuas were cute – well, how about this: a specially trained squad of guinea pigs battles a diabolical billionaire to foil his evil plan. In 3-D
Orphan
Director: Jaume Collet-Serra. Stars: Vera Farmiga, Peter Sarsgaard, Isabelle Fuhrman. Studio: Warner Bros. Pictures. After their unborn baby dies, Kate and John Coleman (Farmiga and Sarsgaard) adopt a child, but the arrival of the angelic-looking Esther (Fuhrman) precipitates sequence happenings, suggesting there may be something sinister about the child. The plot sounds like just another creepy kid movie, and director Jaume Collet-Serra's resume (which includes HOUSE OF WAX) does not raise our hopes.
JULY 31
They Came from Upstairs
Director: John Schultz. Stars: Ashley Tisdale, Robert Hoffman, Carter Jenkins. Studio: Twentieth Century-Fox Film Corporation. Teenagers protect their vacation home from invading aliens who have taken over the top floor of the dwelling.
AUGUST 7
G.I. JOE: THE RISE OF COBRA
Director: Stephen Sommers. Screenplay: Stuart Beattie and David Elliot & Paul Lovette; story by Michael Gordon and Stuart Beattie & Stephen Sommers. Cast: Christopher Eccleston, Joseph Gordon-Levitt, Byung-hun Lee, Sienna Miller, Rache Nichols, Jonathan Pryce, Said Taghmaoui, Channing tatum, Marlon wayans, Dennis Quaid, Karolina Kurkova, Ray Park, Arnold Vosloo.
Shorts
Director: Robert Rodriguez. Stars: Jimmy Bennett, James Spader, Kat Dennings. Studio: Warner Bros. Pictures. The plot follows a boy who discovery of a rock that grants wishes, but things go wrong when local adults get hold of it. Can Toe and his two new-found friends save the residents of Black Falls from themselves? Warner Brothers is hoping that this colorful kiddie fantasy is not another SPEED RACER at the box office.
AUGUST 14
A Perfect Getaway
Director: David Twohy. Stars: Milla Jovovich, Steve Zahn, Timothy Olyphant. Studio: Metro-Goldwyn-Mayer (MGM). The writer of WATERWORLD offers a tale of  about four people on vacation in Hawaii, but the vacation turns bad when they stumble upon a horrible secret: psychopaths are  murdering tourists. We would have preferred aliens, but we'll take what we can get.
Final Destination: Death Trip
Director: David R. Ellis. Stars: Nick Zano, Krista Allen, Andrew Fiscella. Studio: New Line Cinema. Of course, there's nothing final about these destinations. Another interchangeable group of young friends escape death, only to have death catch up iwth them. After Hunt's (Zano) premonition of a deadly race-car crash helps saves the lives of his peers, Death sets out to collect those who evaded their fate. The plot is the same old, same old; the innovation is that this time, the grizzly deaths will be seen in 3-D (which makes you wonder how the producers managed to overlook doing the third FINAL DESTINATION in 3-D – a tradition that includes such diverse franchises as JAWS, THE AMITYVILLE HORROR, and FRIDAY THE 13TH).
District 9
Director: Neill Blomkamp. Stars: Sharlto Copley, Robert Hobbs. Studio: Sony Pictures Entertainment (SPE). Blomkamp expands his sci-fi short film into a feature-length story about  extraterrestrials who have become refugees in South Africa.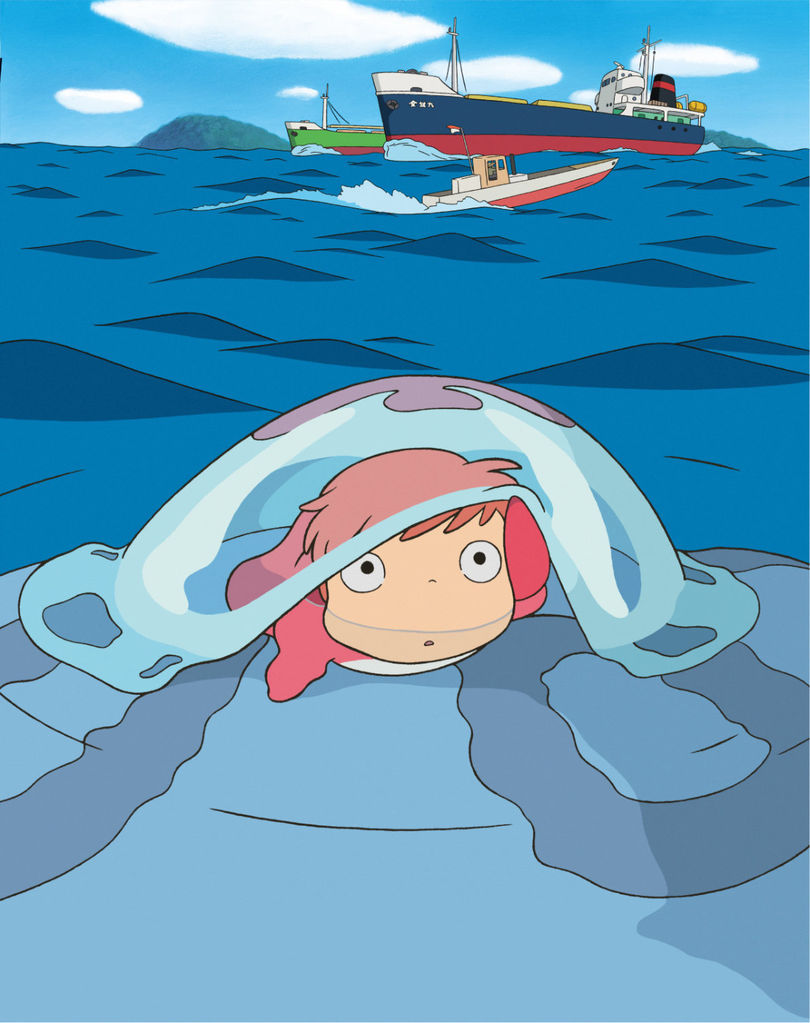 Ponyo
Director: Hayao Miyazaki. Advance word says that the Japanese anime auteur's latest film – which mixes Hans Christian Anderson's "The Little Mermaid" with Japanese folk tales – is another masterpiece, this aimed at five years olds. Miyazaki opted for a simpler style of animation to tell his fairy tale, relying on old-fashioned hand-drawn cells with pastel colors instead of sharply defined computer-generated imagery. "I don't think high quantities and density of information have any relation with the appeal of animation. I tried 3D and don't hate it, though I found hand drawing is able to tell more than that." Says Ghibl World.com: "The animation is so realistic and complex, it is as if Miyazaki's soul is telling his audience "I will show you my power!!
The Time Traveler's Wife
Director: Robert Schwentke. Stars: Eric Bana, Rachel McAdams, Ron Livingston. Studio: New Line Cinema. Hollywood offers up a film version of the novel, about a librarian whose genetic structure causes him to involuntarily time travel, creating complications for his marraige.
AUGUST 28
Halloween 2
Director: Rob Zombie. Stars: Scout Taylor-Compton, Tyler Mane, Malcolm McDowell. Studio: Dimension Films. Like it or not, the Shape is back once again. Hopefully, this one will be a little more imaginative and a little less blunt and crude than its predecessor. Oh wait, who am I kidding?
This post has been updated with new information and release dates.
[serialposts]