Two days ago, we took a look at the slate of horror-thrillers scheduled for release in 2009. Now turning from the darkness to the light, we round up a list of fantasy films and science fiction cinema for the year. With over forty titles on view, we can hardly complain about a dearth of quantity; quality, however, may be another matter – or rather, originality. There are several interesting and exciting films, to be sure, but most of them are franchise efforts: sequels and remakes. Few are attempting to break new ground or to inspire that all-important Sense of Wonder– the intellectual and at the same time visceral buzz that comes from having your percpetions expanded by truly great cinematic achievement. It is perhaps tellingthat the Los Angeles Times, in last week's Sneak Peaks edition, slotted most of the high-profile science fiction titles into other genres (such as Action or Adventure), indicating the speculation and imagination are playing second theraminto laser beams and explosions. Not that there's anything wrong with that – in the words of CInefantastique's late founder, Frederick S. Clarke, I am not anti-fun – but with the almost limitless opportunities presented by modern filmmaking technology, it would be nice if more effort were spent on cinefantastique that not only excited the eyes but also challenged the mind.
NOTE: Release schedules are notoriously subject to change. For up-to-date information, check out our Coming Soon section.
ALIEN TRESPASS: Roadside Attractions provides a limited rleased for this spoof of '50s sci-fi flicks, which Variety termed "Good silly fun." Produced by R.W. Goodwin. Executive producer, James Swift. Directed by R.W. Goodwin. Screenplay, Steven P. Fisher; story, James Swift, Fisher. Cast: Eric McCormack, Jenni Baird, Robert Patrick, Jody Thompson. Release Date: April 3.

ASTRO-BOY: The pioneering piece of Japanese animecomes to life as a big-budget feature film, starring Freddie Highmore as the robot created in the image of a distraught scientist's dead son. David Bowers directs Nicolas Cage, Kristen Bell, Nathan Lane, and Bill Nighy in a script by Timothy Harris. Summit Entertainment releases on October 23.
AVATAR: Writer-director James Cameron serves up his first feature-length dramatic film since 1997's Best Picture TITANIC. Sam Worthington, Zoe Saldana, Stephen Lang, Michelle Rodriguez, and SigourneyWeaver star in this tale of a human mind living in an alien body. 20thCentury Fox releases on December 18, including IMAX 3-D engagements.
BIG MAN JAPAN: Comedy about a middle-aged man who is also a superhero defending his country from monsters, while dealing withthe public and an aging grandfather. Written and directed by Hitoshi Matsumoto, who also stars. Magnet Releasing will distribute in March.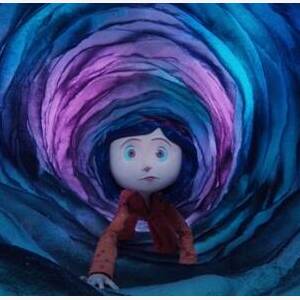 CORALINE: Henry Selick(TIM BURTON'S A NIGHTMARE BEFORE CHRISTMAS) directs Dakota Fanning, Teri Hatcher, and John Hodgman in this Focus Features production. A secret door in her family's new house offers a passage way to an unusual parallel world for young Coraline. Release date: February 6.
THE DARK KNIGHT: Last year's biggest blockbuster returns in IMAX engagements, presumably with the hope of woo-ing Oscar voters. January 23.
DISNEY'S A CHRISTMAS CAROL: Jim Carey steps into the role of Scrooge, supported by Gary Oldman, Colin Firth, Bob Hoskins, Robin Wright Penn, Cary Elwes, and Fionnula Flanagan. Robert Zemeckis directs this 3-D version of Dickens' famous classic. Walt Disney Pictures and Imagemovers Digital release on November 6.
DISTRICT 9: Director Neill Blomkamp co-wrote this script with Terri Tatchell, which casts aliens as refugees in SouthAfrica. With Sharito Copley and Jason Cope. Screen Gems opens on August 14.
DRAGONBALL – EVOLUTION: The famous anime franchise reaches the big screen. James Wong directs Justin Chatwin and James Marsters, in a screenplay by Ben Ramsey and Wong. 20th Century Fox releases on April 6.
FANBOYS: Kyle Newman directs Dan Fogler, Jay Baruchel, and Kristen Bell in this Weinstein Company production about four guys and their galpal who plan a cross-country trip in order to steal a print of Star Wars: Episode I — The Phantom Menacefrom SkywalkerRanch so their dying friend can see it before its world premiere. William Shatner shows up for a cameo. Release date: February 6.
GAME: Gerard Butler (300) and Michael C. Hall co-star in this futuristic film in which human confront each other in an online competition. Mark Neveldine and Brian Taylor wrote and directed. Lionsgate releases on September 4.
GHOSTS OF GIRLFRIENDS PAST: Matthew McConaughey, Jennifer Garner, Lacey Chabert, Michael Douglas, and Emma Stone star in this comedy about a ladies man who finds himself haunted by the ghosts of past girlfriends on the eve of his brother's wedding. Mark Waters directed the script by Jon Lucas & Scott Moore. New Line releases on May 1.
G-FORCE: No, it's not the anti-Godzilla squad from the Hesei era G-films; it's a bunch of guinea pigs trained to work in covert operations. Voices: Nicolas Cage, Penelope Cruz, Steve Buscemi, Tracy Morgan. Directed by Hoyt Yeatman from a script by Marianne and Cormac Wibberly, and Tim Firth and Ted Elliott & Terry Rossio. Walt Disney distributes on July 24, including 3-D engagements.

HARRY POTTER AND THE HALF-BLOOD PRINCE: The sixthinstallment of the franchise hits the big screen, featuring a maturing approach to the story thanks to the growth of the characters. Working from a screenplay adapted by Steve Kloves, David Yates directed Daniel Radcliffe, Rupert Grint, Emma Watson, Jim Broadbent, Michael Gambon, Robbie Coltrane, Alan Rickman, and David Thewlis. Warner Brothers releases on July 17.
ICE AGE – DAWN OF THE DINOSAURS: Those crazy mammals are back, this time on a mission to rescue Sid, which takes them into a "lost world" where dinosaurs still exist. Directed by Carlos Saldanha, from a script by Michael Berg & Peter Ackerman. Voices: Ray Romano, John Leguizamo, Denis Leary and Queen Latifah. 20 Century Fox releases on July 1.
IMAGINE THAT: Eddie Murphy stars as a father who spends too little time with his family. After a career setback, he learns a lesson or two from his daughter's imaginary world. Karey Kirkpatrick directs, from a script by Ed Solomon & Christ Matheson. With Thomas Haden Church and Martin Sheen. Paramount releases on June 12.
INKHEART: A little girl rallies her friends — bothreal and imaginary — to rescue her father, a bookbinder who can bring characters to life by reading aloud, from the clutches of an evil-doer. Director: Iain Softleydirects Brendan Fraser, Andy Serkis, Eliza Bennett. Warner Bros. releases the film on January 23.
KNOWING: Nicolas Cage stars for director Alex Proyas (DARK CITY) in this thriller, written by Ryne Douglas Pearson and Juliet Snowden, about a teacher who comes to believe that a time capsule in his son's school offers predictions of fatal future events. Rose Byrne and Chandler Canterbury co-star.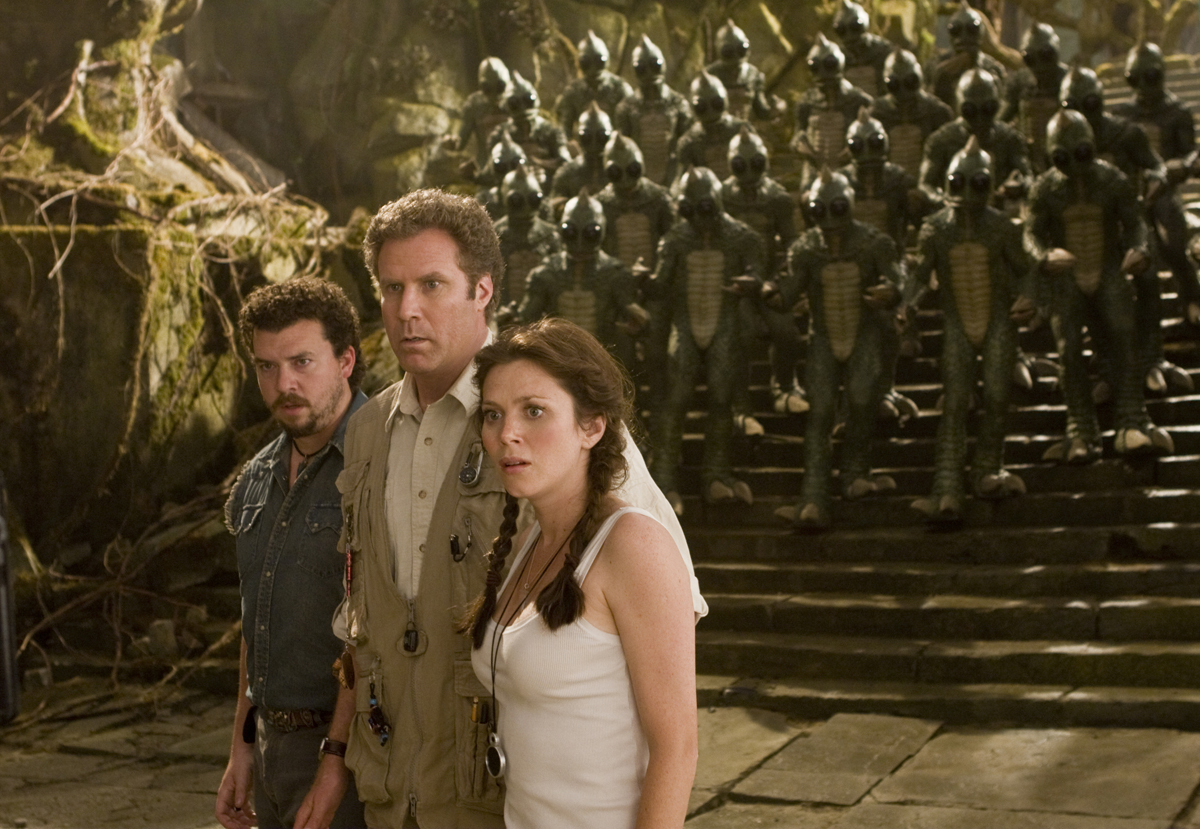 LAND OF THE LOST: Universal Pictures releases this big-budget comedy-adventure about some characters (including Will Ferrell) who get sucked into a space-time vortex and end up in the titular lost world. Who would have thought that the little 1970s Saturday morning kiddie TV show would eventually spawn a theatrical feature released during the summer blockbuster season. The original had some cult appeal because of its use of stop-motion dinosaurs (kept to a minimum for budgetary reasons), but some fans were intrigued by the premise – enough apparently to see the franchise revived as a more lavish television series in the '90s and now as a feature film. June 5.
MIRAGEMAN: Ernesto Diaz Espinoza wrote and directed this sci-fi film about an orphaned man (Martin Zaror) who becomes a reluctant superhero. Magnet Releasing has not specified a 2009 release date.

MONSTERS VS. ALIENS: When aliens from outer space invade, it is up to Earth-bound monsters to fend them off. In essence, this is the plot of every Godzilla film since GHIDRAH, THE THREE-HEADED MONSTER. Voices: Reese Witherspoon, Hugh Laurie, Will Arnett, Seth Rogen, Stephen Colbert, KieferSutherland. Directed by Rob Letterman and Conrad Vernon. Paramount will release on March 17, including IMAX engagements.
NIGHT AT THE MUSEUM 2 – BATTLE OF THE SMITHSONIAN: Ben Stiller is back, and so are those museum exhibits that come to life. This time exhibits at the Smithsonian include Dorothy's ruby slippers from THE WIZARD OF OZ. Amy Adams, Owen Wilson, and Robin Williams co-star. Shawn LEvy directs from a script by Robert Ben Garant & Thomas Lennon. 20thCentury Fox releases on May 22, including IMAX engagements.
9: This is a new animated feature film produced by Tim Burton and Timur Bekmambetov, and directed by Shane Acker. The trailer looks great, immediately pushing the film to the top of the "Must See" list for 2009  (although, curiously, the look of the characters is less suggestive of Burton's NIGHTMARE BEFORE CHRISTMAS than of the IMAX stop-motion short subject MORE). The script was written by Pamela Pettler ("Tim Burton's Corpse Bride, Monster House), based on Acker's short subject, which is available on YouTube. Danny Elfman provides the music. Elijah Wood, Jennifer Connelly, Martin Landau, Christopher Plummer, John C. Reilly, and Crispin Glover provide the voices. Focus Features opens the film nationwide on September 9 (9/9/09 – get it?).
$9.99: A stop-motion film featuring the voices of Geoffrey Rush, Anthony LaPaglia, Samuel Johnson, and Claudio Karvan. Directed by Tatia Rosenthal, who co-wrote with Elgar Keret. Regent Releasing will distribute on April 3.
PANDORUM: Christian alvart directed and co-wrote, with Travis Milloy, this thriller about two astronauts whose awakening from hypersleep is complicated by the uncomfortable realization that they are not alone on their isolates spacecraft. Screen Gems releases on April 24.
PHOEBE IN WONDERLAND: Daniel Barnz wrote and directedt his drama about a young girl who retreats in Lewis Carroll's fantasy world after a stint playingAlice in the school play. With Elle Fanning, Patricia Clarkson, Campbell Scott, Felicity Huffman, and Bill Pullman. Think Film releases on March 6.

PUSH: Paul McGuigandirects Camilla Belle, Dakota Fanning, Chris Evans in this Summit Entertainment production. In Hong Kong, a trio of young people with special abilities are pursued by a clandestine U.S. government agency who wants the gifted ones back in their fold. Release date: February 6.
THE PRINCESS AND THE FROG: A piece of old-fashioned cell animation gives a new interpretation to the old fairy tale story. Directed by Ron Clements and John Musker, with the voices of Anika Noni Rose and John Goodman. Walt Disney releases on December 25.
RACE TO WITCH MOUNTAIN: Dwayne Johnson stars as a cabdriver escorting two kids with paranormal powers to the titular mountain. The original films ESCAPE TO WITCH MOUNTAIN and RETURN TO WITCH MOUNTAIN were awkward examples of the Disney Studio's growingpains – half-hearted attempts to make the old kiddie formula work for a broader audience. Hopefully this follow-up will be a smoother ride. With AnnaSophia Robb, Carla Gugino, and CiaranHinds. Andy Fickman directed and co-wrote, with Matt Lopez and Mark Bomback. Walt Disney will relese on March 13.
THE REPOSSESSION MAMBO: Forest Whitaker and Jude Law co-star in this sci-fi thriller set in a future where synehtic organs are repossessed if the recipient falls behind on payments.  Miguel Sapochnik directs from a script by Eric Garcia and Garrett Lerner. Overture Films releases in the Fall.
SLEEP DEALER: Director Alex Rivera co-wrote this script with David Riker, about a future world where everyone is tied together through a digital network. With Luis Fernando Pena, Leonor Varela, Jacob Vargas. Maya Entertainment releases on March 20.


STAR TREK: J.J. Abrams reboots the franchise with this tale of the origins of the crew from the classic 1960s TV series. Frankly, the photos look less like the characters than like a bunch of geeky fans dressed up for a convention, but who knows? Chris Pine, Zachary Quinto, and Eric Bana star. Alex Kurtzman & Roberto Orci wrote the script.
SURROGATES: Bruce Willis toplines this film about a murder investigation surroudning a scientist who makes robot duplicates of people. Radha Mitchell co-stars. Jonathan Mostow directs from a script by John Brancato and Michael Ferris. Touchstone releases on September 25.
THE TEMPTEST: The wonderful Helen Mirren stars as a female version of Prospero in this adaptation of the Shakespeare play. Dijmon Hounsou, Russell Brand, Alfred Molina, and Felicity Jones co-star for director Julie Taymor, who also adapted the screenplay. Miramax releases in the Fall.

TERMINATOR  SALVATION: McG (CHARLIES ANGELS) directs this continuation of the TERMINATOR franchise. Christian Bale and Sam Worthington star in this tale of the human resistance that John Connor leads in the post-apocalyptic future. Warner Brothers releases on May 22.
TOOTH FAIRY: Dwayne Johnson stars as a hockey player who has earned the sobriquet "Tooth Fairy" in honor of his penchant for knocking teeth loose from his opponents. Too bad for him: he is sentenced to work as a real tooth fairy. Ashley Judd co-stars for director Michael Lembeck, working from a script by Joshua Sternin & Jeffrey Ventimilla, and Lowell Ganz, Babaloo Mandel and Randy Mayem SInger. 20th Century Fox releases on November 13.
THEY CAME FROM UPSTAIRS: It's a battle between kids and tiny aliens in ths adventure film directed by John Schultz from a script by Mark Burton and Adam F. Goldberg. Ashley Tisdale, Robert Hoffman, and Andy Richter head the cast. 20th Century Fox releases on July 31.
TOY STORY: The big-bang that launched Pixar Entertainment into feature film-making returns to theatres, this time with its computer animination enhanced for 3-D. Disney distributes on October 2.

TRANSFORMERS – REVENGE OF THE FALLEN: Director Michael Bay has finally found a level where his skills are perfectly suited to his audience; hence he returns for a second go-round, with the giant transforming robots from outer space. Also on board are Shia LaBeouf back as Sam Witwicky and Megan Fox. Ehren Kruger & Roberto Orci & Alex Kurtzman wrote. DreamWorks and Paramount split the distribution, which includes IMAX engagements. June 26.
2012: John Cusack, Chiwetel Ejiofor, Amanda Peet, Oliver Platt, and Thandie Newton star in this post-apocalyptic tale from director Roland Emmerich, who co-wrote with Harald Kloser. Columbia Pictures releases on July 10.
UP: Pixar's latest computer-animated animated film focues on a crotchety old balloon salesman who floats his house to South America with thousands of balloons. Unfortunately, he has a young stowaway on board. Voices: Ed Asner, Christopher Plummer, and John Ratzenberger. Written by Bob Peterson, directed by Peterson and Pete Doctor. Disney releases on May 29.

WATCHMEN: Working from a screenplay by David Hayter and Alex Tse, Zack Snyder directed this adaptation of the famous graphic novel by Alan Moore (who decicedly did not give his blessing to the film). Malin Akerman, Billy Crudup, Matthew Goode, Carla Gugino, Jackie Earle Haley, and Jeffrey Dean Morgan fill out the cast. Now that the legal dispute between 20th Century Fox and Warner Brothers has been settled, WB can go ahead with their plan to release the film on March 6.
X-MEN ORIGINS – WOLVERINE: Hugh Jackman is back with the adamantium claws in this prequel revealing the back story of Wolverine. Liev Schreiber, Danny Huston, and Dominic Monaghan co-star for director Gavin Hood, working from a script by David Benioff, based on the Marvel comic book character. 20th Century Fox releases on May 1.
[serialposts]