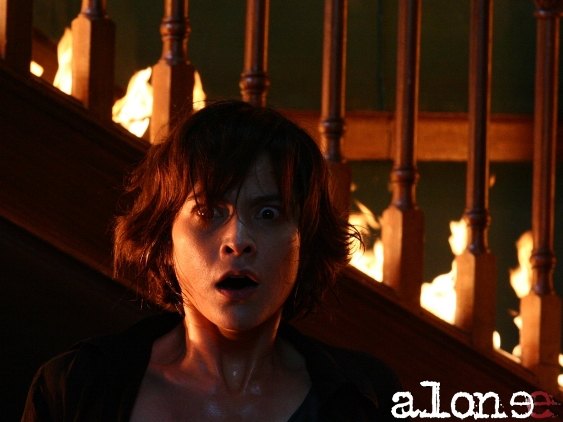 Screamfest  has announced the winners from its 2007 horror film festival. The big winner is the fine Thai ghost story ALONE, which topped five categories. Fest highlights PARANORMAL ACTIVITY and STORM WARNING also won in multiple categories.
Best Student Short: ANGEL directed by Nikolas List
Best Editing: ALONE – Vijja Kojew and Thammarat Sumetsupachuck
Best Score: STORM WARNING performed by Jamie Blanks
Best Short Film: IN THE WALL directed by Mike Williamson
Best Cinematography: ALONE – Niramon Ross
Best Screenplay: THE PALACE by Adam Aresty and Jon D.A.
Best Special Effects: STORM WARNING Justin Dix and Gab Facchinei
Best Makeup: INSIDE (A'L'INTERIEUR)
Best Actor: Everon Jackson Hooi (DEAD END)
Best Actress: Katie Featherstone (PARANORMAL ACTIVITY)
Audience Choice Award: WASTING AWAY
Boost Mobile – Best of the Next in Horror: STEM directed by Iqbal Ahmed (won $10,000 awarded by Boost Mobile)
Honorable Mention: PARANORMAL ACTIVITY
Best Directing: Banjong Pisanthanakun and Parkpoom Wongpoom (ALONE)
Best Picture: ALONE
This is a pretty respectable list of winners, although (as always) there is some room for disagreement. I am sorry not to see ROOM 205, THE SIGNAL, or SHROOMS among the winners. TIMBER FALLS was also quite good, although I could see why it might be edged out by the somewhat similar STORM WARNING.
Frankly, I am surprised to see that WASTING AWAY took the audience award, but I do have to say that director Matthew Kohnen is an extraordinarly fine fellow, considering the gracious e-mail he sent me after I trashed his movie.
In case you missed my previous posts on the fest, I covered INSIDE here; ALONE and DEAD END here; and STORM WARNING, TIMBER FALLS, SHROOMS, and THE SIGNAL here.