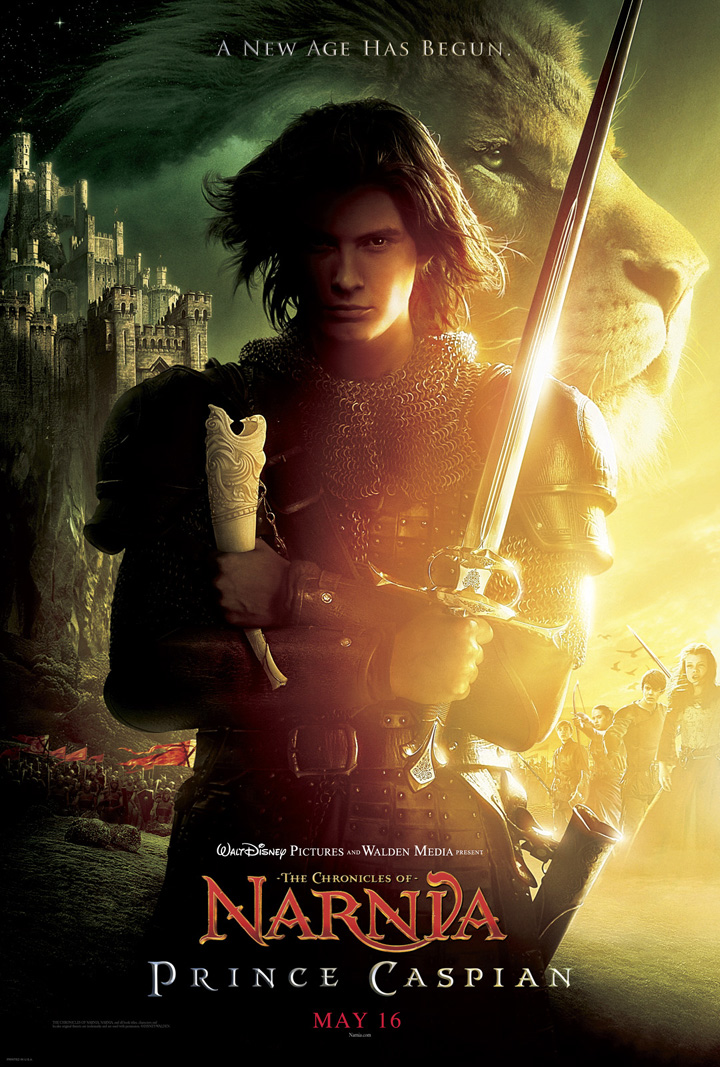 THE CHRONICLES OF NARNIA: PRINCE CASPIAN was released on May 16 of this year and quickly shot to the top of the box-office… for one week. Can't fault it too much for a single week at the top of the pyramid, though. In a summer of mighty stiff competition even INDIANA could not hold the top spot for more than a week (heck, he even got stomped by a bunch of girls). Besides, THE LION, THE WITCH AND THE WARDROBE only lasted one week at number one. However, it did make approximately $10,000,000 more during its opening weekend: $65,000,000 as opposed to $55,000,000. In the sequel, C.S. Lewis' four heroes – Peter (William Moseley), Susan (Anna Popplewell), Edmund (Skandar Keynes), and Lucy (Georgie Henley) -are brought back to the world of Narnia, but something's very wrong. The land they helped save and rule now lies in ruins, overgrown by foliage. Eventually they—and we—discover that over 1,300 years of Narnian time has passed and the nasty human Telmarines have taken over and banished the realm's more mystical type inhabitants to the wild lands.
Prince Caspian (played by newcomer Ben Barnes, who some of us last saw in STARDUST) is heir to the Telmarine throne, but his Uncle Miraz (Sergio Castellitto) plots to assassinate him so that he may himself assume rule over the kingdom. The attempt fails, however, and during his escape our righteous young hero runs into some members of the banished mystical creatures, who take him into their custody, but not before he sounds the magical horn in his possession—which was given to Susan in the first film—and thusly calls the four Pevensie children back to the enchanted world, so that they may help set right the wrongs inflicted upon it.
Now, I have to admit that I was less a fan of the first film in this series than many. I felt that much of the depth of Lewis' work was left out at the expense of expediency and simplicity. I also remember thinking that for a film with one of the pivotal characters named in the title, that character made little more than what amounted to a guest appearance. Nor was I overly impressed with some of the visuals (though they fair better on DVD and the small screen), and the choreography of the battles seemed a bit uninspired. Some of the secondary characters were flatly handled as well.
PRINCE CASPIAN, on the other hand, improved on all of these elements to my view: the sub-plotting was more complex; the texture and mood was darker (both perhaps too much so for the liking of younger viewers); and the visuals and choreography were stronger. The direction by Andrew Adamson(who worked on all three of the SHREK films) was a bit richer too.
There's something else that impressed me, and that's the casting. This is another point that shines a positive light on the director. Barnes made for a charming young prince, chipped front tooth and all, and the three main Telmarine leads – Castellitto, Damián Alcázar and Pierfrancesco Favino – gave nice, realistic performances that lent a welcome sense of traveling to another land. And yes, even British comedian Eddie Izzard entertained as the voice of the swashbuckling mouse Reepicheep. Too, there was Warwick Davis of Wicket fame (or infamy) in RETURN OF THE JEDI; he was here as Nikabrik. Peter Dinklage, who's been mighty busy the last several years (UNDERDOG, DEATH AT A FUNERAL), was solid as the dwarf Trumpkin.
I do rather miss the White Witch as played by Tilda Swinton (MICHAEL CLAYTON, THE CURIOUS CASE OF BENJAMIN BUTTON). She had only a brief cameo in CASPIAN. But Liam Neeson (the upcoming LINCOLN and, you know, that "EPISODE I" STAR WARS movie) was back—and I thought a bit stronger so—as Aslan.
It seems that most of the correct elements were there for another very strong box-office showing. Although the film is doing decently, it's probably only going to do half as well as WARDROBE did domestically. Film one rang in at a total of $291.71-million; film two has currently grossed $135.47-million. So, I'm very curious as to why? It's not the length. CASPIAN maintains the approximate running time that WARDROBE did: just about two-and-a-half hours. And as I pointed out, it shouldn't really be too related to a weakness of its creative elements. Again, in many cases I thought they were enhanced the second time around. And it only received nine percentage points less in approval from critics than did the first film. So what is it?
The subject matter and mood was darker this time, and some of the plot demanded that more attention be paid to it. Could that be a factor? Maybe, but that didn't hurt THE EMPIRE STRIKES BACK; not in the long run anyway. However, it is true that EMPIRE was less unanimously received with love largely because of the darker, more complex direction it took. Later, of course, it came to be widely viewed as the best film in the entire series. So maybe there's hope for CASPIAN down the road.
Or perhaps CASPIAN should have had a December release instead of taking on all the summer's box-office heavy hitters. There are a significant number of tent poles out there this season, and that's a lot to ask four Pevensie kids to take on. Besides, the Christmas season seems like a lot more logical time to release a film based on a beloved work from one of the world's most beloved Christian authors.
Or maybe some parents took their young children to the first film and the wee ones got so scared that mom & dad decided that they'd better skip taking the kids to the darker second installment, which is even more personal on a human level and intentionally less fun and magical in that child-like sense.
Or possibly when folks saw the first film and thought about it for a bit they decided that it wasn't quite a masterpiece and thought to themselves, 'Eh, it coulda been better,' and so decided not to rush to the theater to see number two. Then before they ventured out to see it on the big screen, other new and enticing movies arrived, pushing any viewing priority they may have had aside.
Or could it just be a simple sense of been there, done that? After all, things did seem to be wrapped up nicely at the end of WARDROBE. Folks may be thinking, What's the point in returning? Everything basically seemed solved the first time around.
I'm not sure what the reason is for the lack of overly robust box-office is, but it's gotta be systemic within the film(s). The book series, which was published between 1950 and 1956, has long been regarded as one of literature's most enduring and imaginative classics. Lewis' books have sold over 100,000,000 copies and have been translated into more than 35 languages, making it one of the largest book series in the world.
Producer Mark Johnson feels that film two surpasses the original in many ways and it reminds him of the films he loved as a kid. "It harkens back to some of those movies that were full of adventure and swashbuckling and brave characters. We even have a castle and a moat! On top of that, it takes place in Narnia, so it involves C.S. Lewis' imagination." In his mind I'm sure he must be asking, "What's not to love? We built it. Now come, people, come!"
At any rate, I'm not certain what the root cause is for the film's lack of the same strong success that followed WARDROBE. I've thrown out a thought or two, but perhaps you can tell me what you think. We encourage people to respond via our comment link. Any theories?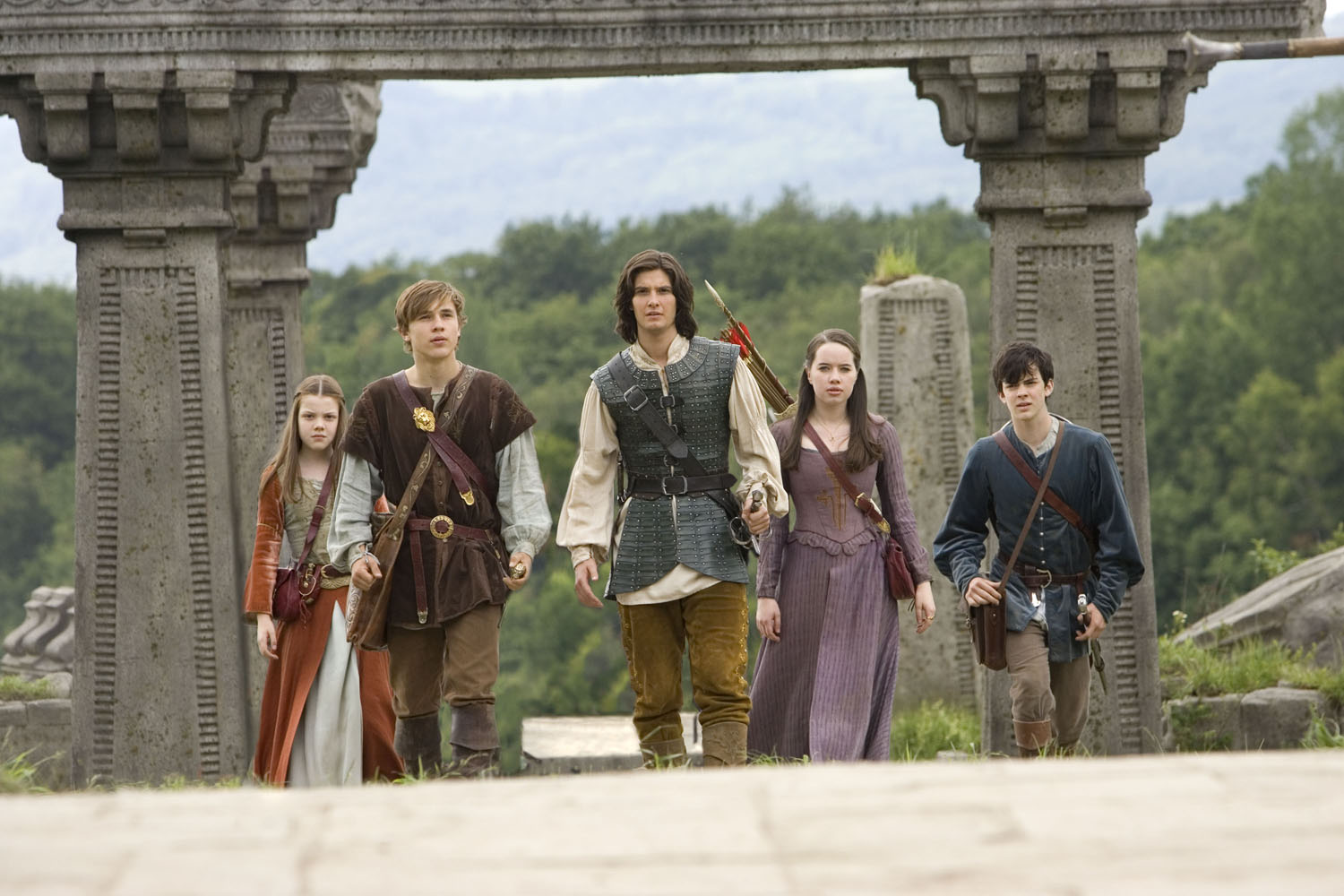 THE CHRONICLES OF NARNIA: PRINCE CASPIAN(Walden Media & Walt Disney Pictures, 2008). Director: Andrew Adamson. Screenplay By: Andrew Adamson, Christopher Markus & Stephen McFeely. Based on the works of C.S. Lewis. Producers: Andrew Adamson, Douglas Gresham (C.S. Lewis' stepson), Mark Johnson, Perry Moore and Philip Steuer. Director of Photography: Karl Walter Lindenlaub. Editors: Josh Campbell & Sim Evans-Jones. Production Designer: Roger Ford. Film Composer: Harry Gregson-Williams. 144 minutes. Rated PG (for epic battle action and violence). Cast: Ben Barnes, Georgie Henley, Skandar Keynes, William Moseley, Anna Popplewell, Sergio Castellitto, Peter Dinklage, Warwick Davis, Vincent Grass, Pierfrancesco Favino, Cornell John, Damián Alcázar, Alicia Borrachero.