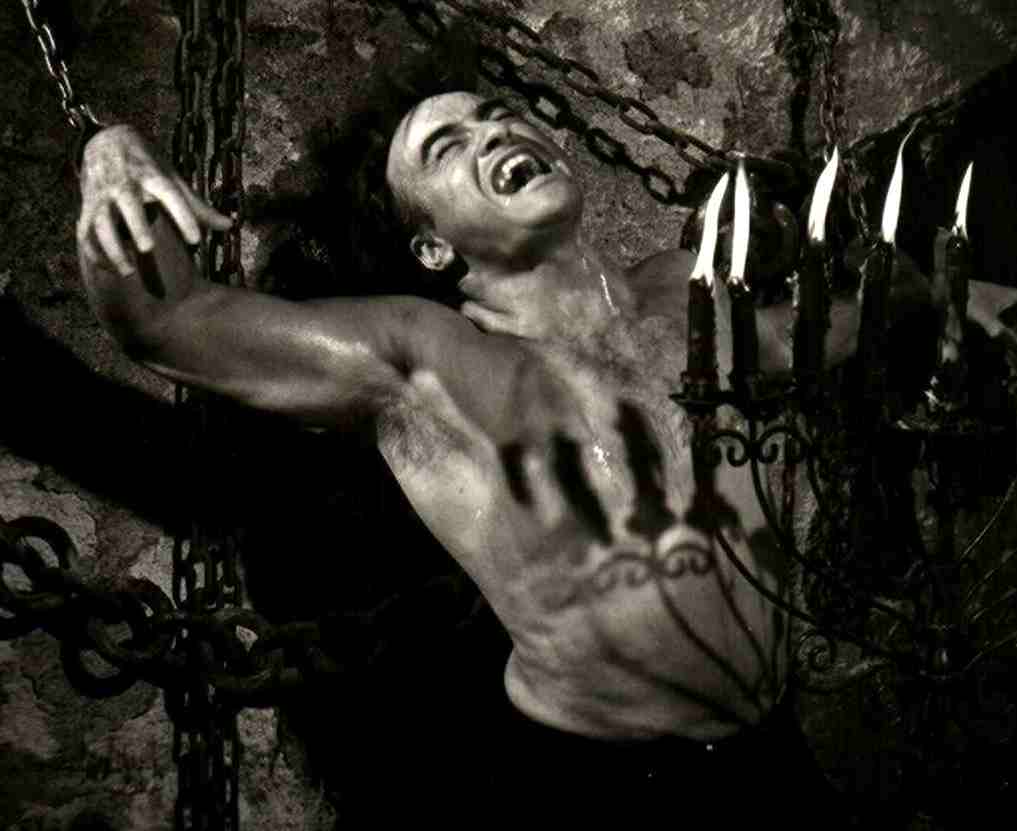 75-year-old Spanish horror star Paul Naschy died in Madrid on Monday; cause of death was cancer. Naschy, whose real name was Jocinto Molina Alvarez, starred in dozens of monster movies, many of which he also wrote and/or directred. His most famous role was that of Waldemar Daninsky, the doomed werewolf  who appeared in a series of films in the '60s and '70s.
Naschy's prolific output consisted largely of pastiches of classic horror movies from the 1930s and 1940s, with the addition of color and bloodshed to liven them up for contemporary audiences. He first came to the attention of American audiences with 1968's LA MARCA DEL HOMBRE LOBO ("The Mark of the Wolfman"), the first of the Daninsky films, which was released to U.S. theatres under the misleading title of FRANKENSTEIN'S BLOODY TERROR. (The distributor was contractually obligated to deliver a "Frankenstein" title, and legal problems were delaying the intended film, FRANKENSTEIN VS. DRACULA.) This colorful film was not the sort to earn critical kudos, but it delighted kids at their local movie houses and found an enduring life on late-night television and later home video as an enjoyable cult film.
Naschy reprised the Daninsky character in NIGHT OF THE WEREWOLF, MONSTERS OF TERROR, WALPURGIS NIGHT, DR. JEKYLL ND THE WOLFMAN, etc. His other credits include COUNT DRACULA'S GREAT LOVE, HOUSE OF DOOM, THE MUMMY'S REVENGE, HORROR RISES FROM THE TOMB, VENGENCE OF THE ZOMBIES, THE HUNCHBACK OF THE MORGUE, and many others.
Although Naschy's heyday was in the 1970s, he continued working in subsequent decades practically until the moment of his death, reprising the Daninsky character in 2004's direct-to-video effort TOMB OF THE WEREWOLF, and playing Dr. Moreau in 2005 A WEREWOLF IN THE AMAZON. His last completed credits were providing a voice for AL APOSTOL and appearing in THE VALDEMAR HERENCIA ("The Valdemar Legacy"), both of which are scheduled for release in 2010.
A former weightlifter, Naschy was not the most subtle actor, but he brought an energetic physicality to his monster portrayals, and he probably performed more scenes in makeup as the Wolfman than his obvious role model, Lon Chaney, who played the lycanthropy-inflicted Lawrence Talbot in five classics from Universal Pictures in the '40s. Making allowances for Hollywood hyperbole, one can understand why distributor Sam Sherman, on the DVD audio commentary for FRANKENSTEIN'S BLOODY TERROR, claims that Naschy's athletic turn beneath the makeup – growling, leaping, and rampaging with wild abandon – was the best performance of any on-screen werewolf.
Naschy's films were seldom sophisticated, but they offered fun-filled popcorn entertainment for fans who wanted to see the familiar cliches up on the big screen once more, and they will no doubt continue to be revered in cult cirlces. If you are among the uninitiated, you could do worse that renting FRANKENSTEIN'S BLOODY TERROR.