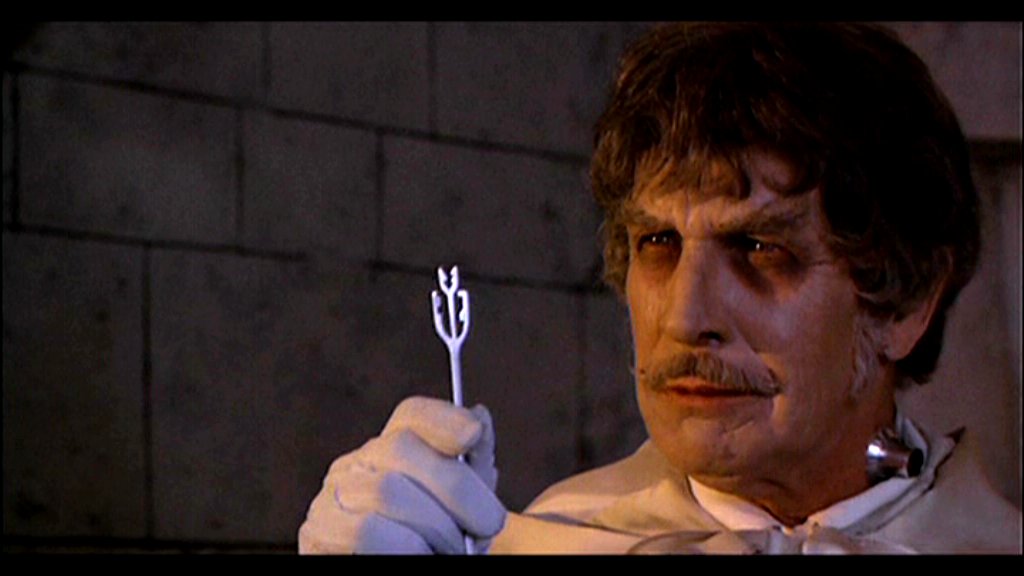 To celebrate the lasting legacy of  Vincent Price in his centennial year, here is a collection of  fond memories and  a few letters  from a selection of his many friends and co-workers.

CHRISTOPHER LEE


HOUSE OF THE LONG SHADOWS was my last film with Vincent.  It was the first time Vincent, Peter Cushing, John Carradine and myself were all together in one film. I would have liked to done more with pictures with Vincent, but alas, it was not to be. In all, we only did three pictures together. The first was THE OBLONG BOX, followed by SCREAM AND SCREAM AGAIN. Peter was in that one as well, but we didn't have any scenes together. I was very fond of Vincent, and had great respect for him as an actor. We always had a lot of fun and joshing on the set. At the end of Scream and Scream Again I pushed Vincent into a vat of acid, to pay him off for the mistakes he has made with his experiments. Well, the yellow tinge of the acid made it look like Vincent had suffered some terrible natural mishap on a grand scale, so the first take we did was completely ruined by our both laughing as we fought to the death.
Vincent did so many wonderful pictures. THE RAVEN was a charming picture. I would have loved to be in that. THE COMEDY OF TERRORS was very funny. I remember laughing until my sides ached. Vincent and Peter Lorre as two drunken undertakers and Boris as the old man without any teeth.  I have a wonderful picture at home, which Vincent sent to me.  Peter Lorre is playing the piano, and Vincent, Boris and Basil Rathbone are standing behind it singing. Vincent wrote on it, "To Christopher, from three great gentlemen and Vincent Price." I reproduced that in my autobiography and underneath it I wrote, "Correction: four great gentlemen!"
What a marvelous man he was. I shall miss him dearly.
**********


PETER CUSHING
This is a letter Peter Cushing wrote to Vincent Price in 1973, thanking him for his birthday card:
26  May  1973
Dearest Vincent:
Thank you so much for your card today.  And the sweet message your wrote.
I much appreciate it.
I also want to thank you for my birthday treat.
I just returned from seeing THEATRE OF BLOOD. How excellent your are in this film, dear fellow. I particularly liked your reactions to the way the syringe was handed to you, and the basin, – in the decapitation sequence. So did the whole audience.
Christopher sent me a cable from Spain and asked me to give you his love and respect for the 27th as he doesn't have your address.
My card to you should have reached you through Dennison Thornton's office — and I do hope you spent an enjoyable day in Manchester.
I look forward to the rest of our filming enormously.  I'll be finished with "The Zoo Gang" by Tuesday next – except for post- synching.
May God's blessing be with you always.
In all sincerity,
Peter

**********
SIR LAURENCE OLIVIER
Lord Laurence Olivier wrote this letter to Vincent Price during the tryout run of Jean Anouilh's Ardele in Brighton, before the play opened at the Queens Theatre in London.  Sir Laurence apologizes for not being able to make it to one of Vincent's performances in Brighton due to illness and wishes Vincent and Coral Browne well in their run of the play when it opens in London.
4 Royal Crescent
Brighton Eng
Tele 0273 61015
Sun June 15, 1975
Oh my dear, dear Vince,
How dreadfully you must think I neglected you. Do please forgive me. I fully intended to come to the show here in Brighton and get Coral and you back here for supper. The fatted calf has been looking at me reproachfully for months, saying, "I know, I'm being saved for that Vince."
I was really quite ill with a viral flu and wasn't allowed out of the house and I continue to feel a great sense of deprivation not to have given you a great hug of welcome to take your place in "the tightly woven tapestry of our island historie" more welcome still upon our banks and still in our midst.
I hope you have the happiest success and I wish you and Coral most lovingly, and I shall come round the Queens as soon as I possibly can, but I am not now up to going out evenings in London yet, but we must have some supper all together as soon as possible – maybe.
All great thoughts, strong wishes and held thumbs for last night,
Ever, as ever,
Larry
**********


CATHIE MERCHANT
Cathie Merchant appeared with Vincent Price in Roger Corman's THE HAUNTED PALACE, playing his assistant and lover, Hester Tillinghast.
I had a crush on Vincent Price from the time I was a very young girl. I thought him the epitome of sophistication, because he was so very handsome and debonair. Indeed, when I met him in person playing Hester Tillinghast in THE HAUNTED PALACE, he was all those things and so much more!
Vincent had a wonderful sense of humor and sometimes it was quite naughty. He made many funny remarks about the monster in the pit that was going to mate with Debra Paget and most of them are unprintable!  However, what I recall most of all,  is how very kind and thoughtful he was to me as a newcomer.  He was always helpful and concerned for other people. I think one reason he was so convincing in his roles is that he immersed himself in the character and he really believed what was happening in the moment. That really made him very effective in the last frames of  THE HAUNTED PALACE. Interestingly enough, we did shoot a scene for The Haunted Palace that wasn't used. Roger's brother, Gene directed it.  It showed Lon Chaney, Milton Parsons and myself, pulling the portrait of Joseph Curwen out of the big fireplace before it burned up. I think Roger cut that sequence, as it made Vincent's final scene in the film far less ambiguous.
Vincent was quite unique and has given us many, many moments of pleasure and will continue to do so for many generations to come through his wonderful film performances.
**********


TIM BURTON
If there was a image that helped me though my early life, it was Vincent Price. For some reason I was always likening the Edgar Allan Poe movies to my own life. Vincent was like my psychologist. He helped me get through the abstractions of those early years. The characters he played (Roderick Usher, Nicholas Medina, Verden Fell) would always go through some grand, dark, catharsis. Vincent was usually plagued by some sort of abstract demons, was overly sensitive and often on the verge of insanity. Strangely enough, I found I could relate to that in a very meaningful way. Those kinds of stories were my form of therapy. His characters really spoke to me. In the same way that when you read fairy tales, you get a real visceral response, well that happens with the Poe films. You get a real emotional response. That's what I really loved. That extreme imagery that was really symbolic for something else.
Later on, I did some drawings for a children's book which eventually became VINCENT, my first short film. Vincent Price was the first person I really met from Hollywood and he turned out to be such a wonderful guy. Just incredible! He was interested in all sorts of things and he gave me a great deal of hope when I was starting out. He was a tremendous inspiration to me. Vincent really shaped my early life.  Then, when he played the inventor in EDWARD SCISSORHANDS it gave the part an emotional weight that made it very strong for me. It was very thrilling for me to be working with him again.  If you look at all the movies he's done, you see he has such fun with them. He so obviously enjoys what he's doing, that it can't help but be a little contagious to the audience.
I was lucky to film a little conversation with Vincent, which we did in his art gallery at East L.A. College. He donated this incredible art collection for the students to look at and I found that to be one of the most admirable things you could do.  You know, most people who do something like that splash it all over the place, but Vincent didn't make any big hoopla about it. He just did it and I found that pretty special. Everybody has someone they admire. For me it was an actor named Vincent Price.
**********


VALLI KEMP
Valli Kemp appeared with Vincent Price in DR. PHIBES RISES AGAIN, playing his beautiful and ever resourceful assistant, Vulnavia.
Vincent was my mentor and friend from day one when we met on the set of DR. PHIBES RISES AGAIN. He was really like a father to me and he would even send me food by cab to make sure I was eating properly. He was so very thoughtful. Vincent was always making me laugh, as I recall in the scene where I was playing the violin after we discovered the tomb in Egypt.  He took a grape from the fruit bowl and put it in my mouth,  and then he took another grape and put it in my mouth and I couldn't swallow them, because if I did,  I knew I would burst out laughing and ruin the shot.  Then Vincent picked up a pineapple and motioned as if he was going to try and put that in my mouth as well, but he shook his head when he realized it was too big.  That was all in the film and it was hysterically funny, because I had no idea that Vincent was going to do it! Vincent improvised it all while we were shooting.
Vincent had a serious side, as well. He cared about other people and one day after he heard I was also a painter, he asked me to show him some of my paintings. He loved them and arranged for an exhibition of my work where I sold 30 paintings in only  two hours! Vincent was so kind, I miss him dearly, especially when I used to paint him and I could feel his presence.
**********
RICHARD MATHESON
I have a number of pleasant memories about Vincent Price, who, I have said in all interviews, was truly the nicest man I ever met in my days in Hollywood, a perfect gentleman and a most genial friend.
I recall one specific incident that occurred on the set of HOUSE OF USHER. As a preliminary to the anecdote, I would like to speak of the number of times I saw Vincent talking with visitors on the set. Invariably, he was pleasant and generous with his time and, equally invariably, he always had a little quip to make before leaving his visitors to return to work on the film. One time, Vincent and I were talking about the paintings of the Usher family done by Burt Schoenberg. They were as grim a collection of characters that ever hung on a wall. Vincent shrugged before leaving me and said, "Oh well, they're just plain folks."
Another incident that took place during HOUSE OF USHER was when Mark Damon came charging into Roderick Usher's room with an ax (fortunately, not a real one) in his hand and after threatening to hit Roderick with it, gave up in disgust and slung the ax aside before charging out to look for Madeleine. Mark, I gathered was an advocate of  "the Method," as he used to run in place before a scene, huffing and puffing to work himself up, while Vincent merely chatted with someone and then went right into the scene  and would be far superior in every way. When doing the scene, Mark did not think about where he was slinging the ax and it bounced off  Vincent's shin with some force. I heard, at that time, the only epithet I ever heard Vincent utter and he immediately left the set and walked around its entire perimeter, in pain and shaking his leg. By the time he returned to the scene, he had totally regained his composure and was, once more, the same genial, kind, charming man he always was. To my knowledge, he never berated Mark for what he had done, but simply accepted it as an accident of the game.
Not long before he passed on, I had the foresight to write Vincent a thank you note, in which I told him how much I had enjoyed working with him and how I appreciated the quality of his work in the scripts I'd written for him. I also send him a copy of my book The Path and told him how much I admired him as a human being. Needless to say, even ill and weak, he wrote back a lovely note thanking me and expressing his pleasure at working with my scripts.
What a wonderful man. I hope he enjoyed every pleasure that life has to offer and very much suspect that he did.
**********


MARK DAMON
Mark Damon co-starred with Vincent Price in HOUSE OF USHER and wrote this letter to Price on February 9, 1960 before the film had opened.
Dear Vincent:
This is an "actor-to-actor" note before the picture has been released. My comments are therefore not on your performance, which I don't have to see on the screen to appreciate, but on your off-screen behavior, which has taught me much.
You remember, I asked you if you had learned anything working on this picture, and you told me that you had.  I didn't tell you what I had learned. I learned just how gracious, cordial, and warmly human a star of your caliber could be. You set an example I hope I may follow through the rest of my acting career. Thank you for that.
Thank you, also, for your advice, your help, your unselfishness, and for all the wisdom you imparted to me. I have benefited greatly by working with you, and I am very grateful to you.
I hope I will have the pleasure of seeing you again very soon.
Your good friend,
Mark
**********


ROGER CORMAN
I cast him in our first film together, THE FALL OF THE HOUSE OF USHER, because the character of Roderick Usher was very close to his own persona:  handsome, educated, cultured and sensitive. In the Edgar Allan Poe story, Roderick Usher is a gentle, aristocratic man who progressively descends into madness. My feeling was that the audience should be frightened of this character but not in conscious reaction to his sinister features or brute strength. Instead, I envisioned a refined, attractive man, who's intelligent but tormented mind operates in realms far beyond the minds of others, and who therefore inspires a deeper fear. In Vincent I found exactly the man I was looking for.
Only once do I remember Vincent being puzzled by my film making requirements. In THE FALL OF THE HOUSE OF USHER, he was asked to speak the line, "The house lives. The house breathes." He came to me and asked in great bewilderment, "What does that mean?"  It seemed that the good folks at American International Pictures, the company providing our financing, were worried that this was a horror film about a monster. To win them over, I had promised that the house itself would be our monster. Now I had to make good on my promise. Once this was explained to him, Vincent said, "I understand totally." He went on to deliver the line with a subtle intensity that became for me one of the high points of the entire film.
Aside from his powers as a dramatic actor, Vincent was surprisingly adept at humor. His abilities along these lines were put to the test in THE RAVEN, a film intended to combine horror with comedy. Vincent's contribution of jokes & comic bits to the shooting script added greatly to the picture's overall humorous effect. On the set of  THE RAVEN, Vincent had to adjust to the presence of two veteran co-stars, Peter Lorre and Boris Karloff, as well as a new young actor, Jack Nicholson. He showed extraordinary flexibility in working harmoniously with Jack (trained in the Method), Boris (schooled in the English classical style) and Peter, who did anything that came into his mind at any given moment!
Peter Lorre's great talent was for improvising, which he did with great wit and panache. This on-the-set spontaneity did not sit well with Boris Karloff who was nearing the end of a long and distinguished career, and expected to do his scenes precisely as written. Inevitably, there was some friction between these two strong personalities. Fortunately for me, Vincent was able to strike a balance in his own acting style, adapting to Peter's looseness but also playing scenes with Boris that were models of the classical approach. His personal graciousness in bending to the demands of two conflicting egos was a great help to me in what could have been difficult circumstances.
Vincent had a well-deserved reputation as a host and a gourmet chef and I was privileged to attend several dinner parties at his home. The food, the wine, the décor, everything was planned in the most exquisite detail. And he had the gift of eliciting sparkling conversation from his guests, so that it was a joy to sit at his table. I suspect that by inviting me to dine, Vincent was trying to improve my eating habits, which tended toward the Spartan back then. In fact, in our film making days he used to joke about sending me CARE packages to keep me from starvation.
There is no question that Vincent Price was a remarkable actor and a remarkable man. His friendship enriched my life, and for that I will always be grateful.