Oh dear, oh dear – it would appear that we have been a tad remiss in keeping you up to date with recent happenings in good ole' blighty. Don't panic folks! You will no longer be entirely reliant on Google for your news of all things British! I will grab the 'London After Midnight' page, give it a good few thumps on the chest, breathe some life into it, and see if I can't get it up and running again! I'll endeavour to keep you up to date with British festivals, Region 2 DVDs, and anything else that I think you guys over the pond are missing out on….and if you think I've missed something, tell me and I'll be all over it like a bad suit.
In the first instance let's get you up to date on the upcoming horror festivals. I'll give you quick overview for starters and I'll follow it up with more detail later. Here they are, and in true movie style, I'll list them in order of appearance:
FILM4 FRIGHTFEST IN LONDON
The next one for our diaries is of course, FRIGHTFEST which is always held over August bank holiday weekend, and this year runs from 27th August to 31st August. With more than 45 films showing over 5 days [including a Halloween all nighter], this festival sure packs a lot in!
Held at the Empire Theatre in London's Leicester Square, and sponsored for the third year by FILM4, FRIGHTFEST hit the scene in 2000 and has quickly become the largest genre festivals in the U.K. [although it may now be under threat of losing that title with the new BRAM STOKER FESTIVAL making an appearance, but more about that later]. Among the many highlights this festival has to offer, the special guests include AN AMERICAN WEREWOLF IN LONDON director John Landis, THE HILLS RUN RED director Dave Parker, SMASH CUT star David Hess [who also played the original Krug in 1972's THE LAST HOUSE ON THE LEFT], special effects make-up artist Paul Hyett, and NIGHT OF THE DEMONS remake team Adam Gjerasch and Jace Anderson.
In addition to the fantastic film line-up, [which can be seen on the festival website at www.frightfest.co.uk] and the special guests, there are several special events, including 'Andy Nyman's 100 Best Deaths'. Here Andy will be the well informed and very amusing host who will guide the audience through a variety of screen deaths. Andy is best known for his roles in SEVERANCE and DEAD SET and also stars in one of the films screening at FRIGHTFEST this year, BLACK DEATH.
There will also be a special seminar for screenwriters called 'The Horror of Writing," which will give guests the opportunity to get involved in writing a screenplay and see it through to production development.
THE DESCENT PART 2 will close the show on the 31st with almost the entire cast and crew in attendance.
You can see more details of all the films showing, which include several premieres, and all the other special guests and events by visiting the festival website, where, of course, you can also buy your tickets!
BRAM STOKER FESTIVAL AT WHITBY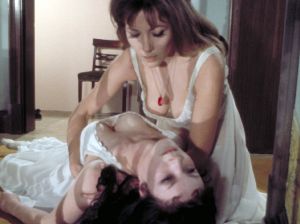 The next one to look out for is THE BRAM STOKER INTERNATIONAL FILM FESTIVAL which takes place from the 16th to the 19th October. Set in the beautiful coastal town of Whitby, which originally inspired Bram Stoker's Dracula story, this festival is set to become as big, if not bigger than FRIGHTFEST. Scheduled to screen over 50 films, including lots of UK, and several World premieres, THE BRAM STOKER FESTIVAL would like, if they may, to take you on a strange journey…… Once you have been greeted by their 666Gorefest and Sin City Girls, you can enjoy the opening night celebrations, which begin with a fantastic Burlesque cabaret show, and will include TRANSYLVANIA presenting THE MOCKY HORROR SHOW, which is sure to be a blast…..after all, who doesn't want to do The Time Warp again?! The show will be interspersed with guest speakers from the film industry and will finish with a late night feature. Guests are encouraged to attend wearing suitable horrifying/vampire/character attire…[note to self: Check wardrobe!]
Whilst one of the guests has been confirmed as Ingrid Pitt, famous worldwide for her roles in Hammer horror movies such as THE VAMPIRE LOVERS and COUNTESS DRACULA, another celebrity guest is being kept firmly under wraps. They say he'll be revealed at the festival, but is a 'Hollywood legend' who has 'terrified cinema goers worldwide' and starred in over 50 films….intriguing I'm sure you'll agree. I'll report back later and let you know who this special guest was!
There are several more special guests and details of these and a full line-up of the films can be found at the festival website at www.bramstokerfilmfestival.com, where you can also buy your tickets. There's been a lot of buzz surrounding this new festival, and I have a feeling that it's here to stay, which can only be a good thing for us horror fans.
MAYHEM HORROR FEST IN NOTTINGHAM
Next up is the MAYHEM HORROR FILM FESTIVAL from 28th October to 1st November, in Nottingham, there isn't a whole lot of information as to what's showing yet, but it will feature Steven Sheil's MUM & DAD [and I don't mean he's bringing is parents!] where Sheil will introduce his movie and host a Q & A autopsy about the making of horror movies. This festival is in its second year; having focused on shorts last year, it promises to be bigger and better in 2009.
I'll add more information on this festival as I hear it. In the meantime you can see their website at www.mayhemhorrorfest.co.uk.
HORROR UK IN FAREHAM & ABERTOIR IN WALES
Colliding with the above there's the HORROR UK FESTIVAL which takes place in Fareham, on 30th October to 1st November. This appears to be a small festival, with hardly any films confirmed as yet. It must be small because they say that entry is free for all film viewings and events. Their website is a work in progress, so in fairness to them, I'm sure it'll look a bit more exciting nearer the time. www.horroruk.com.
Finally we have ABERTOIR, Wales' only horror festival which takes place from 4th November to 8th November. Details for 2009 are scant, but last year featured over 30 films, live music by Daemonia [featuring former Goblin keyboardist Claudio Simmonetti], and Doug Bradley [aka Hellraiser's Pinhead] performing his one-man show, An Evening with Death. Check out www.aber.ac.uk for updates, but be careful: once you get past the splash page, the website (as of this posting) consisted of old information from 2008.
So, there you have it, consider yourself well and truly informed….and I'll endeavour to keep you that way…..