I have just had more information about THE MAYHEM HORROR FESTIVAL, which I briefly mentioned here. To recap, this is running from 29th October to 1st November in Nottingham.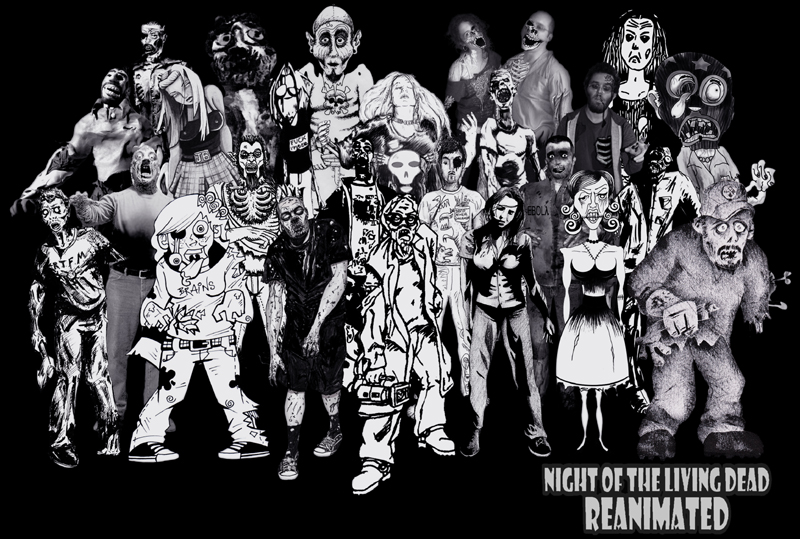 The festival will feature a digital installation of the bizarre and brilliant Night of the Living Dead: ReAnimated, which is a mass collaborative artistic re-envisioning of George A. Romero's 1968 cult classic, Night of the Living Dead. International artists and animators have been invited to select scenes from the film, and reinvent them through their artwork. The scenes have been created using everything from puppet theatre, to CGI, hand drawn animations, tattoos and more. All of this is organised across the original video's timeline to create a completely original video track, made solely from art.
On Saturday the 31st at 3pm, the cast and crew of the BBC horror series Being Human will also be there to give us a sneak peek of the 2010 series. As it's Halloween, there'll be a huge fancy dress party that night too. The following day, on the 1st November, director Mike Hodges will be their special guest as they show his 1989 film Black Rainbow starring Rosanna Arquette.
The Mayhem Horror Festival also says it will run an experiment in fear, where they will monitor the effect that fear has on the audience. I'll tell you more about that as I hear it! This is set to be a fantastic weekend of madness and mayhem, which I'm really looking forward to!
Tickets will soon be available from www.broadway.co.uk.  
The GOREZONE MAGAZINE WEEKEND OF HORROR has also just shown up on my radar. Taking place on the weekend of 31st Oct and 1st November, in London's West End, this is only a two-day event, but it promises to be a good one. Screening fourteen films over two days, including seven premieres, the fest also promises 'personal appearances, signings, and surprises'. Details of the films on the bill at the prestigious Prince of Wales Theatre are beginning to appear on their website at www.gorezone.co.uk.