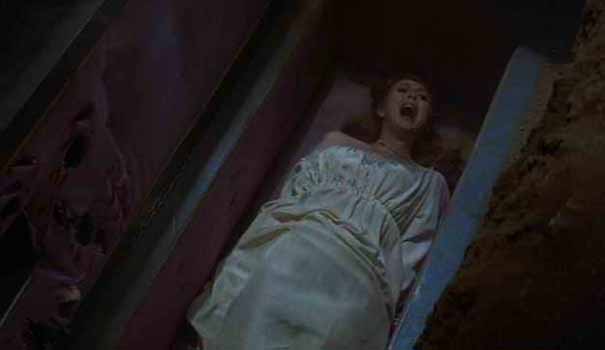 With only a handful of titles on display, the week of Tuesday, August 10 is not an auspicious one for home video releases of horror, fantasy, and science fiction films. Fans will have to make do with a couple of cult release and/or some direct-to-video titles. MAX HEADROOM: THE COMPLETE SERIES arrives in a new Lenticular Cover DVD from the Shout Factory. The five-disc set includes all 14 episodes of the cult 1990s series starring Matt Frewer, Amanda Pays, and Jeffrey Tambor. Special features include:
Live On Network 23: The Story Of Max Headroom – The creative team shares their stories
Looking Back At The Future: An intimate roundtable discussion with members of the cast
The Big-Time Blanks: Morgan Sheppard and Concetta Tomei reflect on Max Headroom
The Science Behind The Fiction – George Stone reveals the role of technology in the creation of Max Headroom

Available on VOD and DVD, Lionsgate's PG-rated UNDER THE MOUNTAIN sounds as if it should have been an episode of the old WONDERFUL WORLD OF DISNEY television series: Afte the death of their mother, a set of teenage twins with a psychic bond travel to Auckland, where they encounter a spooky mystery involving mysterious forces beneath an old house. With Sam Neil top-billed in what sounds like an extended cameo, this 91-minute 2009 New Zealand production features special effects from WETA.


The most interesting home video release of the week, at least for fans of cult movies, is THE ROGER CORMAN DRIVE-IN COLLECTION. This four-disc set, in a tin collector's case, features ten films from the prolific low-budget producer-director. The contents are all over the map in terms of genre and quality, with biker gang pic THE WILD ANGELS rubbing shoulders with horror, fantasy, and science fiction titles like BUCKET OF BLOOD, THE PREMATURE BURIAL, X: THE MAN WITH THE X-RAY EYES, GAS-S-S-!, and THE TRIP. There's really nothing new hear – this stuff is available in previous releases, such as MGM's Midnight Movies series – but it's a great way to catch up on titles you missed or to consolidate your collection.
After that, the week offers only a handful of direct-to-video titles, including CLONE HUNTER, NIGHTMARE ALLEY, and PROJECT SOLITUDE: BURIED ALIVE (with Eric Roberts).
[serialposts]