JAMES AND THE GIANT PEACH may be fashioned from a variety of film-making techniques, but there is one intangible element that holds the film together: pure imagination. Springing to life first in the fertile mind of author Roald Dahl and then planted like a seed in the equally fertile mind of stop-mo¬tion director Henry Selick, JAMES is a unique film. Like all great fantasies from THE WIZARD OF OZ to TOY STORY, it has the ability to spark imagination in the mind of its audience.
Director Henry Selick, having already proved himself proficient in the arduous realm of stop-motion with 1993's THE NIGHTMARE BEFORE CHRISTMAS, now adds this impressive notch to his artistic belt. The film opens in live-action, telling the tale of young James (an excellent performance by newcomer Paul Terry), who is forced to live with his aunts, Spiker and Sponge (over the top villainy from Miriam Margoyles and Joanna Lumley) after his parents' death. Selick wisely chose to give these sequences the surrealistic look of stop-motion, which not only sets up the nether¬world quality of the film but also makes the transition into the world of stop-motion less jolting.
When James enters the giant peach and encounters the humanized insects, the story pulls out of the slight stall laid upon it by the down¬beat opening sequences. From the beginning, the animation is nothing short of a knockout. The hand craft¬ed images are blended seamlessly with computer graphics to create such startling sequences as a battle with skeletons aboard an underwater pirate ship (a possible nod to Harryhausen's JASON AND THE ARG¬ONAUTS), and another sequence in which the peach, tethered to a flock of sea gulls while floating at sea, comes under attack by a mechanical shark (this may be one of the best action sequences you'll see at the movies all year). Selick also uses JAMES as an excuse to experiment wonderfully with other animation forms, such as a hallucinogenic dream sequence, accomplished using cut outs a la Monty Python.
With such scenes, JAMES could have fallen into the same "style over substance" trap that turned many off to NIGHTMARE. But unlike the residents of that film's "Halloween¬town," who at times seemed like nothing more than set dressing, the insects in GIANT PEACH are fully-developed oddball personalities, similar in many ways to TOY STORY's toys. Providing even more dimension is a great voice cast: British character actor Simon Callow gives just the perfect "veddy British" tone to Grasshopper; Susan Sarandon plays the sultry Miss Spider as Greta Garbo (she even says, "I prefer to be alone"); and Richard Dreyfuss pulls off a scene stealing performance as the Centipede, with his "Brooklynese" and off-the-cuff one liners.
The insects also add a great deal of depth to the story, warming up to James and helping him to overcome his fears (which are represented by the image of a Rhino-shaped storm cloud). The insects also perform the film's most poignant song "We're Family," one of five new composi¬tions by Randy Newman, each fitting nicely into the plot, many of them infectious, including the gospel-like "Good News," which closes the film.
JAMES falls just short of being a perfect film, but its failings are small-such as in its conclusion, which combines live-action and animation in a way that seems clumsily executed and strangely out of joint with the rest of the film. Nevertheless, JAMES AND THE GIANT PEACH is a satisfying experience that's perfect for anyone who needs a quick fix of pure imagination.
Click here to read a review of the 2010 Blu-ray disc of JAMES THE THE GIANT PEACH.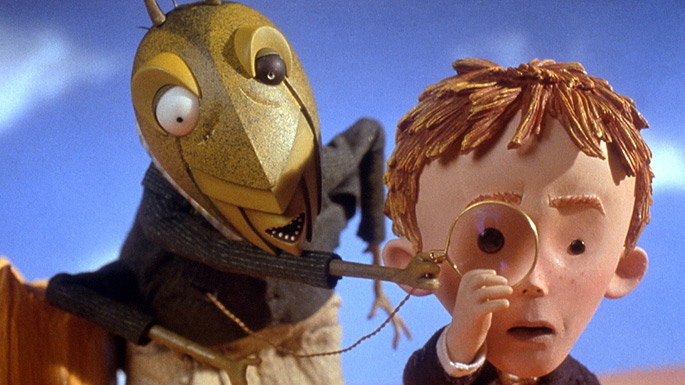 JAMES AND THE GIANT PEACH. A Buena Vista release of a Walt Disney Pictures presentation. Producers: Denise DiNovi, Tim Burton. Executive producer: Jake Eberts. Co-producers: Brian Rosen, Henry Selick. Director: Henry Selick. Camera: Pete Kozachik, Biro Narita, A.S.C. Editor: Stan Webb. Music & songs: Randy Newman. Production design: Harley Jessup. Conceptual design: Lane Smith. Animation supervisor: Paul Berry. Art direction: Bill Boes, Kendal Cronkhite. Costume design: Julie Slinger. Sound design: (Dolby), Gary Rydstrom. Visual effects supervisor: Kozachik. Screeaplay by Karey Kirkpatrick and Jonathan Roberts & Steve Blood, from the book by Roald Dahl. 4/96, SO mins. Rated PG. Cast:  Paul Terry, Susan Sarandon, Richard Dreyfuss, Simon Callow, Jane Leeves, Miriam Margolyes,  Joanna Lumley,  Pete Postlethwaite, David Thewlis.
This review originally appeared in the August 1996 issues of Cinefantasitque, Volume 28, Number 1.