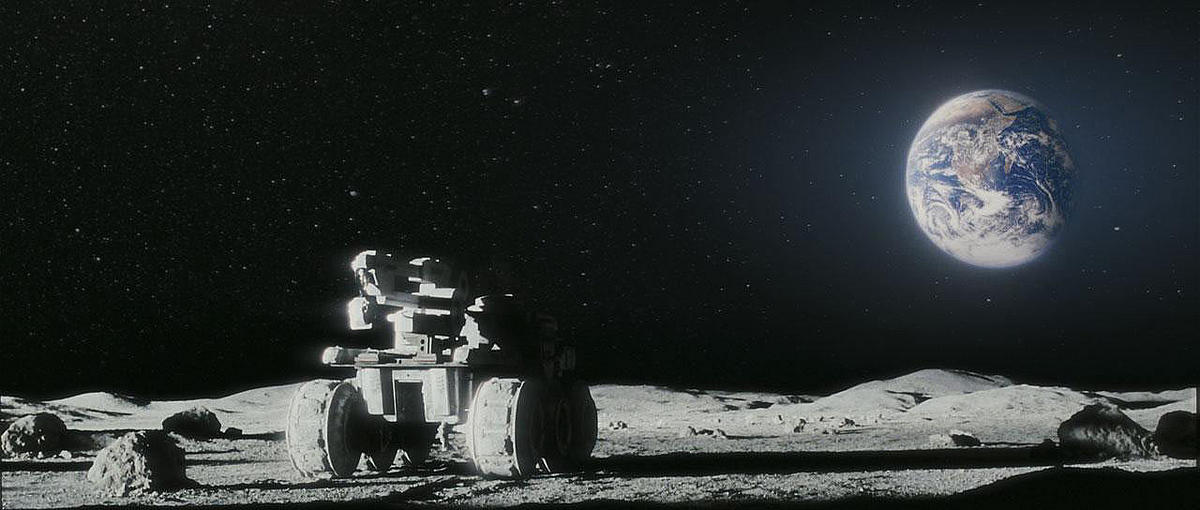 MOON, an impressive low-budget sleeper shot at SheppertonStudios in England, stars Sam Rockwell as an astronaut finishing up a three-year stint working alone on a company base located on the dark side of Earth's nearest neighbor in the Solar System. A deliberate throwback to the science fiction films of the 1970s, when filmmakers used the canvas afforded by speculative fiction (aliens worlds and/or future times) to explore ideas about the human condition, MOON for the most part eschews modern computer-generated imagery, opting instead for a retro approach to the special effects, in keeping with its serious subject matter. The result conjures up everything from 2001: A SPACE ODYSSEY to SILENT RUNNING to SOLARIS, with many others in between. It is thoughtful, imaginative cinefantastique that never lapses into self-importance – in other words, it is the kind of film whose virtues Cinefantastiquemagazine was born to extol , and it would be easy to imagine that, had it been made thirty-five years ago, around the same time as the films it emulates, MOON would have received a glowing appreciation of the kind the magazine lavished on films like THX 1138 and THE ANDROMEDA STRAIN.
With MOON set to open in limited release this Friday, we recently sat down with director Duncan Jones to talk about his approach to science fiction. MOON, for which Jones also wrote the story, represents the director's feature film debut after several years making commercials – experience that served him well when it came to using technology and special effects to realize his vision on a low budget. He talked in depth about his work, but since much of the conversation involved plot spoilers, we have bisected the question-and-answer session into two parts; the second will post after the film is out and viewers have had a chance to discover the film's surprises on their own.
CFQ: MOON FEELS LIKE A DELIBERATE THROWBACK TO AN EARLIER AGE OF SCIENCE FICTION, WHEN THINGS MIGHT BE GRITTER, LESS GLISTENING – LIVED IN, YOU MIGHT SAY. WHAT EARLIER FILMS INFLUENCED YOU?
DUNCAN JONES:There were a couple of films in particular that I was a huge fan of – and Sam Rockwell, too: OUTLAND, SILENT RUNNING, Ridley Scott's ALIEN. These were films that I remember growing up, and that Sam remembers, and we were basically talking about, three years ago. Because MOON was written for Sam. As a subject matter, we knew we wanted to do science fiction, but we also wanted to do something specific to those films, where it was science fiction about people, and it was a very human story, and they were exploring 'How are they affected by the future and the science fiction environments or alien environments?" I think that focus on the person – as opposed to going from one special effects set piece to the next one – is what makes it different from a lot of science fiction coming out right now.
THERE ARE ALSO INEVITABLE COMPARISON TO 2001'S  THANKS TO MOON'S TALKING ROBOT, GERTY (VOICED BY KEVIN SPACEY) WHICH SEEMS EQUAL PARTS THE DROIDS FROM SILENT RUNNING AND THE VOICE FROM HAL 9000.
DUNCAN JONES: In that particular case, of Gerty and HAL, it was definitely an influence. But on the whole, the films that I mentioned really were the ones affecting me. To be honest, 2001 is kind of the grand-daddy of all science fiction films; even STAR TREK owes a lot to 2001. But I think there was a group of films that were very much a reflection of 2001, and those films were the ones we were directly looking at. But Gerty is a different case, because when you put a robot in a science fiction film, you immediately are going to have that comparison.
The reason we wanted Kevin Spacey involved, though, was because we knew there was going to be that association between HAL and Gerty, and rather than try and pretend that didn't exist, I wanted to use that expectation – Kevin Spacey helped reinforce that expectation – and then take it in a very different direction so that the audience does become surprised about what Gerty actually ends up being.
MOON ALSO REVEALS A TOUCH OF SOLARIS. THE SETTING IS SIMILAR. YOU HAVE A CHARACTER WHO HAS LEFT EARTH BEHIND, BUT INSTEAD OF FOCUSING OUTWARD ON THE STARS, IT INVOLVES A LOT OF INNER SOUL SEARCHING. AND ROCKWELL'S CHARACTER IS CONFRONTED BY SOMEONE WHO – IT SEEMS – CANNOT POSSIBLY BE THERE, MAKING HIM DOUBT HIS OWN PERCEPTIONS. WAS SOLARIS AN INLFUENCE?
DUNCAN JONES:Um… I guess. Not directly. To be honest, there are obvious parallels with the Tarkovskyfilm or the remake that was done. It certainly was not in the front of my mind when I was putting the film together. Yeah, I guess the allusion to that film is the illusions at the start of [MOON], but that is really it – because those visions are really just a precursor to what the film is about, which is very different than SOLARIS. In some ways, we're a lot faster paced and humorous than the very slow, contemplative SOLARIS films.
YOU MENTIONED THE ROLE WAS WRITTEN SAM ROCKWELL. HOW DID THE THAT COME ABOUT?
DUNCAN JONES: I was actually a huge fan of his for a long time, even from popcorn movies like CHARLIE'S ANGELS. I loved him in GREEN MILE, LAWN DOGS – every time I've ever seen him, he just steals the scene. He's got so much charisma and there's something so empathetic about him; you really care about him. I've always thought there's so much to him. He's probably one of the most underrated actors in the United States. I wanted to work with him. I met up with him about another project three years ago, and we got on very well. That project didn't work out: he wanted to play one role; I wanted him to play another, and we couldn't convince each other. It was at that meeting that we started talking about the kinds of films we both love and the kinds of roles he would like to play, and I said, 'Look, I'll write something for you.'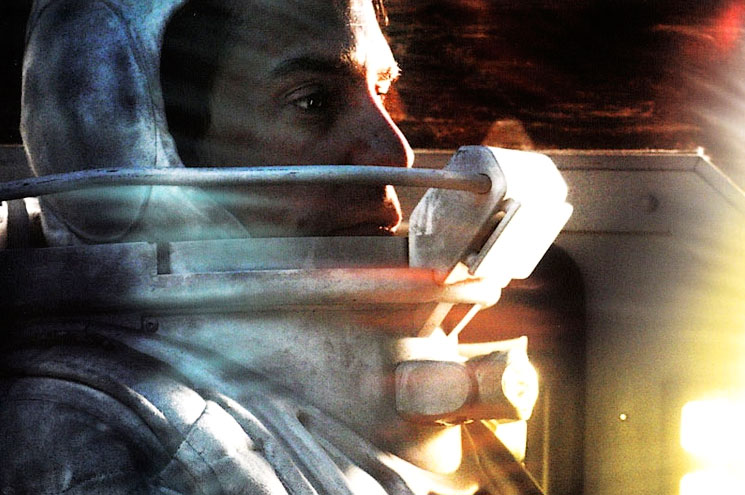 MOON IS A REAL SHOWCASE FOR ROCKWELL. HE HAS CENTER STAGE BECAUSE THE STORY IS ABOUT ISOLATION, BEING ALONE, APART FROM LOVED ONES. HOW DID THAT DEVELOP?
DUNCAN JONES: It was kind of a puzzle, trying to put the film together, because I started off wanting to do a film with Sam Rockwell. From that point it was really putting the various bits together. We had an idea of how much money we could raise. We knew we weren't going to get more than $5-million – that was our cap. We knew that we wanted to have a really contained shoot. We wanted to shoot on a sound stage. We didn't want to go around from location to location, because bad weather or locations moves slow down the shoot. When you have a limited amount of time and money, you really want to be shooting as much of that time as you can.
We wanted it to be science fiction because that was something both Sam and I wanted to do, and because of my commercial background, I had done a lot of special effects work, so I was up to speed on that. We had ideas from going to these more retro science fiction films. There were techniques that they used to use, which still look great. They just don't get used anymore because everyone gets so used to using CG for everything – but we wanted to use model miniatures like that. It was a look that still stands up; it just doesn't get seen.
The thing about the moon is that I was born after the Apollo missions went to the moon. For a lot of our generation, it's something very mysterious and slightly unbelievable. Even if you know that humanity has been to the moon, it feels a bit mythic and legendary; it doesn't feel like something we can relate to. The fact that all of us can look up and see the moon at night…it's like this place that none of us gets to visit. So I think there's a mystery there. Even if we know everything about it from a scientific basis, there's still something so mysterious about it. It's the obvious place to set science fiction because it's the first step.
ONE ELMENT THAT COMES ACROSS VERY STRONG IS A SENSE OF OPPRESSIVE LONELINESS.
DUNCAN JONES: Sam and I talked a lot about the loneliness aspect of it. I think what really helped us both is we were both going through long-distance relationships with girlfriends who were far away. So the whole thing that Sam went through as a character was something that we both had very close emotional touchstones with. It was very easy for us to draw on both of our personal experiences for dealing with that. It was something that was very easy for us to get a handle on. So if that came across in the film, it's because a lot of it was real. … [adding with a laugh] Method directing.
IN SPITE OF THE SOMEWHAT DOUR NATURE OF THE STORY, ROCKWELL MANAGES TO PUT ACROSS A SENSE OF HUMOR WHILE HIS CHARACTER IS STUCK IN BAD SITUATION. WITH HIS BOUTS OF TEMPER AND HIS DETERIORATING APPEARANCE, HE'S DEFINITELY NOT YOUR TYPICAL SCI-FI ACTION HERO.
DUNCAN JONES: The fact that science fiction are filled with very archetypal, lantern-jawed heroes is films is not the way it used to be. It used to be that science fiction was about human beings and exploring how a human being could survive alien environments or futuristic environments – and what it was about them that made them human. You did that by contrasting them to the environment that they were in.
Science fiction films of today have dumbed down. It's about going from one big expensive set piece to the next set piece. I enjoy it; I love big popcorn films as well. But there is a particular type of science fiction film that doesn't get made any more – but used to get made all the time. There is a history of science fiction films where those characters were the standard.
I hope I get the chance to do bigger science fiction films because I would love to bring that sensibility to bigger films. I think J. J. Abrams did a great job with the STAR TREK film, and I love that, but still, they're very much caricatures. They're not deep characters in a lot of ways. I think there is a place for deep human stories and really rounded characters in science fiction settings.
ONE OF THE '70S TOUCHES IN THE FILM ARE THE TO-GO CONTAINERS GLIMPSED AROUND THE SET.
DUNCAN JONES: It's a low-budget film. We knew that we had to come up with a prop that had a kind of '70s aesthetic that felt right for the film. There was this take-out Mexican restaurant around the corner from where I live, and they used those containers. I even managed to give them a special thanks in the credits.
YOU GOT CLINT MANSELL (KNOWN FOR HIS WORK WITH DARREN ARONOFSKY) TO SCORE MOON.
DUNCAN JONES: I was very fortunate to get him. I had met him once before and we had got on well. My producer sent the script to his agent, and then I went around him and sent the script directly to Clint. There is no way we could have afforded him if we had gone the traditional route. But he loved the project and he knew me. He said he would do it, so he did me a huge favor.
YOU RESISTED WHAT MIGHT HAVE BEEN A CONSIDERABLE TEMPTATION TO USE "SPACE ODDITY" ON SOUNDTRACK. [DUNCAN JONES' FATHER IS DAVID BOWIE – REAL NAME, DAVID JONES.]*
DUNCAN JONES: I made a conscious choice to try to do everything I could on my own. That would be cashing in, in a way that I didn't want to. Not to mention that I couldn't afford the rights anyway.
MOON GOT GREAT RESPONSE FROM CRITICS AT SUNDANCE FILM FESTIVAL, WHICH HELPED SEAL THE DISTRIBUTION DEAL. BUT HOW DID IT PLAY FOR PEOPLE FROM NASA?
DUNCAN JONES: We did a screening at the NASA space center. It was fantastic. About 80% of the audience were NASA employees or retirees. I started off doing a Q&A afterwards, it ended up being me asking questions and them talking among themselves.
One of them was asking why the base itself looked as sturdy as it did – why it looked like it was built of concrete – and not much lighter weight like some of the designs they've been coming up with. I was saying, "It's a few years in the future. I was thinking you guys would be able to use the materials that were up there to actually build the base." One of the women in the audience raised her hand and said, "Yeah, actually we're working on something…" and so they just started talking among themselves.
YOU WERE A GRADUATE STUDENT IN PHILOSOPHY BUT DROPPED OUT TO GET INTO FILM.
DUNCAN JONES:David Duchovny [THE X-FILES] is someone I've always been a big huge admirer of because of the fact that he dropped out of graduate school – I said, 'Yah, it can be done!' When I was a little kid, one of the hobbies I remember having with my dad was shooting little 8-milimeter films, like one-stop animations and things. So I was working on films from a very early age. I was on film sets a lot when my dad was working. So I was always around it, and then I went off on this academic detour. Went off to college in the United States. Fell in love with a girl and followed her to graduate school. But then we broke up and I stayed on at school for three years, and it was miserable.
It's no coincidence that Sam's three-year [job tour] is the same amount of time I spent at grad school, because it did feel like I was on the far side of the moon out there. After three years, my dad was working on this film with Tony Scott; he said, 'Why don't you come and hang out with us?' I did, and Tony Scott was a magnificently generous guy. He gave me some time and talked to me. He said, 'You've always enjoyed film stuff – why don't you go and work in commercials for awhile and do feature flms?' That was how it all started for me, about ten years ago.
TALK ABOUT MAKING THE TRANSITION FROM COMMERCIALS TO FEATURE FILMS.
DUNCAN JONES: It's a very different kind of job. On commercials you tend to shoot things – as much time as it takes, as much money as it takes – to get it right. On independent science fiction feature films, you shoot two or three takes until you get what you absolutely barely need; then you have to move on. It's a very different approach, but I certainly think doing commercials is a massively beneficial training ground for working on feature films. The reason I did commercials was to get to feature films. You learn about budgets. You learn about all the equipment on the set, and you work with new technologies all the time because you have a new project every month or two. You also get used to – I didn't deal with it on MOON, but when I get to that point I'll already have experienced it on the commercial side, where you have to deal with clients and agencies and people who want to keep their eye on you and second guess you and give you their opinion. I'm ready for that.
ANY INTEREST IN DOING SHORT "WEBISODES" FOR THE INTERNET?
DUNCAN JONES:I certainly would want to do science fiction TV; I think some of the best science fiction writing now is coming out on TV. What I don't like are very short duration formats. If it were a ten-minute episode, I don't think you give yourself any opportunity to tell a proper story in that amount of time. In TV you can certainly do that. But webisodes , if they're really short, I don't feel comfortable. Although I did commercials and you have to tell stories in thirty seconds – it's very different.
IN SPITE OF YOUR CHOICE OF SUBJECT MATTER, YOU HAVE NO PLANS TO BOOK A FLIGHT ON VIRGIN GALACTIC, WHICH HOPES SOMEDAY TO TAKE CIVILIAN PASSENGERS TO THE MOON.
DUNCAN JONES: "It's $200,000 a ticket, I think. To be honest I don't know if I'd be up for that. I'm more interested in making films about it where you can pretend stuff happens than actually going into space. I'm not sure I'm willing to take that risk in my life yet.
FOOTNOTE:
Singer-songwriter David Jones adopted the stage "David Bowie" to differentiate himself from Davey Jones of the Monkeys. He named his son Zowie (as in "Zowie Bowie"), but the legal family name was always Jones. After being nicknamed Joey as a child, the younger Jones eventually changed his first name to Duncan.
Come back for Part 2 after you see MOON IN THEATRES.
[serialposts]