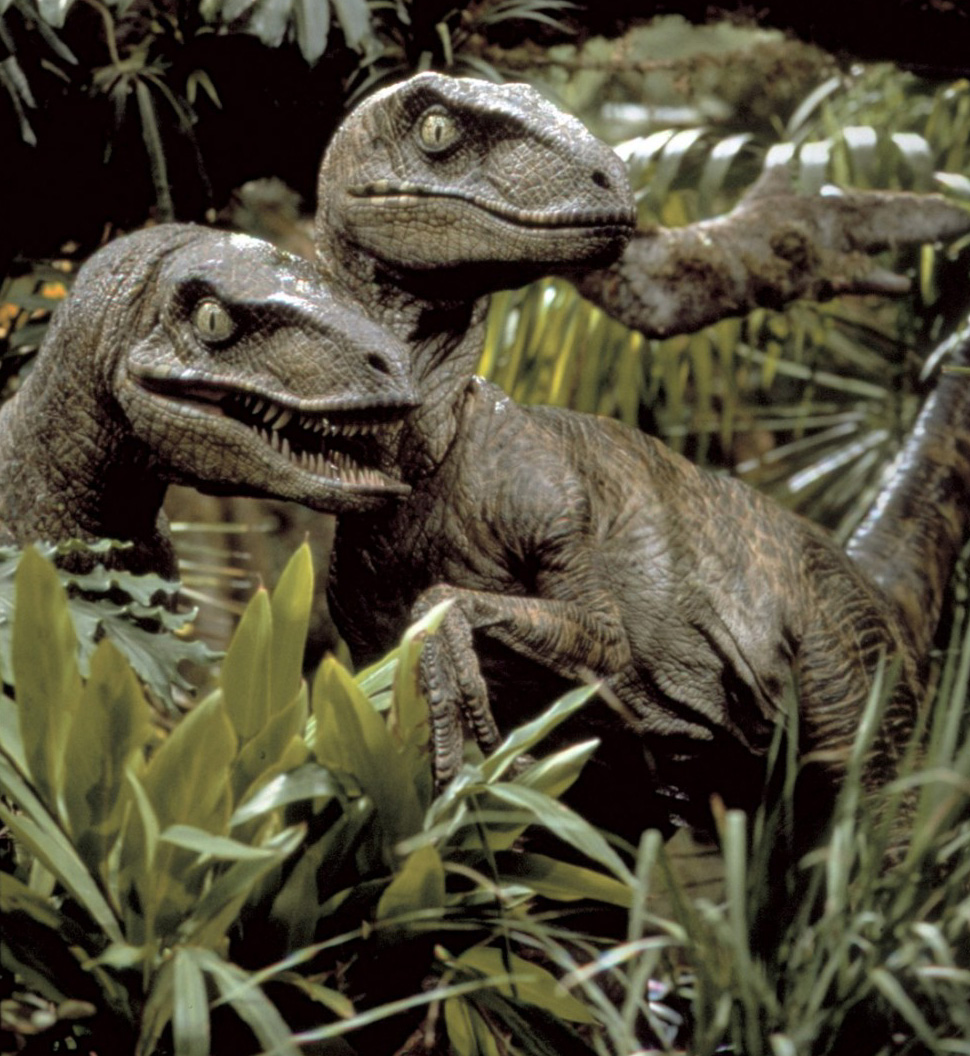 In discussing his live-action dinosaurs in JURASSIC PARK, makeup effects expert Stan Winston referred to Willis OBrien's KING KONG as "yet to be surpassed." But the praise ir O'Brien had an edge. Winston bore the confidence of one who expected his work to be the top dog come June. But dinosaur film fans, who have seen many a live-action dinosaur fall on its face, will need a lot of convincing. "Steven [Spielberg] wanted to do live action as much as possible," said Winston. "He asked how much we could do. I, being a little insane, told him we could do a great deal. He asked. 'How?' My response was. 'I don't know, but since it's something we would love to do, we'll figure out a way.' I think that's pretty much what Steven wanted to hear."
Figuring out a way required revising the script and dropping some sequences, such as when the T-Rex takes to the water. "If we don't feel we can do exactly what's scripted, then it's a matter of going back and adjusting to work within certain parameters," said Winston. The parameters are not necessarily, 'Can you do it?' My gut feeling is that with the magic of the film-making process we can do anything, given enough time and money. The question is, 'How can we do it within limitations on money and time – how much we'll spend, how much can we get done?' To bring in a movie of this scope on the dollars they spent, we were very frugal. Nothing in excess of $50-million is cheap, but investment equates to return. What you see on the screen will in every way justify the expense of this movie."
Winston noted he faced two major challenges on the film: the artistic challenge of making the dinosaurs look good and the practical challenge of bringing them to life. "Our job was to create the most realistic dinosaurs that anyone has ever seen," said Winston. "We did an enormous amount of research. We maintained a legitimacy to all of the available knowledge when it came to what dinosaurs looked like and how they lived. We had to take that reality and make it as interesting, as dramatic, as beautiful, and as spectacular as you have ever seen."
As with men, not all Raptors, for example, are created equal. "Danny DeVito and Arnold Schwarzenegger are both men," noted Winston. "We had to make artistic judgments in the creation of our dinosaurs to make this Raptor or that Tyrannosaurus the neatest one you've ever seen? A lot of that is instinct, not right or wrong."
Winston saw the task of bringing the dinosaurs to life his biggest challenge. "They had to act," said Winston. "We couldn't cast a gorgeous actor who couldn't deliver a line; we had to create saurian Robert DeNiros and Jack Nicholsons. That's stretching it, but in the broadest sense of the term, we did need to create characters that performed. I think what we accomplished is beyond anything like this that's been done in motion-picture history. I'm hoping the audience will feel as I do."
The biggest influence on the look of Winston's dinosaurs was the work of artist John Gurche. "I have an enormous amount of respect for the feeling of reality, drama and character in his work," said Winston. "That's what we shot for: that our dinosaurs were as dramatic and beautiful as a Gurche dinosaur."
Winston began with a series of pencil renderings by staff artist Mark "Crash" McCreery. "I'm surrounded, fortunately, in every area – from sketching to painting to sculpting – by an unsurpassed group of artists," said Winston.
Once the sketches received approval from Spielberg, fifth-scale miniatures were built, then full-scale sculptures.
"We attacked our sculptures in a much more technically engineered way," said Winston. "Instead of just sculpting free-hand, we took our fifth-scale sculptures and sliced them into pies, so to speak, so we had a sculpture put together like the hull of an airplane; then we blew those slices up five times, recreated those hull pieces, and put the armature back together, so that we had an armature that was very close to the finished structure of the character. Then it was a matter of detailing: putting on the skin and doing the final sculpting on an armature that gave us the shape."
At the same time, Winston and his crew were deciding on a variety of methods to bring the dinosaurs to life: cable-actuation, radio-control and computer-governed hydraulics. The most innovative method was strapping the top half of the T¬Rex to an airplane flight simulator.
"That concept came from Craig Caton, one of my key mechanical coordinators," said Winston. "It limited a certain amount of shooting ability, because for many of the shots we would only be able to shoot the T-Rex from the waist up, but it seemed like a perfect way to do the broad moves-it's a tried-and-true method of taking a lot of weight and giving it a mutli-axis." Winston's crew also built an insert head, hoisted by a 13,000 lb. crane, and insert legs.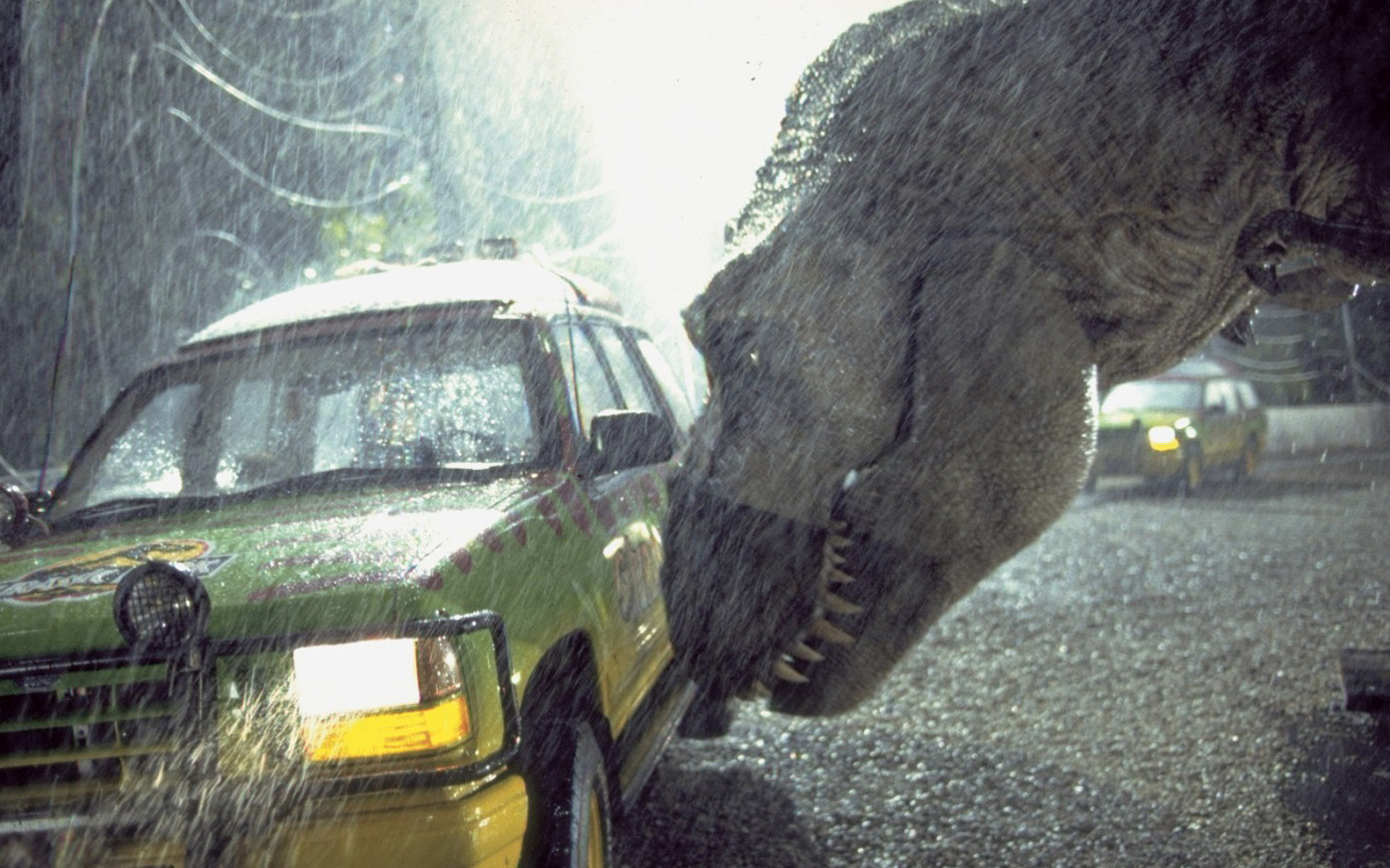 For the Tyrannosaur's more complex movements, Winston developed an idea "that came to me in the middle of the night: a performance-capturing Waldo. It was always a concern how we were going to puppet this enormous guy. We did have some people with us whose background was amusement park-size creatures like King Kong. The conventional method was, on a slide-pot board, to log in the actions of the hydraulic character, motion by motion; then, once that action is created, the computer memorizes it, and you can play it back over and over again. But it takes a long time to program that action and we needed to be able to take direction on a set. So I came up with the idea of recreating the dinosaurs' inner structure mechanically – which we had already done in mock-up-so that we knew how everything would move. For every joint or axis of motion, we placed a linear potentiometer – which is a slide-pot, so to speak, that looks like a little piston. If we could get those little pistons to match the movements of the hydraulics, then instead of putting them on a control board, we could put them in place of where the hydraulics would be in the full-size character. This gave us a small version of the insides of the big version, so that any movement we gave to the small T-Rex as a puppet – holding onto it as a puppeteer and mov¬ing the head – would go right into the dinosaur, and he would do what we wanted, in real time. It worked beautifully."
The film's Triceratops and Bilophosaurs (a poison-spitting species) were filmed totally live using Winston's creations. For the Brachiosaur, Winston's team built only the head and neck. For the Raptors, Winston's crew employed a variety of rod puppets, cable and radio-control versions, as well as the conventional man-in-a-suit approach. Fuller shots of the T¬Rex, Brachiosaur and Raptors were augmented with ILM's CGI work.
Winston said matching his dinosaurs to the computer-generated versions of ILM was not one of his concerns. "It didn't influence the design at all," he stated. "They took exactly what we designed here and duplicated it. Phil Tippett was a major influence. I think that a great deal of any continuity that we have between live-action and computer-generated is greatly due to Phil and his helping us create as realistic dinosaur motions as we could. Phil's a dinosaur himself."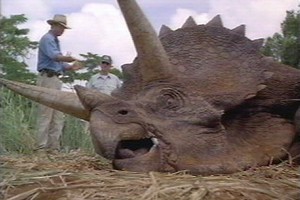 The only dinosaur to visit the Hawaii location was the Triceratops, for a scene where the creature is found lying ill That left the majority of dinosaur effects to be filmed am stage, under the supervision of Michael Lantieri.
"Michael worked very closely with us," said Winston. "We had certain requirements from a floor effects standpoint, a crane, for instance, to operate characters externally. We knew what was needed from his team and how any physical apparatus, interior or exterior, would marry. It was a perfectly coordinated marriage of teams.
"I would say that about the whole movie," Winston continued. "It was the most perfectly coordinated movie I've ever worked on, from set design art direction, floor effects to creature effects. Every aspect of this film was a team effort, helmed by a director I had an enormous amount of respect for, even though I had never worked with him. Now, having worked with him, I know that it is no accident that Steven Spielberg is Steven Spielberg. He's an incredible director, and he has an amazing feel for film. This could have been the worst working experience of my life, because it was the biggest. It turned out to be the opposite. It was a joy to go to work every day. It was the best working experience I've ever had, with the exception of directing my own movies."



Copyright 1993 by Steve Biodrowski. This article orignally appeared in Cinefantastique Volume 24 Number 2 – August 1993.