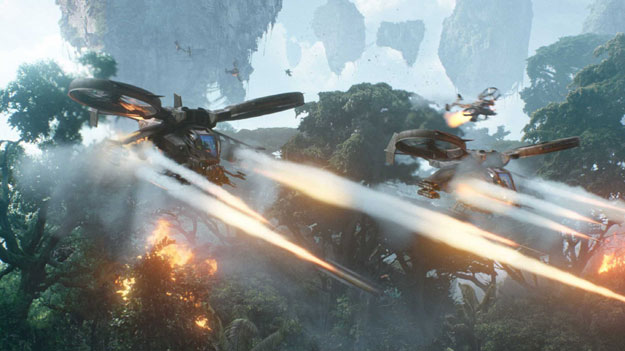 Despite multiple nominations, genre films take home only a handful of technical awards.
Going into Sunday evening, the 2010 Academy Awards presentation had ample opportunity to break with their standard tradition of snubbing horror, fantasy, and science fiction films in all but technical categories: two major films, AVATAR and DISTRICT 9, had been nominated not only for Best Picture but also in other top categories, such as Direction and/or Screenplay. However, when the dust settled and the wins counted at the end of the night, it was the same-old story, with cinefantastique shut out of all but a handful of categories: science fiction and fantasy films wound up with a total of six Oscar statues, almost all of them in technical categories:
The genre's "big" winner was AVATAR, which earned the nod for Art Direction, Cinematography, and Visual Effects.
UP took home the gold twice, for Animated Feature and for Music
Finally, STAR TREK took home the statue for Makeup.
Genre fans could perhaps take some solace by noting that the evening's Best Picture winner, THE HURT LOCKER, was directed by Kathryn Bigelow, who helmed the effective cult vampire film NEAR DARK back in 1987. Bigelow made history last night by becoming the first female director to win an Oscar.
One towering figure in the realm of horror, fantasy, and science fiction was honored on Oscar night, though not in the way he fully deserved. Producer-director Roger Corman (THE MASQUE OF THE RED DEATH, FRANKENSTEIN UNBOUND) was among four winners of a lifetime achievement award. Unfortunately, in its infinite wisdom, the Academy of Motion Picture Arts and Sciences had handed out these awards at a smaller ceremony last November. All we saw last night was a few, short video clips, followed by a brief shot of Corman sitting in the audience (well, at least they invited him to the big show).
For fans of cinefantastique, the highlight of the 2010 ceremony was the tribute to the horror genre. NEW MOON co-stars Taylor Lautner and Kristen Stewart introduced the segment by noting that horror, although a perennially popular genre, has not been honored by the Oscars since THE EXORCIST took home two statues back in 1974. One could quibble with this factoid (it all depends on whether you include Oscar-winners like ALIEN and SILENCE OF THE LAMBS in the "horror" genre), but the essential point is a good one.
Below is a complete list of the genre's winners at the 2010 Academy Awards ceremony:
ANIMATED FEATURE FILM
ART DIRECTION
Avatar: Rick Carter and Robert Stromberg (Art Direction); Kim Sinclair (Set Decoration)
CINEMATOGRAPHY
MAKEUP
Star Trek: Barney Burman, Mindy Hall and Joel Harlow
MUSIC
VISUAL EFFECTS
Avatar: Joe Letteri, Stephen Rosenbaum, Richard Baneham and Andrew R. Jones
For the complete list of 2010 Oscar winners, click here.