EDITOR'S NOTE: In this archive question and answer session, culled from personal appearances made at a Godzlla film festival in 2000, the late special effects expert discusses his work on Toho's biggest monster, from the frightening original to the comic "Son of" Sequel.
Sadamasa Arikawa served under the legendary special effects director Eiji Tsuburaya, the man who created harrowing scenes of death and destruction in many Japanese science fiction films in the late 1950s and early 1960s. Arikawa began his career by working in an uncredited capacity as a camera operator on the special effects unit of the early kaiju classics as GODZILLA (1954), and he served in similar capicity on later films like RODAN (1957). After working his way up through the ranks, Arikawa (who was often credited on his films as "Teisho" Arikawa) eventually took over the position of special effects director, under the "supervision" of Tsuburaya, who focused his attention to television work in the mid-1960s. Arikaway directed special effects for several colorful and fun-filled films such as GODZILLA VS. THE SEA MONSTER (1966), SON OF GODZILLA (1967) and DESTROY ALL MONSTERS (1968).
Although interviewed through a translator during a visit to the American Cinemathque in Hollywood, Mr. Arikawa's personality somehow managed to shine through the veil of translation, charming and entertaining listeners with his inflection and enthusiasm, even before his answers were rendered in words that his listeners could understand. Here are his memories of making the very first GODZILLA movie: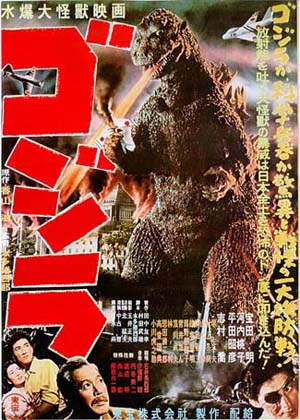 QUESTION: THERE'S A STORY THAT THERE WAS SOME TROUBLE WITH THE MINIATURE ELECTRICAL TOWERS THAT GODZILLA MELTS WITH HIS RADIOACTIVE BREATH.
Sadamasa Arikawa: Before I answer that question, I would like to thank everyone for watching the film. It's been fifty years, and it's a completely different point of view watching the film today than it was then. I can feel the warm appreciation from the audience — and felt for the first time such appreciation — so I would like to thank everyone for watching the film and enjoying it so much.
In those days, the science of making miniatures was very primitive. For example, everyone could see the boats and feel they were watching real boats. The boats were actually filmed in a small pool, and the feeling at the time was, "As long as the boats are floating, that should be good enough." I feel everyone watching it can get a sense that the technology was primitive at the time we were filming it. But we were also trying to make a good project as well.
Toho Studios also felt it was time to be breaking new ground in movie technology. The war was over, and it was time to be moving in a new direction. There was a strong feeling on the part of the studio and the people involved that they wanted to break new ground and do something special with the film.
Seeing as we're running out of time, I'll get around to answering your question. [laughter from the audience] Getting back to the original question, it had a miniature set that was as detailed as possible — with, for example, electrical towers and apartment buildings, even down to laundry hanging out to dry on the buildings. You may be familiar with this story, but the electrical towers had wires that needed to be electrified, using fuses. In order to make the sense of perspective, the wires toward the back of the set, the ones that were to appear father away, used smaller fuses, and the ones that were closer used larger fuses, so that when the wires were electrified and electricity was traveling along the line, you would have the size of [sparks] on the wires in accordance with their appropriate distance.
The set was prepared when it was cooler, but once the lights were turned on, it heated up quite a bit. As a result of the heat, the wires started to sag. Unfortunately, that meant we would have to restring the wires to get them to look like electrical wires, because they were sagging too much. So the process of making this film was complicated by the fact that we had to continually rebuild the set as we went on.
HOW LONG DID IT TAKE TO BUILD THE MINIATURES, AND HOW LONG DID IT TAKE TO DESTROY THEM?
Sadamasa Arikawa: A very good question. Of course we were building models pretty much for our own satisfaction, until the models became very intricate, elaborate, and durable, to the point where it became difficult for Godzilla to destroy them. So we changed our method of building models. As opposed to building them up, we would build a destroyed model and then recreate it, so that it could be destroyed.
Getting back to your question, the set of Osaka took a couple of weeks to build. Unfortunately, because the sets were built "destroyed" first and then recreated to look complete, and because we got better and better at building these things so that they could easily destroy them, sometimes they could be destroyed inadvertently by just leaning against them. So for example, getting back to that point, the Osaka castle took twenty days to build, and it was destroyed in a moment.
DID YOU REALIZE 50 YEARS AGO WHAT YOU WERE GETTING INTO WHEN YOU WERE WORKING ON THIS FILM?
Sadamasa Arikawa: I was not listed in the credits, but I was a camera operator on this film; there were certain scenes I was involved in, such as the blowing wind [storm] sequence, that I felt were quite magnificent. I had a sense of that at the time. I had a sense that this was a great love story, of a strong man and a beautiful woman. However, along with this romance film I was involved with, there was this wonderful monster, and I was subjected to questions from my co-workers and superiors, such as, "What do you think you're doing? Do you guys think you're going to make any money on this?" I am a sensitive person myself, sensitive to the suggestions of others, and so the truth is I felt the same as the complaints of the people I was working with, that maybe we were not making something so great. But, I also truly felt that we were making a great film as well.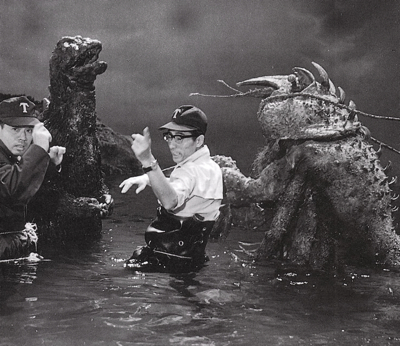 YOU WORKED AS A CAMERA OPERATOR ON GOJIRA, WHICH WAS DIRECTED BY ISHIRO HONDA, AND YOU DIRECTED SPECIAL EFFECTS FOR GODZILLA VS. THE SEA MONSTER  AND SON OF GODZILLA, WHICH WERE DIRECTED BY JUN FUKUDA. WHAT WERE THEY LIKE TO WORK WITH?
Sadamasa Arikawa: When I worked with Mr. Honda, I was just beginning this career, so he was like a leader to me. But when I worked with Mr. Fuduka, we were in the same generation. We had to cooperate with each other; we also had rivalry with each other. Mr. Fukuda knew my pictures, and I knew his. When we worked together, I put a lot of attention into the special effects instead of drama. That's how we had rivalry.
DESCRIBE THE WIRE WORK THAT IT TOOK TO GIVE TO LIFE TO THE GIMANTIS (GIANT PREYING MANTIS) AND SPIEGA (GIANT SPIDER) IN SON OF GODZILLA.
Sadamasa Arikawa: We needed twenty people, in a space about three meters square. There were thirty wires, three wires to each leg. The wires were hung from the stage. Everybody had a number, and when I called a number, everybody knew which leg to move. I'm so satisfied with how we moved the monsters. The wires were about 0.01mm wide, made by the studio wire department.
THERE WAS A LOT OF COMPOSITE WORK IN SON OF GODZILLA, TO COMBINE MONSTER AND HUMANS IN THE SAME SHOT, WHICH WAS UNUSUAL FOR FILMS OF THIS PERIOD.
Sadamasa Arikawa: The reason I used many shots with monsters and humans in one screen is because I wanted to make it, in this movie, easy to compare the sizes of monsters and humans. To make the monsters scarier, I needed shots to show the sizes of monsters and humans in one shot.
HOW WAS THE EFFECT ACHIEVED FOR THE SPIDER SPRAYING ITS WEB?
Sadamasa Arikawa: The spider web was made by rubber glue. We warmed rubber glue first, and it was sprayed out from a nozzle. It only went a certain distance, like three meters, so we only used close shots.


[AS HOST TRIES TO WRAP UP, ARIKAWA STANDS TO MAKE ONE LAST SPEECH TO THE AUDIENCE, REGARDING HIS CONTRIBUTION TO SON OF GODZILLA]
I'd like to speak. When I did this movie, I did my best. Last night, I saw people who came here [to see Gojira]. I did not do the original Godzilla, but please take care of my new Godzilla!
Copyright 2000 Steve Biodrowski