Marked by unpleasant violence and quesitonable humor, Argento's latest thriller sees the director following his own dark muse, regardless of whether the audience tags along.
Dario Argento's films have always divided critical and audience opinions. To his supporters, he's one of the cinema's supreme visual stylists, his work further marked by a constant willingness to experiment with new technologies and techniques. To his detractors, there's little substance to his films, which are also commonly accused of being badly written and acted and marred by gratuitous violence. Since around the time of PHENOMENA (1985) the detractors have assumed the upper hand, with even many of the director's avowed fans asserting that his work just isn't what it used to be.
They are right, but whether this represents an actual decline or the continuing creative evolution of Argento's filmmaking is another matter. Much of the reason Trauma (1993), The Stendhal Syndrome (1995), The Phantom of the Opera (1998) and The Card Player (2004) do not appeal to fans weaned on the likes of The Bird with the Crystal Plumage (1970), Deep Red (1975) and Suspiria (1977) is that they do not conform to the expectations established by these early works. Take The Card Player: Amongst other things, it is deliberately, even excessively, restrained. The violent set piece, a main stock in trade of the director, is avoided to concentrate our attentions on the consequences of violence instead.
GIALLO (2009) is not going to settle these debates one way or the other. It does, however, fit with their general pattern – the main exceptions being the latter day crowd-pleaser Sleepless (2001) and would-be crowd-pleaser The Third Mother (2007) – by seeing Argento take his own dark path without paying much heed whether an audience is following.
The first thing about the film that must be addressed is its title. As is well-known, Giallo means "yellow" in Italian and has come to refer generically to a particular kind of horror-thriller, of which Argento's earliest films established him as the leading practitioner. Given this and the highly self-referential approach taken by later works like Tenebre (1982), Opera (1987) and Do You Like Hitchcock (2005), we might expect GIALLO to offer more in the way of comment on the form than it does, perhaps even being prefaced by an explanatory definition of what giallo is in the manner of Tarantino's Pulp Fiction. Instead, GIALLO is the nickname of the obligatory maniac. The name derives from his disfiguring skin condition, one that has left him fuelled with a hatred for beautiful young women. His modus operandi is to abduct them in his taxi, take them to his lair, and slowly mutilate them to death.
The other key dramatis personae are Celine (Elsa Pataky), Linda (Emmanuelle Seigner) and Inspector Enzo Avolfi (Adrien Brody). Celine is Yellow's latest victim, Linda her sister. Avolfi is the enigmatic Manhunter-type figure assigned the case on a kind of 'it takes one to know one' or 'poacher turned gamekeeper' basis; the Thomas Harris reference seems appropriate given that the production company behind GIALLO is Hannibal [as in Lektor] Film.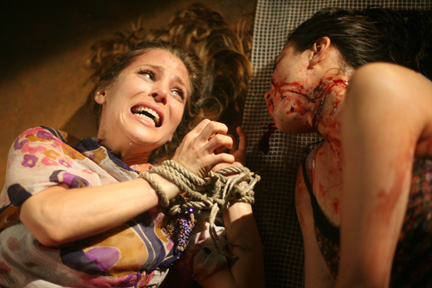 GIALLO's key traits are violence and unpleasantness (arguably bordering upon the 'torture porn' variety), and humour. It is a rather uneasy combination, especially since it is not always particularly well signalled whether we are supposed to be laughing. In general, I feel that we are, that the film is intended as something of a self-parody. But even if this is the case, it is clear that Argento's failure to make this crystal clear is detrimental to GIALLO's overall effectiveness.
Two points of comparison come immediately to mind. The first is the aforementioned Phantom of the Opera, notable for Julian Sands' mask-less, "rock star" Phantom and the general hostility it invoked among fans and non-fans alike. The second, suggested by Seigner's presence, is Roman Polanski's Bitter Moon (1992) – another of those "Is it intentionally 'bad', or just bad?" films.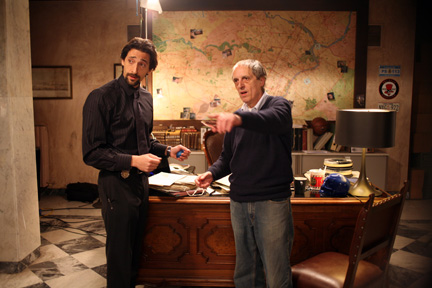 There is some evidence for the 'in-quotes' position, though the fact that we have to look for it again points to the more fundamental problem. In particular, Brody's 'bad' work has to be considered in the light of his Oscar-winning performance on Polanski's The Pianist (2002), as a strong indication that he is one of the more capable actors Argento has collaborated with. And collaboration is the operative term here. Amongst Brody's other roles was that of Executive Producer on GIALLO. As such, he and Argento had to have agreed upon the seemingly paradoxical over-the-top yet dead-pan way he was going to play things, for better or worse.
If a returning-the-favour reference to Juno is a throwaway, those to Japanese culture (a pre-Celine tourist victim; the hentai-type manga used by Yellow to fuel his perverse imaginings, and the more up-market volume of Araki art-or-porn photography purchased by Avolfi) may point to Argento's growing interest here, as previously seen in the J-Horror, Gothic Lolita witch of The Three Mothers (2008). Or these references may be a way of trying to ensure distribution for GIALLO in Japan, traditionally an important marketplace for the director. Again, it's up to the viewer to interpret, positively or negatively.
Visually, the film is middling Argento, more imaginative and stylish than most directors but hardly comparable to a Suspiria, Inferno (1980) or Opera. Aurally, it is less distinguished, with Marco Werba's score lacking the memorable qualities of Ennio Morricone, Goblin or Claudio Simonetti's work.
In sum, GIALLO is very much of a piece with the majority of Argento's films of the later 1980s, 1990s and 2000s in its personal, take-it-or-leave-it nature. I took to it, but you may not. Whatever the case, hopefully you are at least in a position to make a better informed decision than a few hundred words ago.
[serialposts]