Today, on Lincoln's birthday you can see the Oscar wining actor and horror film fan, Benicio Del Toro take on the iconic role of Lawrence Talbot, the tormented protagonist from Universal's 1941 Lon Chaney, Jr. classic, The Wolf Man.
Given Universal's sorry track record with their recent re-makes of horror film classics, I was not expecting very much from this new version of The Wolfman, especially since director Joe Johnston replaced Mark Romanek only three weeks before the start of principal photography. Which is why I was rather pleasantly surprised when I loved how this re-imaging by star Benicio Del Toro and director Johnston has turned out.   However, it certainly appears that this new re-make won't be winning much mainstream critical praise. In fact, a friend of mine who attended the press screening with me felt that the movie was "incredibly bad!"
Yet, I really can't imagine anyone who grew up watching horror films on late night TV, or reading Famous Monsters of Filmland, as Benicio Del Toro did, won't find something to like about this movie. For me, I found it to be a sheer delight, combining as it does, references to Universal, Hammer, AIP and many other classic horror films. It starts out with a close-up on a tombstone, with the classic werewolf poem, "Even a man who is pure in heart…" as some blood red credit titles unfold over a nearly black and white background. It ends over 100 minutes later with more beautiful end credits, again in blood red, over drawings and diagrams taken from books on lycanthropes, werewolfs and loup-garous's. It reminded me of nothing less than the stunning satanic opening credits to the Hammer film masterpiece, The Devil Rides Out.

In short, for aficionados of classic horror films, there is very much to admire in this exquisitely crafted re-make. All others, I'm sure, will be much happier watching the DVD of Universal's re-make of The Mummy, or one of it's insipid sequels. I thought they were all awful, but awful films can also make an awful lot of money, can't they!
In any case, just looking at the artistic talent that worked on this film, one can only be very impressed. It's also rather marvelous to see how many key players of the film are actually real genre aficionados, including make-up artist Rick Baker, composer Danny Elfman, production designer Rick Heinricks, screenwriter Andrew David Walker and even producer Rick Yorn. Now, add on top of that, these top artisans: Film editor Walter Murch, costume designer Milena Canonero, Cinematographer Shelly Johnson, and many others far too numerous to mention. The end result is the combined talents of over ten Academy Award winners. Which is even before we add the stellar cast into the equation!
At any rate, it appears that by co-producing the film, Mr. Del Toro and Rick Yorn were able to assume enough control to make the movie into a serious homage to the original picture, rather than the kind of the absurd and totally over the top mis-mash of monster lore that Universal unleashed with their truly awful Van Helsing movie.
Benicio Del Toro recalled that one of his earliest recollections of the art of acting was while watching Lon Chaney, Jr. playing The Wolf Man when he was growing up in Puerto Rico. " We wanted to honor that classic movie," explains Del Toro, "and also the Henry Hull movie The Werewolf of London. We knew it would be exciting to make it in the classic, handcrafted way. "
Producer Rick Yorn adds, "Growing up, these monster films really had an effect on my brothers (including Pete Yorn) and me. When I first came out to Hollywood, I wanted to remake one of them. Then, a few years ago, when Benicio and I were walking out of his house, I saw the framed one-sheet for The Wolf Man. It shows a close-up of Lon Chaney, Jr. as the monster. I looked at the poster, then back at Benicio—who had a full beard at the time—and said, 'How would you feel about remaking The Wolf Man?' "
The result of that interaction between a star and his agent is this stylish horror film, which beautifully captures the Gothic atmosphere of the Universal horror classics, as well as much of the pathos the audience feels for a hero who is beset upon by fate.
As Curt Siodmak noted, he based Lawrence Talbot on Aristotle's Greek notion of Hamartia. "It means that a person must suffer by the whim of the gods, though he has not committed a crime," as Mr. Siodmak explained in his 1993 introduction to his original script for The Wolf Man. "We all have Hamartia in us, and suffer in life's mishaps and pain, without having been guilty of any misdeed. That was the pivot of my idea for The Wolf Man."
Scriptwriters Andrew David Walker (Sleepy Hollow) and David Self have embraced that concept and brought even more psychological depth to the movie by making Del Toro's character a successful actor, like Edwin Booth, who has specialized in playing Hamlet on stage in America. When he is called back home to investigate the death of his brother, Ben, Larry Talbot is faced with an Opedial crisis in his real-life, and Anthony Hopkins as his distant father, even gets to utter the famous line from Hamlet, "To be or not to be."
It turns out that Larry Talbot's mother died early in his childhood, and that tragedy has turned his father, Sir John Talbot, into a morose and moody man, who can no longer face reality. So he sends the young Larry off to America, and in his sorrow, he lets the family estate drift into a kind of beautiful decay.
But Sir John also has a few skeletons in his closet, that he has never revealed to his children. Like Claude Rains in the original movie, Sir John is superbly played by Anthony Hopkins, (who ironically is Welsh), which suggests nothing so much as the tragic figure Vincent Price played as Locke in Roger Corman's Poe story, Morella.
Of course, although Vincent Price's work in horror films remains beyond reproach, I really can't say that Mr. Price was a better actor than Anthony Hopkins. Nor is Lon Chaney a better actor than Mr. Del Toro. But that brings up my biggest objection to the re-make of The Wolfman.
Namely, why couldn't some name "horror" stars be included in the cast. Couldn't Elena Verdugo be included in a cameo role? And while Geraldine Chaplin is quite a fine actress, her two major scenes as Maleva are quite a disappointment. Since Maleva's scenes are very much underwritten, what was needed to give them more power was was to have a great genre actress play the part. In this regard, Barbara Steele would have been rather perfect, but then again, when you compare the Moscow Art Theatre's great Maria Ouspenskaya against any actress living today, you are going to be a little bit disappointed. Even Katherine Hepburn couldn't better Maria Ouspenskaya when Warren Beatty persuaded Hepburn to take Ouspneskaya's old role in his re-make of Love Affair.

In another aside, I find it quite strange that I watched Orson Welles perform King Lear in his 1953 debut on TV last night on the just released DVD of King Lear. Which made me think of how high-brow this version of The Wolfman actually is. Which is why I think the two writers of the script have to be given special note: Andrew Kevin Walker and David Self. I found it rather astonishing that the two writers of this movie get only two short paragraphs in the press notes, while there are ridiculously long credit bio's for some executive producers who probably had next to nothing to do with the movie.
No doubt, Orson Welles would not have approved.
And here is what Orson Welles himself had to say about death, which is ultimately what most horror films are really about:
ORSON WELLES: King Lear is Shakespeare's masterpiece and, stripped of its classical or stage trappings, it's as strong now and as simple and as timeless as any story ever told. And what is simple for the story of King Lear—what is truly important—is not that the tragic hero is an old king, but that he's an old man. Just such an amiable, egocentric family tyrant as holds sway in the domestic scene even nowadays. Of course, we've been so famously liberated from the spice of the forbidden that nothing can be counted as truly obscene. But there is one exception: death.
"Death" is our only dirty word. And King Lear is about death and the approach of death, and about power and the loss of power, and about love. In our consumer society we are encouraged to forget that we will ever die, and old age can be postponed by the right face cream. And when it finally does come, we're encouraged to look forward to a long and lovely sunset.
"Old age," said Charles de Gaulle, "old age is a ship wreck"—and he knew whereof he spoke. The elderly are even more self-regarding than the young. To their dependents the elderly call out for love, for more love than they can possibly receive, and for more than they are likely—or capable—of giving back. When old age tempts or forces a man to give away the very source of his ascendancy over the young—his power—it's they, the young, who are the tyrants, and he, who was all-powerful, becomes a pensioner.
***********
Now, after that digression, let us return to The Wolfman. I must say I found it quite wonderful that the writers decided to set the story in the Victorian age of Bram Stoker, Jack the Ripper, and of course, Queen Victoria. I also found it rather strange that, just by chance, I had watched the Hughes brothers film about Jack the Ripper From Hell , last week, and was rather astonished to find that in The Wolfman, Inspector Aberline was lifted from the real-life story of Jack the Ripper. Now, just imagine if Johnny Depp had agreed to reprise his role as Inspector Aberline in The Wolfman?
Of course, that could never happen, given that Depp makes over $15 million a movie these days, but it's still sort of fun to think about. But it's also a sad commentary on stars and their agents. Johnny Depp couldn't possibly be expected to play a supporting role in a movie, could he?
No, of course not, but thankfully, who cares, because I found it was a masterstroke of writer's acumen, making The Wolfman all the more exciting by having an actor like Hugo Weaving brilliantly handling the role of Aberline. And speaking of Queen Victoria, Emily Blunt, who plays the old Evelyn Ankers role of Gwen Conliffe, certainly knows something about the Victorian era, after playing The Young Victoria herself.  Before I saw The Young Victoria, I went in not unlike how I approached The Wolfman.  I had thoughts of the original Broadway cast in my mind,  in this case, Helen Hayes and Vincent Price playing Queen Victoria and Prince Albert, although I had never actually seen them perform in the play.
However, after I saw The Young Victoria, those images had been completely erased from my mind.  So it was for The Wolfman. Ms. Blunt certainly has proved her worth as a period actress, and gives a marvelous performance as Gwen, evoking the kind of pathos Elena Verdugo did with Lon Chaney as Larry Talbot in her gypsy role as Ilonka in House of Frankenstein.
*****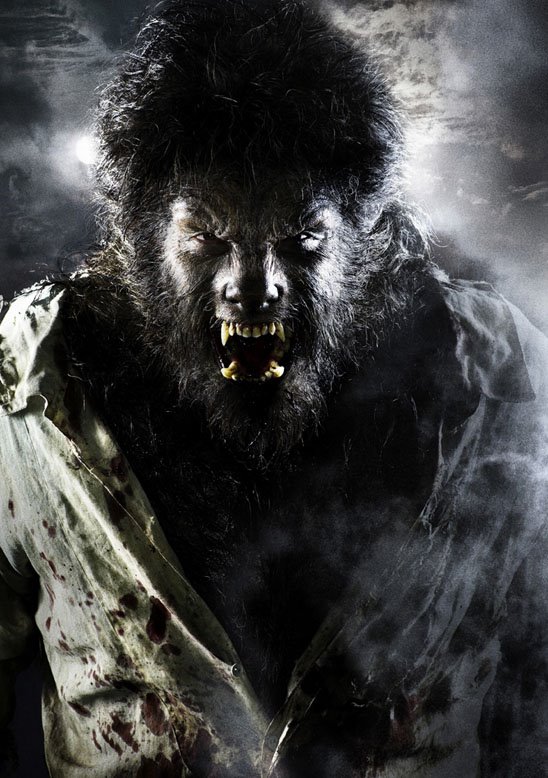 Hopefully, I will have more to report on the wonderful make-up effects done for The Wolfman by Rick Baker in the future.  But as Rick Baker himself told me when he was asked to work on Wolf, with Jack Nicholson, the studio handler's would not even let him get near Mr. Nicholson, which almost ended Baker's participation on that film.
Likewise, while I'd love nothing more than to present a long and detailed interview with Rick Baker here at CFQ,  I doubt it will actually happen, as the handlers at Universal probably won't be interested in such a story.
[serialposts]