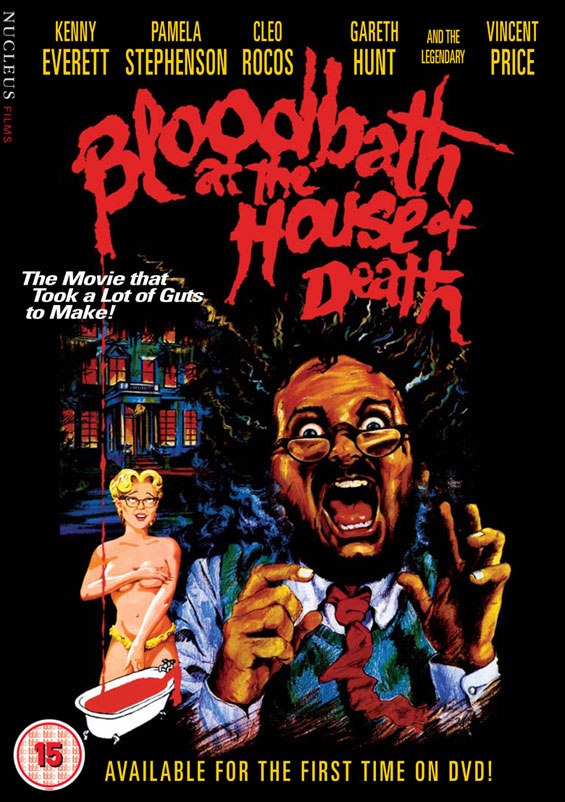 The obscure 1984 horror-comedy BLOODBATH AT THE HOUSE OF DEATH was recently restored for Region 2 DVD release in England, a process documented in this article in the Guardian. The film (which was only ever available on VHS in the U.S.) is best known in its native country because it represented the feature film debut of popular television comedian Kenny Everett (who died seven years after the film was completed). In the U.S., if BLOOD BATH is known at all, it is for the approximately seven-minute cameo by Vincent Price, who plays his role as the leader of a Satanic cult with an extra large slice of ham, even by his standards. (Filmstalker, in this post, erroneously refers to this as the "last on screen appearance" of the actor, ignoring 1990's EDWARD SCISSORHANDS, among many others.)
Price apparently took the small part as a favor to the film's director and co-writer, Ray Cameron. When I tried to ask him about it while researching the double-issue cover story I co-wrote on Price's career for Cinefantastique, all the actor would indicate that it was one of many film's in his career that were "best forgotten."
The story involves a team of psychic investigators studying a haunted house, but that is just an excuse to string together a series of sight gags based on THE EXORCIST, CARRIE, and just about anything else the filmmakers can throw in (including a gorey Monty Pythonesque flashback of Everett botching an operation). The anything-for-a-laugh approach can be trying at times, and fans of off-the-wall British comedy may get a chuckle or two, and Price fans should appreciate the chance to check it out.
One other note: The Guardian article is worth reading in full, as it address the general topic of film preservation, which should interest all fans of classic films.