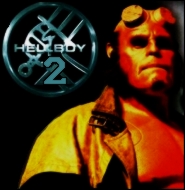 The Australian has an interview with Guillermo Del Toro, discussing HELLBOY 2: THE GOLDEN ARMY. Writer Michael Brody describes Del Toro as a new kind of auteur, one who comfortably crosses back and forth between Hollywood blockbusters and smaller personal films:
"The first movie came out of nowhere," says del Toro of the film that grew spectacularly on DVD. "On the second movie, the scope and ambition are much bigger, but curiously enough we are in a (US) summer that has movies costing $US200 million while we are an $US85 million movie, and the first movie was $US66 million."
Hellboy II was viewed as one of the smaller action films of the US summer, scheduled for an August release after the behemoths Iron Man, Indiana Jones and the Kingdom of the Crystal Skull and The Dark Knight had run their race.
"But in a bout of confidence the studio decided to release it a month earlier, which is very flattering except then we had to deal with that," del Toro says, laughing, before noting he finished the film "five seconds before we projected it". Suddenly, there was an expectation del Toro would manufacture double the film without double the budget. "No, I'm hoping when you see the movie it'll look triple the size!" he says. "This is just a matter of ambition and the desire to make the most of what we get. But I am exceedingly pleased with the way we were able to produce value for the money."
Brody insists that Universal's confidence paid off, ignoring that the film nose-dived in its second week or release. So far, the U.S. gross stands at $75-million – ten million shy of the production cost. Overseas sales and home video will boost the numbers considerably, the Universal also has to factor in distribution costs (print-and-advertising, revenue sharing with theatres) before HELLBOY 2 can eek out a profit.