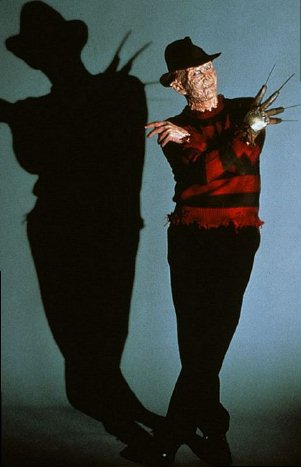 Swimming bravely against the tide of fright fan antipathy, Dinner with Max Jenke opines that the thought of a NIGHTMARE ON ELM STREET remake is not such a bad idea – working on the logic that it couldn't possibly be worse than the sequels. Actually, I enjoy parts 3 and 7, and thought the only outright terrible one was 2, so I don't think the bar is really that low, but I do agree that the concept of a serial killer stalking you in your dreams still has some life left in it.
Rising up from his lair deep within the Vault of Horror, Brian Solomon looks back on 2008's fearful frights on the big and small screens. Unfortunately, he drinks the Kool Aid when it comes to INSIDE, but he does point out some other nice offerings proving the genre's continued vitality even in the face of tired SAW sequels.
Arbogast on Film offers a list of 20 actress who make him sit up and take notice. Though not genre specific, it includes reverential nods to Rosalind Cash (OMEGA MAN), Jamie Lee Curtis (HALLOWEEN), Candace Hilligoss (CARNIVAL OF SOULS), Rosalba Neri (LADY FRANKENSTEIN), Carol Ohmart (HOUSE ON HAUNTED HILL), and Barbar Shelley (DRACULA, PRINCE OF DARKNESS).
Keith Brown of Giallo Fever has a series of short post inspired by the recent Region 2 DVD release of Dario Argento's brilliant DEEP RED. Here is the most recent one. I won't link to all the rest, but if you are a fan of Argento in general or this film in particular, you should check them out.
Over at BG News, Aaron Heifferich provides his list of the Top 5 "Not So Merry Christmas Movies." Among non-genre titles EYES WIDE SHUT, KISS KISS BANG BANG, and DIE HARD, he includes EDWARD SCISSORHANDS and (at #1) GREMLINS, a choice of which we thoroughly approve.