Despite assembling a number of very talented performers and production people, CIRQUE DU FREAK: THE VAMPIRE'S ASSISTANT is almost a study in how not to launch a successful film franchise.  Based on the first three books in Darren Shan's young adult vampire series, Paul Weitz's film adaptation is a promising stew that never quite blends.
At the heart of the problem is the main character: Darren (Chris Massoglia) is a nice guy who is fascinated by spiders, gets good grades, and tries to please his parents; however, he is a bland cipher characterized more by who he is not than by who he is.  His best friend Steve (Josh Hutcherson) is the typical parent's nightmare image of a bad influence: Steve likes to torture small animals, pull cruel pranks, and wants to become a vampire.  He persuades Darren to sneak out of his house to attend a live freak show in town.
There they encounter Madame Truska the Bearded Woman (Salma Hayek), the disfigured Alexander Ribs (Orlando Jones), the mysterious Mr. Tall (Ken Wanatebe), and other colorful characters. The ringleader is Larten Crepsley (John C. Reilly), a flame-haired fellow who is secretly a vampire. Steve persuades the arachnid-obsessed Darren to steal Larten's colorful spider, and later tries to persuade Crepsley to turn him into the undead, only to be rejected as unsuitable.
Through a convoluted series of events, Darren winds up agreeing to become a half-vampire in an effort to save his friend, the vampire's assistant of the title (who can assist Crepsley because he can go about in daylight). Conversely, Steve is recruited by the Vampaneze, a sect of evil vampires who delight in partaking of human blood, unlike the more humane style of vampire represented by Crepsley. (It does seem like a permanently engraved trope of the genre these days is to pit "good" vampires against "evil" ones).
Despite the talented actors, the characters never get developed beyond the most superficial levels, even when Darren has to abandon his family to live with the Cirque, where he meets a roommate Evra the Snake Boy (Patrick Fugit) and encounters the shy but sassy Monkey Girl (Jessica Carlson).  SHADOW OF THE VAMPIRE's Willem Defoe does a delightful turn as a Vincent Price-like vampire, but it proves too little, too late. Reilly, as the seemingly indifferent mentor vampire, provides the most interesting performance, but he cannot overcome the jumble the film has become.
Apparently, Brian Hegeland's original script was considered too dark, so director Weitz (ABOUT A BOY) attempted to lighten the project and create a sort of highlights assembly.  What emerges is a major case of tonal schizophrenia, as CIRQUE DU FREAK: THE VAMPIRE'S ASSISTANT shifts between light and dark, serious and fanciful, from violence to drama to comedy. Thank to some very choppy editing and unengaging protagonists, viewer ennui quickly outpaces the splendid production design and cinematography. In the end, the film seems to be setting up a series that its own lackluster performance guarantees we will never see.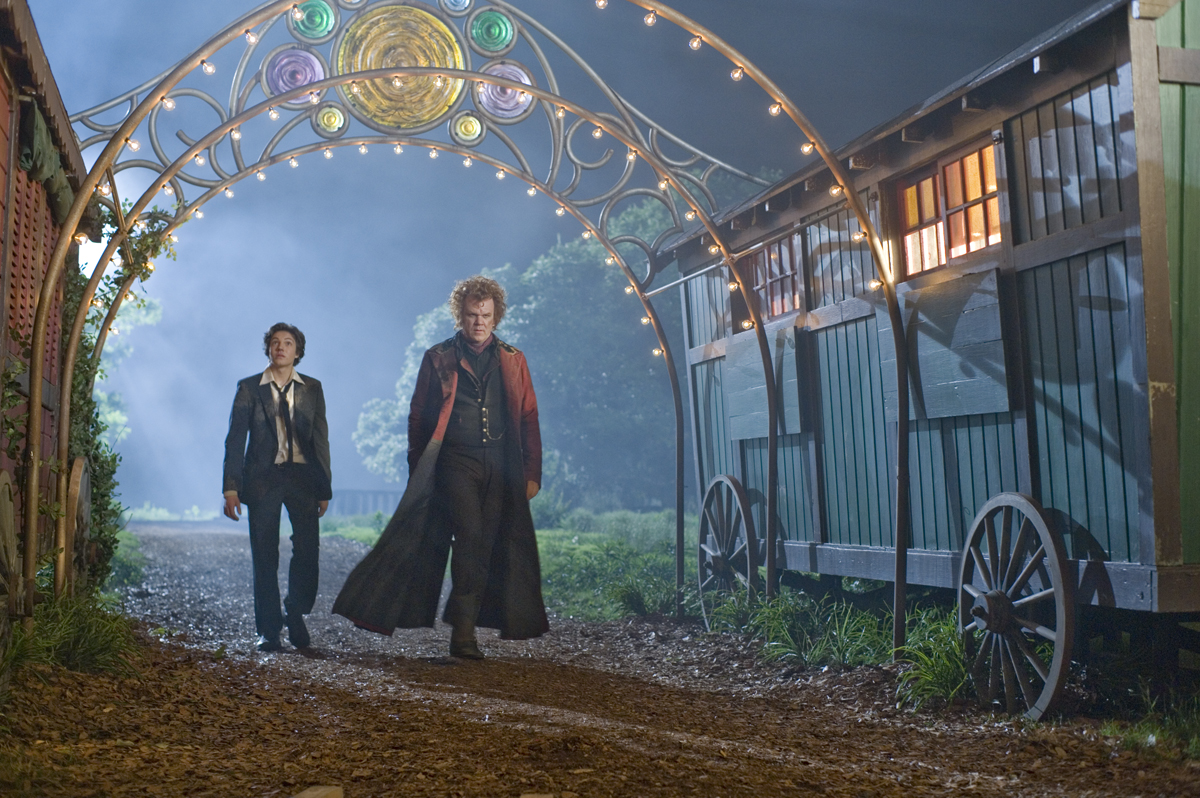 *
CIRQUE DU FREAK: THE VAMPIRE'S ASSISTANT (2009). Universal release of a Donners Co./Depth of Field production in association with Relativity Media. Produced by Lauren Shuler Donner, Paul Weitz, Ewan Leslie. Executive producers, Courtney Pledger, Sarah Radclyffe, Andrew Miano, Dan Kolsrud, Kerry Kohansky, Rodney Liber. Co-producer, John Swallow. Directed by Paul Weitz. Screenplay, Weitz, Brian Helgeland, based on the "Cirque du Freak" series of books by Darren Shan.
 
Larten Crepsley – John C. Reilly
Mr. Tall – Ken Watanabe
Steve – Josh Hutcherson
Darren Shan – Chris Massoglia
Murlaugh – Ray Stevenson
Evra the Snake Boy – Patrick Fugit
Gavner Purl – Willem Dafoe
Madame Truska – Salma Hayek