Whether or not this is the Bond film the world was waiting for, it definitely is the film that Bond fans were waiting for: a tense, gripping thriller mercifully free of the baggage of the previous Bond flicks, CASINO ROYALE takes the essentials of Ian Fleming's novel and updates them for the 21st century, seamlessly adding the requisite big screen action set pieces in the process.
The lame one-liners and jokey tone have been jettisoned, freeing the film from the moribund formula and allowing it to stand on its own, not as the umpteenth entry in a franchise. Or, to put it bluntly, this time out the filmmakers tried to make a good film, not just a fun 007 outing, with credibility laced throughout the characters and the storyline.
And they had the nerve to do it without falling back on the crutches that held them up before and compromised previous attempts at making a more mature Bond. This is the movie they should have made when they brought Timothy Dalton on board, but Daniel Craig fills the tuxedo very nicely; in fact, he is damn near perfect, capturing the grim, lethal quality of Fleming's literary creation. He's a younger, untried Bond, finding his way in his new 00-status, and he makes you believe in the character as a human being, not a walking icon.
The result may not be for everyone's taste. The script retains the nasty torture sequence, with Bond strapped naked to a chair with the seat cut out, so that the villain Le Chiffre (a wonderfully convincing Mads Mikkelsen, leaping to the top of Bond's best adversaries) can whack his testicles repeatedly with a heavy, knotted rope. There's a fairly grim denouement, somewhat akin to ON HER MAJESTY'S SECRET SERVICE. And Bond learns to deliver his trademark quips and his famous self-introduction "Bond – James Bond") toward the end.
Beyond that, the film is not perfect. Some of the editing seems jumbled. At one point, Bond cleans up in his hotel room's lavatory after a nearly fatal poisoning, goes to play poker downstairs, then returns to the hotel room to find his female partner Vesper Lynd (Eva Green) slumped in the shower, fully clothed and freaked out from all the action. Has she been there for hours while he was playing? And why didn't he notice her when he was in the bathroom before?
Also, there's at least one dangling thread: several times, the camera emphasizes a breath inhaler used by Le Chiffre, and at one point Bond inserts a tiny metal a tracking unit inside it. The "pay-off" is that Bond can track Le Chifree's movements. But Bond already knows Le Chiffre is in the Casino Royale hotel, playing a high-stakes poker game to retrieve money he lost, and we have no idea why 007 would want or need to follow him back to his hotel room. The whole episode seems a contrived way to get Bond nearby when some unsavory characters show up and demand the Le Chiffre return the money he lost, leading to a fight scene apparently intended to liven up the middle section of the film, which consists mostly of the poker showdown between Bond and Le Chiffre.
That said, the movie works almost from start to finish. There have been some critical complaints about the extended coda, but to a discerning viewer this section of the film is handled quite well, the too idyllic tone of the scenes perfectly inducing a sense of anticipation that something awful was going to happen.
The clever screenplay by Neal Purvis & Robert Wade and Paul Haggis serves up the usual elements but mixes them into a brand new dry martini, shaken – not stirred – to near perfection. Not only is Bond carefully characterized (an arrogant, cold-hearted man whose mistakes cost him dearly); there is also some really sparkling dialogue for his leading ladies (especially Vesper Lynd), who emerge more as human beings than boy-toy fantasy figures. (Think of Tracy Bond in ON HER MAJESTY'S SECRET SERVICE.)
Director Martin Campbell handles the action with gritty expertise, beginning with a nifty, low-kye prologue in black-and-white that resembles a French noir thriller (imagine if John Pierre Melville had directed a Bond film) before shifting into a colorful, high-octane thriller. The truly amazing thing is that, under Campbell's direction, CASINO ROYALE provides the requisite over-the-top action without ever losing credibility as a tense, believable thriller. This is no frothy summer flick; it's lean and mean, even when characters are leaping through the air and scaling buildings like something out of a Hong Kong fantasy film.
The film ends on a clever note, with 007 finally making his trademark declaration of self, "I'm Bond – James Bond," and the famous Monty Norman theme music blaring out, in its full glory, for the first time during the closing credits. Thus the movie neatly announces itself as a rebirth that will launch a new, invigorated franchise. Now that the character has undergone his "trial by fire" and proved himself in the line of duty, it will will be hard to sustain the dramatic intensity in future installments. But we are eager to see the filmmakers try.
TRIVIA
CASINO ROYALE is the 21st entry in the official James Bond film film franchise, which includes those titles produced by Albert R. Broccoli and his heirs, Michael G. Wilson and Barbara Broccoli (but not NEVER SAY NEVER AGAIN or the previous adaptations of CASINO ROYALE).
The screenplay is based on the first if Ian Fleming's many novels about British superspy James Bond, whose 007 number indicates his license to kill in the service of the crown. The novel is about Bond's mission to bring down a mysterious character known as Le Chiffre ("The Cypher"), who handles money for  murderous communist spies. Le Chiffre has been dipping into the till, and he needs to win a substantial amount at the gambling tables before his comrades discover his indiscretion. Bond is sent to beat him at baccarat, which he does successfully (with the help of a fortuitous loan from CIA agent Felix Lighter). In retaliation, Le Chiffre kidnaps and tortures Bond; ironically, the secret agent's life is saved when a communist assassin shows up and kills Le Chiffre for his financial improprieties. Faced with the immoral savagery of the enemy, Bond (who had been doubting his mission in life) finds a new enthusiasm for his work defending England and the West against the communist menace.
The film updates the action to the post-9/11 world, with Le Chiffre in the service of terrorists rather than communists. CASINO ROYALE also introduces a new actor in the role of Bond, the blonde Daniel Craig. The script jumpstarts the film franchise by treating Bond as a young character who has only recently earned his 007 license.
The novel of CASINO ROYALE was originally adapted for a live, one-hour television drama starring Barry Nelson as "American" agent James Bond. This was long before producer Albert R. Broccoli acquired the film rights to Ian Fleming's character.
In 1967, a rival producer obtained the rights to the novel and shot a feature film version of CASINO ROYALE starring David Niven as James Bond. Essentially a madcap spoof, this version was shot by several different directors, working with different actors playing variations on James Bond (such as Woody Allen as Bond's nephew Jimmy), so it's no surprise that it's a sloppy collage of mismatched pieces.
In the film, Bond delivers his recipe for a dry martini, which he eventually names after Vesper: three measures Gordon's gin, one measure Vodka, one-half measure Kina Lillet; shake well with ice, and serve with a long slice of lemon peel. The recipe is taken almost word for word from Fleming's novel (where Bond specifies that grain vodka is preferable to potato vodka). This creates an anachronism: Kina Lillet, a French Aperitif wine, shortened its name to simply "Lillet" decades ago. Also, there are now two versions of the wine, Rouge and Blanc (the Blanc being closer to the original). Since Bond does not specific which kind of Lillet he wants in his wine, he could easily have gotten something a bit different from what Fleming intended when he created the recipe.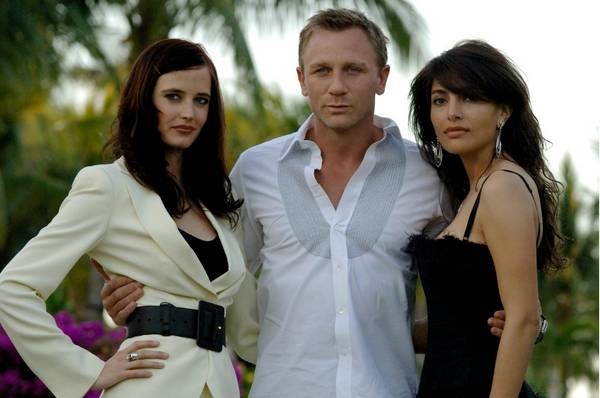 DVD DETAILS
CASINO ROYALE was originally released to disc in four forms: a two-disc widescreen edition, a two-disc full screen edition, a Blu-Ray edition, and UMD for PSP. Although the Amazon.Com listings for the first two identifies the DVDs as "special editions," there is no such designation on the actual box art. This is appropriate: although the discs contain a few nice features, they fall somewhat short of being truly "special."
The widescreen DVD offers the film on Disc One with audio and subtitle options for English, French, and Spanish. The menu divides the film into twenty-eight chapter stops, which are laid out like cards on a gaming table. Unfortunately, you cannot skip directly ahead to the later chapters; you have to step through them in groups of four. Both the video and sound transfer more than do justice to the film, even on a large-screen television.
As is too often the case these days, the disc automatically starts by showing trailers for unrelated coming attractions; fortunately, you can skip through these with the chapter advance button or use the menu button to go immediately to the main menu.
Disc Two also contains the coming attractions trailers, but they are separated as a "bonus feature" and do not play automatically. The actual bonus features consist of "Becoming Bond," "James Bond for Real," "Bond Girls Are Forever," and a music video of Chris Cornell performing the theme song, "You Know My Name."
"Becoming Bond" takes a look at the creative process behind casting a new actor as 007 and updating the character for the 21st century. It consists mostly of interviews with producers Michael Wilson and Barbara Broccoli, director Martin Campbell, screenwriters Neal Purvis and Rupert Wade and Paul Haggis, and of course Daniel Craig, intercut with some behind-the-scenes footage, promotional clips, and scenes from the film.
Since there is no audio commentary on Disc One, this featurette has to fill in all the background details about making the film. It does an adequate job addressing the negative fan reaction that erupted in response to Craig's casting. However, it also perpetuates the myth that Ian Fleming's novel features a young, untested Bond who comes of age during the novel, when in fact the coming-of-age story exists only in the film. Yes, Bond is younger in the CASINO ROYALE novel, but that's only because it's the first book; the literary character is at least in his 30s, and there is little if any suggestion that he lacks experience.
"James Bond for Real" examines the film's attempt to stay true to the tradition of great stunt work in the 007 films, relying on live-action instead of computer-generated imagery. This featurette is a bit slow and bogged down in details until the end when it addresses the world-record-breaking roll of the Aston Martin. The crash is so spectacular in the film that even casual viewers will enjoy learning how it was achieved.
"Bond Girls Are Forever" features actress Maryam D'abo (LICENSE TO KILL) interviewing a bevy of other actress who starred in 007 movies, both before and after her. This feature seems to have been produced not for the DVD but for television (it includes several breaks where commercials can be inserted), and it is easily the high-light of CASINO ROYALE's second disc. Of course, it is impossible to do complete justice to the topic, and several notable Bond girls are skipped over with barely a mention (most obviously, Diana Rigg's Tracy Bond, the woman Bond married in ON HER MAJESTY'S SECRET SERVICE). However, there are so many entertaining interviews (Ursusla Andress, Honor Blackman, Maud Adams, Lois Chiles, Carey Lowell, Michelle Yeoh, Halle Berry, and more) that it would be churlish to complain.
One amusing note is the consistent tone struck by many of the actresses: almost everyone insists that her character (unlike the previous girls, who are assumed to be bimbos) was actually a strong woman and a worthy match for Bond. Only Maryam D'abo (who played a cellist) admits to being more or less a helpless damsel in distress.
Finally, the music video portrays singer Chris Cornell (who co-wrote the song with the film's composer David Arnold) lip-synching and acting out some short vignettes that parallel clips from the film. The impression given is that Cornell is imagining himself as Bond, in pursuit of an enigmatic brunette. The video is a nice showcase for the best Bond theme song in years (one the captures the full-blooded glory of classics like "Goldfinger"), but on the DVD it is almost a tad redundant: the film's opening credits, under which the song plays, are essentially a music video in and of themselves. Still, this is a good excuse to listen to the song again.
CASINO ROYALE (2006).  Directed by Martin Campbell. Screenplay by Neal Purvis & Robert Wade and Paul Haggis, based on the novel by Ian Fleming. Cast: Daniel Craig, Eva Green, Mads Mikkelsen, Judi Dench, Jeffrey Wright, Giancarlo Giannini, Caterina Murino, Simon Abkanian, Issach De Bankole, Jesper Christensen.
RELATED ARTICLES: