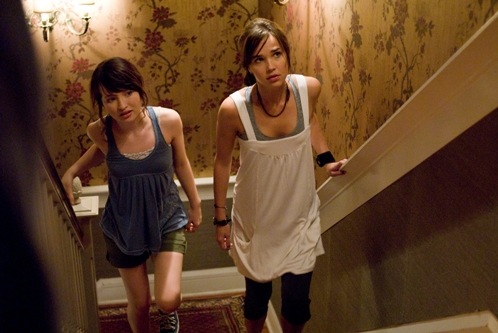 The weekend's one new horror release, THE UNINVITED, showed further evidence of the diminishing returns inherent in remaking Asian ghost stories for the American market. Making its debut in 2,344 North American theatres theatres, the film earned only $10.5-million, landing in third place behind newcomer TAKEN and holdover PAUL BLART: MALL COP. (By way of comparison, last year's trio of ONE MISSED CALL, THE EYE, and SHUTTER opened with $12.5-million, $12.4-million, and $10.4-million, respectively.)
As for holdover science fiction, fantasy and horror movies at the box office…
Last week's second place winner, UNDERWORLD: RISE OF THE LYCANS, dropped down to #7, adding $7.2-million to its two week total of $32.78-million. With such a precipitous decline, the film's domestic theatrical revenues seem unlike to match the $50-million-plus of UNDERWORLD, let alone the $60-million-plus of the previous sequel: UNDERWORLD: EVOLUTION.
MY BLOODY VALENTINE lost its heart to $4.3-million worth of viewers in its third weekend of release, raising its box office fortunes to $44.6-million, making it the most successful horror film of 2009 (ahead of the $41.3-million earned by THE UNBORN, which has dropped out of the Top Ten).
INKHEART, the fantasy film starring Brendan Fraser, fell from seventh to tenth in its sophomore session. The $3.7-million raised the two-week total to a sketchy $12.8-million.
Just out of the Top Ten was THE CURIOUS CASE OF BENJAMIN BUTTON at #11. $3.6-million in ticket sales raised the six-week total to $116.5-million.
Read the complete Top Ten here.