It was a good weekend for cinefantastique at the box office. If you are only a bit liberal with the definitions of fantasy and science fiction, nine of the Top Ten films fell into the genres. If not for KIT KITTREDGE: AN AMERICAN GIRL at #8 (which pushed INCREDIBLE HULK down to #11), genre films could have gone ten for ten.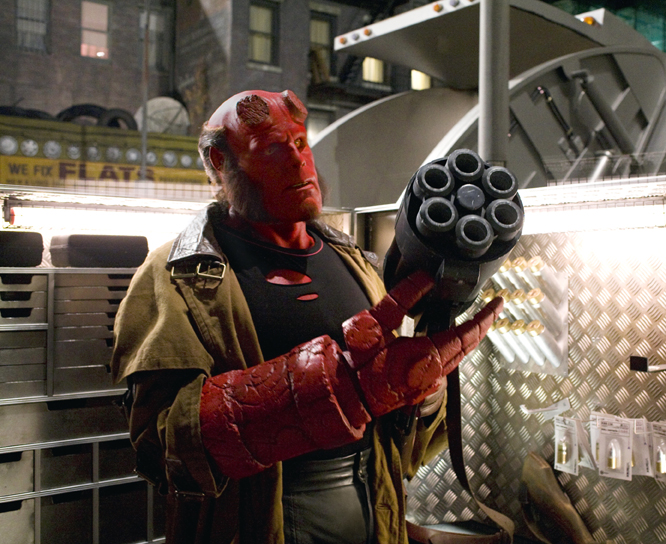 HELLBOY 2: THE GOLDEN ARMY climbed out of the pit and scaled its way to box office paradise. The superhero fantasy from writer-director Guillermo Del Toro opened in 3,204 North American theatres, wehre it earned an estimated$35.89-million. That was considerably higher than the first HELLBOY managed on its opening weekend in April of 2004 ($23.17-million), indicating that the franchise has expanded its appeal, thanks to people who saw the first film on television and/or home video.
Last week's first place winner HANCOCK fell – but not by much – in its second weekend, landing at #2. The superhero comedy starring Will Smith added $33.00-million to its two-week total of $165.03-million.
JOURNEY TO THE CENTER OF THE EARTH dug its way into third place. The 3D version fantasy-adventure remake of Jules Verne's novel opened in 2,8111 hteatres, earning a so-so $20.58-million. Expect a sharp decline next weekend, followed by a slide into the depths of home video.
WALL-E, the cute little robot, showed more legs at the box office than he did on screen, rolling into fourth place on its third week of release – down from second place. With $18.51-million in ticket sales, the film raised its total to $162.77-million.
WANTED also remained reasonably strong with a $11.59-million weekend, blasting its way from #3 to #5. After three weeks the total stands at $112.05-million.
GET SMART also stayed near the top of the class, seating itself in sixth place (down two from the previous session). The $7.11-million weekend raised the four-week total to $111.47-million.
MEET DAVE was not warmly welcomed by the public. The alleged sci-fi comedy starring Eddie Murphy made its debut in 3,011 theatres, earning only $5.3-million – landing in seventh place. Don't expect word-of-mouth to save this one.
KUNG FU PANDA dropped three slots into eight position, kicking its way to $4.3-million. After six weeks, the total earnings are $202.04-million.
Rounding out the Top Ten was INDIANA JONES AND THE KINGDOM OF THE CRYSTAL SKULL, which went from #7 to #10 with $2.25-million. The eight-week total of $310.48-million is still a shade behind the $311.71-million of IRON MAN.
Dropping out of the Top Ten was THE INCREDIBLE HULK, which smashed its way from #6 to #11. The fifth weekend in theatres netted $2.23-million, for a total of $129.82-million. At this rate, the sequel should just about match the U.S. total of its predecessor, HULK, which earned $132.12-million in American theatres.
Read the complete Top Ten here.