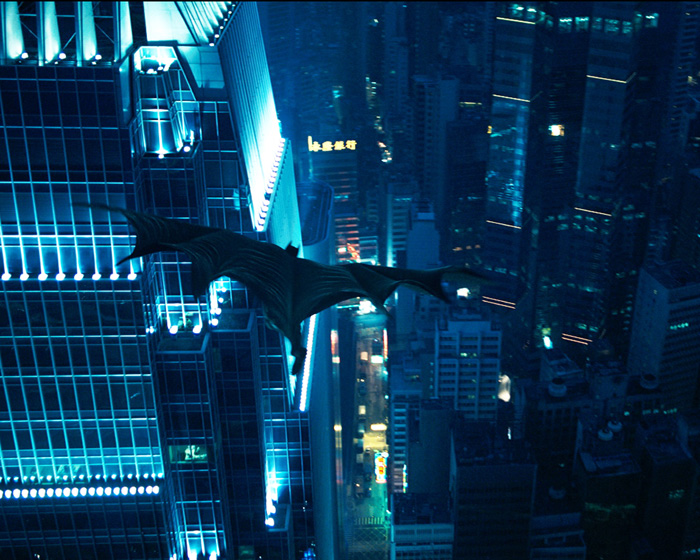 Some pictures have legs at the box office; THE DARK KNIGHT has wings. Christopher Nolan's hard-boiled film noir reinterpretation of the Caped Crusader flew high above the competition, earning over $75-million – an incredibly impressive number for a film in its second weekend of release. That yielded a two-week total of $314.25-million – which is the fastest that any film has ever reached that mark (suprassing the previous speed record set by the second PIRATES OF THE CARIBBEAN sequel).1 By way of comparison, over the course of this summer, two other films have managed to reach the $300-million mark, IRON MAN and INDIANA JONES AND THE KINGDOM OF THE CRYSTAL SKULL, but has passed both of them up in only two weeks. If the latest Batman film keeps going at this rate, it could see some records.
That left little room for newcombers to shoulder their way into the Top Ten. STEP BROTHERS managed a decent $30-million – good enough for second place – but X-FILES: I WANT TO BELIEVE landed in fourth (behind holdover MAMM MIA). Opening in well over 3,000 theatres, the second film based on the '90s TV series earned a paltry $10.2-million – an indication that, despite the title, audiences have lost faith in the franchise.
As for the rest of the Top Ten, it continued to be dominated by sci-fi and fantasy titles, even if not all of them were showing particularly strong legs.
JOURNEY TO THE CENTER OF THE EARTH showed more longevity than expected, down one level to fifth place and earning $9.12-million, for a three-week total of $60.19-million.
HANCOCK leaped from #3 to #6, adding $8.2-million to its four-week total of $206.37-million. A certified blockbuster, the film's box office total pales only in comparison to DARK KNIGHT's almost unprecedented success.
WALL-E rolled from sixth to seventh place with $6.35-million. The computer-animated comedy has earned $195.24-million in five weeks of release.
HELLBOY 2 continued its descent from box office grace, dropping another three notches in its third week of release, landing at #8. A $4.93-million weekend yielded a total of $65.89-million. That surpassed the $59.62-million U.S. total of the first HELLBOY, but it puts the film well at the tail end of this summer's superhero fantasy films; even THE INCREDIBLE HULK, a sequel to a not particularly well received film, managed to surpass $100-million, a total that HELLBOY 2 is unlikely to match.
SPACE CHIMPS, after weak take-off, is on a decaying box office orbit, dropping from seventh to ninth place, with $4.38-million. The two-week total is only $16.01-million, which is chimp – er, chump – change by today's standards.
WANTED rounded out the Top Ten, dropping down from #8 last week. The comic book-based action fantasy has earned $128.62-million in five weeks.
GET SMART dropped out of the Top Ten, going from #9 to #11. It added to $2.3-million to its six-week total of $124.21-million
KUNG FU PANDA, which was last week's #10 film, also dropped out  of the Top Ten this week. Earning $1.03-million, the film raised its eight-week U.S. total to $208.97-million.
Read the complete Top Ten here.
FOOTNOTE:
This article has been updated. The original text said that THE DARK MIGHT "may be" the fastest film to reach $300-million.