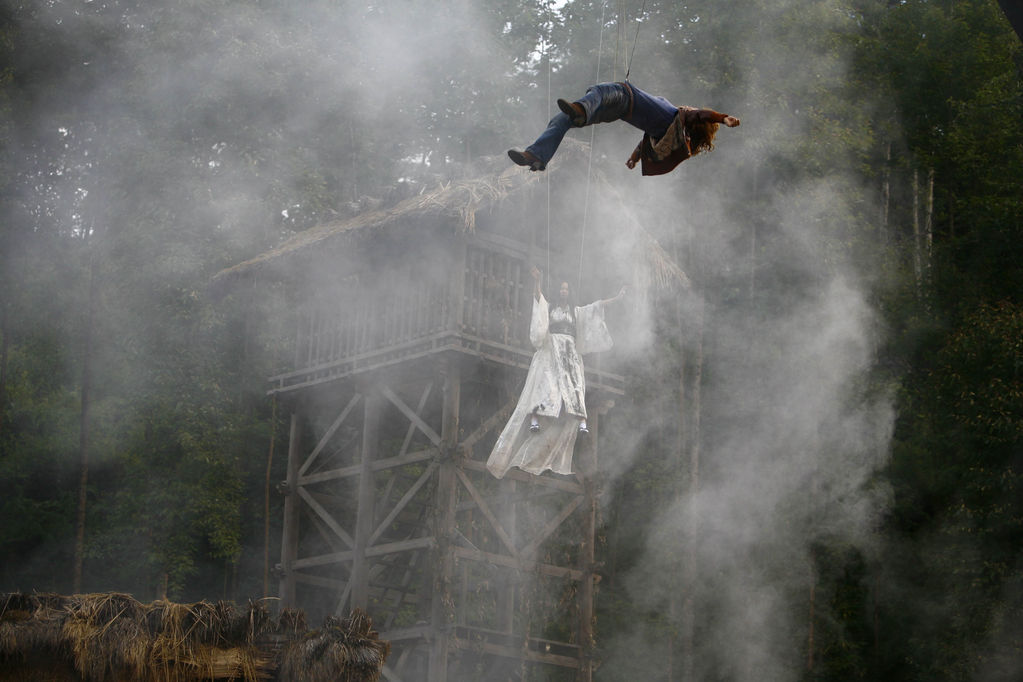 The folks over at Sci Fi Japan sound pretty excited about the U.K. trailer for BLOOD: THE LAST VAMPIRE, but I find my own enthusiasm considerably more muted. Slated for theatrical release in Japan on May 29 and in the U.K. on June 12, this live-action remake of a 48-minute anime from 2000 is scheduld to reach U.S. theatres on July 10.  The animated film earned some accolades for being ground-breaking in its technique – using computer-generated imagery to simulate the traditional look of Japanese anime – but it was frankly a rather dull piece of work, featuring a mono-expression heroine who walks around looking nothing but sullen at school until she flashes her sword from time to time to kill off some mutant vampires. It's basically a Japanes Buffy, without the humor, and the vampire-slayer is (apparently) half-vampire (harkening back to VAMPIRE HUNTER D and BLADE).
Unfortunately, back story and exposition were virtually non-existent in the anime, and the whole thing felt pretty much exactly like what it was: an excuse to experiment with some new techniques. Since then, there has been a manga sequel and a spin-off television show, which hopefully filled in some of the details that the original couldn't be bothered to explicate.
All of this is a long way of saying the source material isn't really much to get excited about – its reputation far outstrips its actual quality. Regardless of that, the live-action film has a few points of interest, the most notable being the presence of Corey Yuen (THE ONE, X-MEN) as the action choreographer; also, Ronny Yu (director of the excellent Hong Kong action fantasy THE BRIDE WITH WHITE HAIR) had a hand in the screenplay. And truth be told, the trailer does look good enough to make me hope that the live-action feature will be much better than the original. Here's hoping for the best…
Note: This article previously embedded a YouTube trailer, which has since been pulled. You can still see the U.K. trailer at Sci Fi Japan, and we have posted the U.S. trailer here.
UPDATE: The film will be playing in these theatres
Landmark Shattuck Cinemas in Berkeley, California
Regal University Town Center 6  in Irvine, California
Mpark Cinema in Los Angeles, California
National Amusements The Bridge in Los Angeles, California
Mann Chinese 6 in Hollywood, California
Landmark Hillcrest Cinema in San Diego, California
AMC Van Ness in San Francisco, California
 Pearlridge West 16 in Aiea, Hawaii
Kahala Theatres 8 in Honolulu, Hawaii
Landmark Century Centre Cinema – in Chicago, Illinois
Landmark Kendall Square Cinema in Cambridge, Massachusetts
Landmark Embassy in Waltham, Massachusetts
Regal Village Square 18 in Las Vegas, Nevada
AMC Empire 25 in New York, New York
AMC Village 7 in New York, New York
DallasLandmark Magnolia 5 in Dallas, Texas
Angelika Film Center in Houston, Texas
AMC Pacific Place in Seattle, Washington
Landmark Varsity in Seattle, Washington
Landmark E Street Cinema in Washington, D.C.
[serialposts]