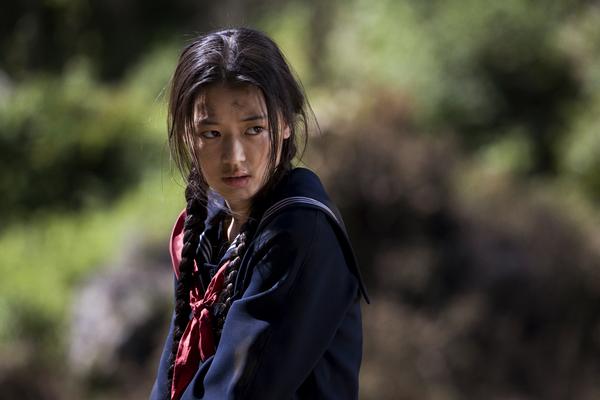 BLOOD: THE LAST VAMPIRE is a live-action horror film based on the 2001 anime short subject of the same title. Shot in the style of a Hong Kong fant-asia film, with lots of martial arts swordplay choreographed by Corey Yuen (THE ONE, X-MEN), BLOOD: THE LAST VAMPIRE is a Chinese-French co-production, with a French director (Chris Nahon – KISS OF THE DRAGON), a Chinese screenwriter (Chris Chow – THE EYE 3) and a Chinese producer (Bill Kong – CROUCHING TIGER, HIDDEN DRAGON), and an international cast. Irishman Liam Cunningham (Dario Argento's THE CARD PLAYER) is Michael, agent of a super-secret organization tracking down vampires on an American airbase in Japan during the Vietnam War. Japanese actress Koyuki (KAIRO, a.k.a. "Pulse") is Onigen, the vampire queen who is the ultimate target of Michael's organization. And Korean star Gianna Jun is Saya, the half-human vampire-hunter hybrid who works as Michael's assassin in order to further her own quest for revenge against the demons that killed her father.
Gianna (whose real name is Jun Ji-hyun, also spelled Jeon Ji-hyeon) is a popular actress and product-pitchwoman in her native country, most well known for romantic comedys like MY SASSY GIRL (2001), for which she won a Best Actress award at the Daejong Film Festival. BLOOD: THE LAST VAMPIRE is her first horror film, but she has appeared in other types of cinefantastique, usually love stories with romantic overtones, such as WINDSTRUCK and  IL MARE (2000), the latter of which was remade as THE LAKE HOUSE with Keanu Reeves and Sandra Bullock. Although some of her titles are available on DVD in the U.S., BLOOD: THE LAST VAMPIRE (which is her first English-language film) is the first to receive a relatively high-profile theatrical release in North America, making it her debut for most American viewers.
Cinefantastique conducted an interview with the actress from Korea, via email. Although press notes for  BLOOD THE LAST VAMPIRE list her simply as "Gianna," most sources indicates that she has adopted the Westernized name "Gianna Jun" ; hence, we have adopted that usage here.
CINEFANTASTIQUE: Before BLOOD: THE LAST VAMPIRE, your previous films were mostly comedies, love stories, or fantasies. Had you been looking to make a different kind of movie, such as an action films or horror films?
GIANNA JUN: The doors are always open for actors. I'm pretty open to all kinds of genres of film and I was fortunate enough to be given this opportunity.
CINEFANTASTIQUE: Would you even say that BLOOD: THE LAST VAMPIRE is a "horror movie" – or is it an action film?
GIANNA JUN: I would say that it is horror and action.
CINEFANTASTIQUE: Compared to your other films, what was most different about making BLOOD: THE LAST VAMPIRE?
GIANNA JUN: I liked the combination of the strong character and all the action – that is different from what I am used to. And since the original is an animation film, there is a sense of fantasy in this action film.
CINEFANTASTIQUE: Had you seen the anime version of BLOOD: THE LAST VAMPIRE, and what did you think of it? Did you ever imagine that you would star in a live-action version?
GIANNA JUN: I watched the original after I was offered the part. It was very nerve breaking and exciting at the same time.
CINEFANTASTIQUE: How were you cast in BLOOD: THE LAST VAMPIRE? Was it through Bill Kong, who produced your film WINDSTRUCK?
GIANNA JUN: Yes.
CINEFANTASTIQUE: Saya is half-vampire and half-human. Besides being a woman, how would you say she is different from other vampire-humans like "Vampire Hunter D" or "Blade" (with Wesley Snipes)?
GIANNA JUN: To relate to her painful past and her emotional disturbances to "loneliness" is not merely enough. I think that these past experiences of hers are what make the viewer want to embrace her, rather than see her as a mysterious being, and I think that that is what really makes her different and unique.
CINEFANTASTIQUE: What was the biggest challenge of playing the lead in BLOOD: THE LAST VAMPIRE? Having to play it in English, or learning to do the sword-fighting and martial arts?
GIANNA JUN: Of course doing the action part was one of the challenges, but I would say the most difficult part was language. It was hard to express the character's feelings in a foreign language. After practicing and practicing, I was gradually able to attain some skills.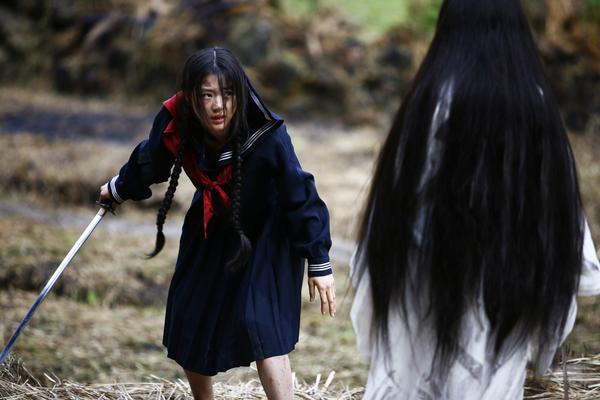 CINEFANTASTIQUE: Despite the Japanese setting BLOOD: THE LAST VAMPIRE is shot mostly in English, except for the flashbacks of Saya when she was young. The English dialogue makes sense for scenes set on the American air force base, but was there ever discussion of using more Japanese dialogue in other sections of the film, like when you confront Onigen (Koyuki)?
GIANNA JUN: This film is a global project, and because Saya is not from a particular region, it was decided that the dialogue would be in English.
CINEFANTASTIQUE: How much training did you do for the martial arts?
GIANNA JUN: I had a three hard months of training that included distance running, kicking practice and muscle-strengthening exercises in China and the U.S. Also, I learned intensive skills like wire action for those fight scenes.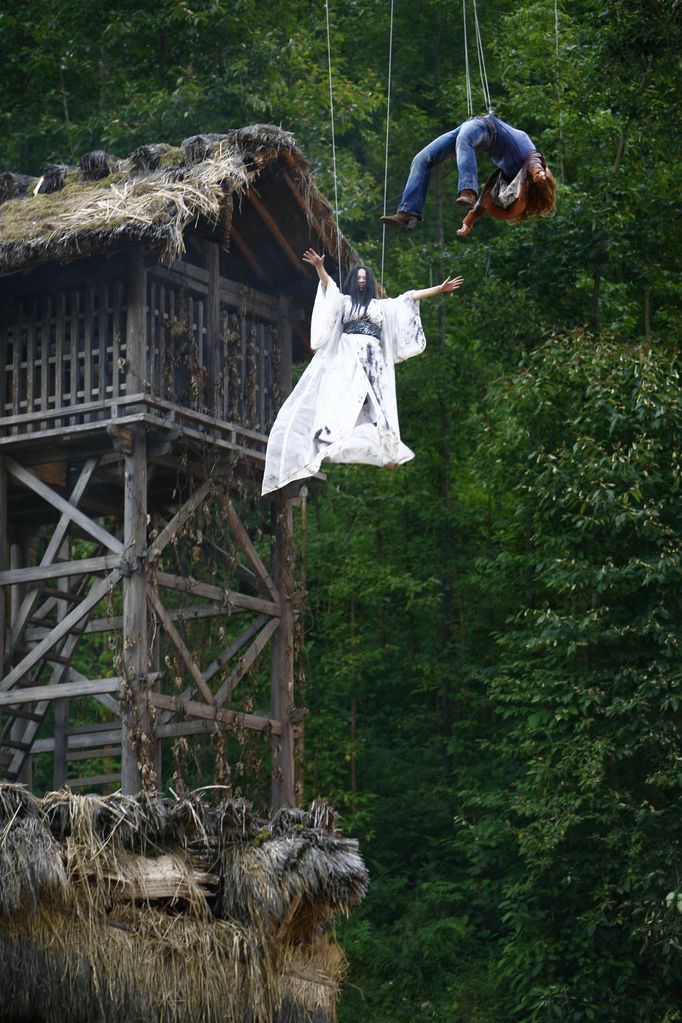 CINEFANTASTIQUE: Did you have to do much wire-work?
GIANNA JUN: Of course I did. I hung on a wire in the rain for like a whole month.
CINEFANTASTIQUE: Were there any injuries or close-calls?
GIANNA JUN: There was an accident – I was bumped into a crane camera when I was hanging on a wire. It was not that serious, though.
CINEFANTASTIQUE: How much of what we see is you, not a stunt double or computer-generated effects?
GIANNA JUN: There were parts we had to use stunt doubles and CG, but I chose to put my training to use as much as I could.
CINEFANTASTIQUE: In some scenes you are fighting creatures that were added later in special effects. How difficult was it to fight something that was not there on set with you?
GIANNA JUN: It was a little awkward at first but the surrounding expectations motivated me to put extra effort into those scenes.
CINEFANTASTIQUE: There is so much action in BLOOD: THE LAST VAMPIRE – making the movie must have been exhausting. How did you keep your energy up until the end of shooting?
GIANNA JUN: I didn't think too much about it… I was greatly motivated in the beginning, but as the time past, all I could think about was finishing the movie. It's not like you gain more energy if you spend less…I actually felt more energized as I spent it more.
CINEFANTASTIQUE: The character of Saya in the anime version of BLOOD: THE LAST VAMPIRE is not very expressive; she is always serious. In the live-action film, you play Saya as a very strong character but still hint at some weakness and emotion. Was this in the script, or did you add it to the character? Do you think you went far enough with the emotion, or would like to have done more? How much emotion can you add without making the character seem too vulnerable?
GIANNA JUN: The script was altered from the original quite a bit so some of the details about the characters and the events were excluded. As a result, there were parts where it was more difficult to portray the character's inner thoughts… and throughout the process I realized how difficult it is to portray action and emotion at the same time.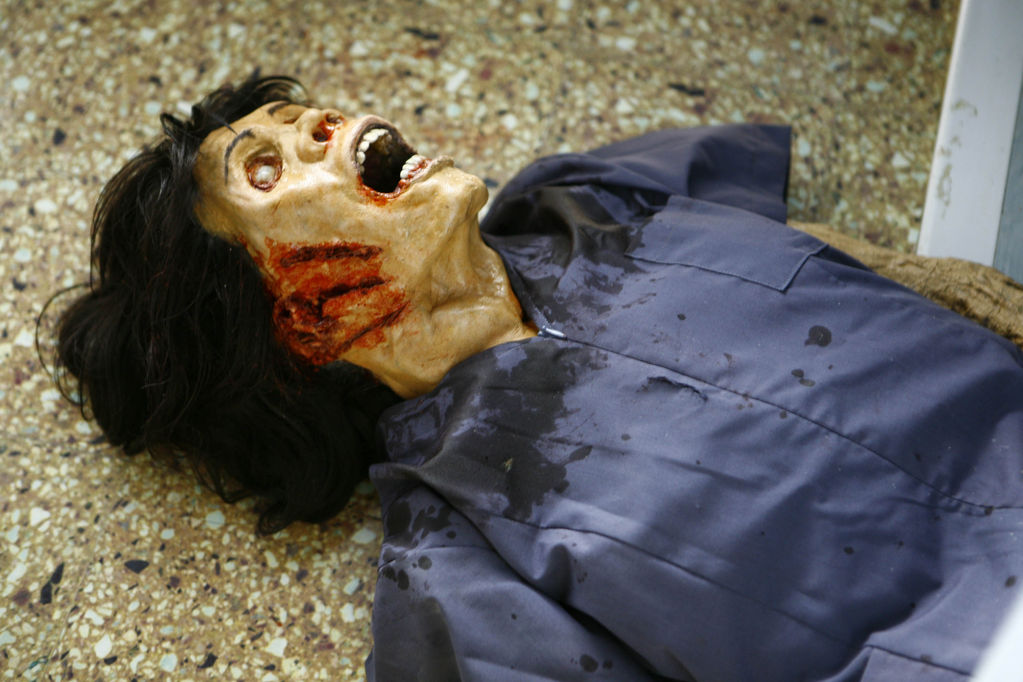 CINEFANTASTIQUE: When you were making BLOOD: THE LAST VAMPIRE did you know it would have so much blood in it? (I ask because much of the blood looks as if it was added later with computer-generated imagery.)
GIANNA JUN: I myself was pretty surprised when I watched the finished product. It was much bloodier than I had imagined while filming…I didn't realize I had killed so brutally. Ha ha!
CINEFANTASTIQUE: Although BLOOD: THE LAST VAMPIRE is your first monster movie, you have made some fantasy or sci-fi films. Could you tell us a little bit about your roles in some of those films, like WINDSTRUCK ("Nae yeojachingureul sogae hamnida"), which sounds like a romantic fantasy, about a dead lover who comes back in the form of wind.
GIANNA JUN: "The character Ye Kyung Jin is a bold female cop who loses her boyfriend to an accident. After, she spends her days sensing her love in the winds. It's a story that portrays how the pain of love can only be healed by love."
CINEFANTASTIQUE: THE UNINVITED (also known as "A Table for Four," 2003) is described as a psychological horror film, about a man seeing visions of two dead children.
GIANNA JUN: I portray a depressed house wife Yen, who is deeply lethargic. She struggles between the past and the present and eventually takes the revenge to herself.

CINEFANTASTIQUE: SIWORAE (also known as "Il Mare" or "Hanja," 2000) is another romantic fantasy, with two lovers separated by time.
GIANNA JUN: It's a love story that enters the past and the present through a postbox—a story where the power of love can stop the time to find true love.
CINEFANTASTIQUE:  Did you see the remake, THE LAKE HOUSE?
GIANNA JUN: Yes. It looks new and very different from the original film. But, I'm so happy that Korean films are acknowledged and remade by Hollywood.
CINEFANTASTIQUE: For many of our readers, BLOOD: THE LAST VAMPIRE will be the first film of yours that they see. If they are interested in seeing more of your films, which ones would you recommend.
GIANNA JUN: 'My Sassy Girl' and 'Siworae' have already been remade in Hollywood. The originals are always better so…I don't think I need to say further. 🙂
CINEFANTASTIQUE: Saya's fate is a mystery at the end of BLOOD: THE LAST VAMPIRE. Has there been any talk of bringing her back in a sequel?
GIANNA JUN: I know Bill Kong announced he's willing to make a sequel.
CINEFANTASTIQUE: What's next for you?
GIANNA JUN: I'm planning to do more Korean films, but nothing is decided yet.
BLOOD: THE LAST VAMPIRE opens Friday, July 10 in select cities around the U.S.
[serialposts]