The composer discussions his musical collaboration with the Italian master of horror.
Dario Argento has been a legend in Eurohorror cinema since the 1970s, and in many ways his films of that era, which include DEEP RED (1975), SUSPIRIA (1977), TENEBRAE (1982), PHENOMENA (1985) and others, define the giallo form – that uniquely Italian style of horror characterized by stylish camera work, graphic gore, liberal nudity, and particularly stylish musical accompaniment, from rock to orchestral to lounge, often shifting forms in the same film.
The Italian word "giallo" actually means "yellow," and the terms origin refers back to the series of pulp novels with trademark yellow covers. So it's rather unique that Argento's latest film, currently waiting release later this year, is in fact titled GIALLO, referring both to its sub genre and its main villain, who assumes that moniker during his onslaught of gruesome serial murder.
The music for giallo cinema has played a significant role, from the early days when Ennio Morricone contributed some of his most inventive – and difficult – scores for Argento's early films like BIRD WITH THE CRYSTAL PLUMAGE (1970), and CAT O' NINE TAILS (1971), and FOUR FLIES ON GREY VELVET (1971),  Giallo films tended to have lush scores contrasting beautiful, sonorous melodies, often sung by female sopranos like Edda Dell'Orso, with harshly atonal and very chaotic musical phrasing. The results reflected the film's sensuality and aesthetic beauty, placing the viewer somewhat at ease until shifting into severe disturbiana during the murder scenes. The approaches were not always the same, and there were some composers who scored against the grotesquerie of the violence by using very beautiful melodies even over the scenes of grue and gore. What is clear is that giallo films maintained very conscious stylistic flavors in their visual and musical directions.
With Argento's latest film, GIALLO, composer Marco Werba, assumes responsibilities formerly held by Morricone and many other composers. Werba, winner of the prestigious Italian award "Colonna Sonora" in 1989 for his first score, ZOO, is classically trained. He thus brings to GIALLO a somewhat more symphonic sensibility that the largely rock-based composers of many of Argento's previous films.
"There are two ways of writing the music for a horror film," said Werba. "One is by following the classical orchestral style of Bernard Herrmann – for example, using only strings (as in PSYCHO) to scare the audience. The other way is following the mood of the modern electronic music, such as that of EXORCIST by Mike Oldfield, which influenced the music of John Carpenter in HALLOWEEN and Goblin for Dario Argento's PROFONDO ROSSO and SUSPIRIA. Personally, as a composer, my musical sensibility is more in line with the classical orchestral approach when writing music for thrillers and horror films. But this doesn't mean I don't like the electronic scores of Carpenter and Goblin!"
Since ZOO, Marco Werba has worked sporadically in film music during the 1990s, concentrating on classical works, including a "Canto al vangelo," which he had dedicated to the Pope and which was performed in his presence during a Celebration in 1999. During the mid 2000's Werba segued from holy to horror, demonstrating an affinity that has allied him with the genre ever since. Perhaps his chamber composition to the Pope has given him a unique understanding of the nuances of good and evil as it plays out in the films he enhances musically.
Werba scored Giovanni Pianigiani's DARKNESS SURROUNDS ROBERTA, a 2008 tribute to the giallo films of the 1970s, about a weallthy politician's philandering wife who is kidnaped and blackmailed by a masked killer. The film evoked flavorings of the giallo genre and gave Werba the chance to express his himself in a particularly dark setting.
"The music for DARKNESS SURROUNDS ROBERTA was recorded with electronic orchestral samplings because the budget was very small," said Werba.
The special effects for that film were done by German filmmaker Timo Rose, who was impressed with Werba's work and brought him in to score his own film, FEARMAKERS (2008), a horror-comedy about two friends trying to solve a woman's murder, only to be confronted by a vengeful ghost.
"I didn't accentuate the humor of the film but emphasized the darker moods because I wanted to build the dramatic tension without the risk of turning it into something ridiculous," Werba said.
Marco Werba reunited with Rose again earlier this year for the director's werewolf thriller, BEAST.
"I wrote a symphonic composition for choir and orchestra," said Werba. "Timo gave me the freedom to compose in the style I thought would fit the mood of his film."
Rather than synchronizing his music to specific moments in the film, Werba wrote his music "wild" and allowed Rose to place the music into the film as he chose.
"I sent him various versions of the main theme and Alex's theme (the main character), plus a few suspence compositions, and he then cut and edited the music to fit the images," said Werba.
He also provided music for Ivan Zuccon's Lovecraftian horror film, COLOUR FROM THE DARK (2008), a classical-styled atmospheric horror score. All of this experience gave Werba a significant genre pedigree, making him a perfect choice to give genre legend Dario Argento's latest visual terror tale a powerful and provocative musical underbelly.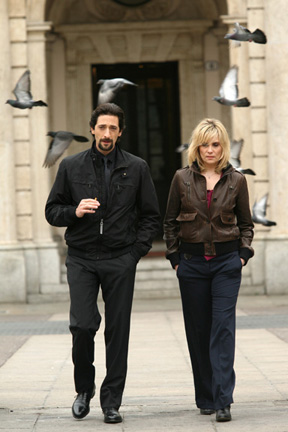 Produced by Richard Rionda Del Castro and Rafael Primorac of Hannibal Pictures, GIALLO stars Adrien Brody as a police inspector investigating the disappearance of a woman, who he suspects has been kidnapped by a sadistic serial killer known as "Yellow." Emanuelle Seigner, Elsa Pataky, Robert Miano, and Byron Deidra co-star.
Marco Werba had become acquainted with Del Castro, who had asked to hear some of the composer's previous horror film music. Werba sent some samples from DARKNESS SURROUNDS ROBERTA and COLOUR FROM THE DARK, which impressed the producer. Werba was asked to provide a specific musical demo for GIALLO, which was then going into post-production.
"I wrote 'Giallo's theme' in two versions, one for piano and orchestra and one for violin and orchestra," said Werba. He recorded the music electronically using high quality orchestral samplings and sent them off to Del Castro. A week later he received a message from the producer saying he'd been chosen to write the music of the film. "He told me that he sent a copy of my music demos to actor Adrien Brody, who liked the version of 'Giallo's theme' for violin and orchestra, and he organized a first meeting with me and Dario Argento."
Marco Werba met with Dario Argenco several times to discuss the music style that would best fit the needs of the film.
"I thought that the film had equal qualities to the Hitchcock and De Palma masterpieces," said Werba. "For this reason I suggested to the director that I write a symphonic film score that would increase the quality of the film to a first class level – usually thrillers are considered B movies. I thought that this film, just like SILENCE OF THE LAMBS and other accredited films, had higher qualities, due also to the presence of Oscar winning actor, Adrien Brody."
When Marco Werba saw the final cut of GIALLO, Argento had dubbed it with a few temp-tracks of other composers – mostly electronic pieces in order to give the idea of where he wanted to have music and what kind of mood the music should have.
"I thought that this electronic temporary music was not the right one for this film," Werba said. "I said to him that his film needed something closer to Herrmann than to Goblin, and he agreed."
Argento gave Werba the freedom to compose the music that he felt was best, asking only for a specific music theme to be played during the early scenes where a taxi is driving through the city like a shark searching for prey.
"I tried to create a theme that had the same aura as the John Williams, JAWS theme," said Werba. "I only used it for the main titles and the taxi scenes."
Marco Werba's music is primarily orchestral, with a pleasing symphonic base that grounds the film in a classical elegance and a provocative sense of mystery and suspense. Werba went to Sofia, Bulgaria, to record the music with the Bulgarian Symphony Orchestra. "I just had one day – three sessions of three hours each – to record all the music!" Werba recalled.
Werba then returned to Rome and mixed the music in Dolby Digital 5.1 at the Forum Music Village (the same recording studio where Ennio Morricone records his film scores and where Jerry Goldsmith had recorded his music for LEVIATHAN). Sound engeneer Marco Streccioni recorded and mixed the final film score.
Werba's score is a departure from the electronic rhythm-based music of some of Argento's earlier films. But the classical style fit the style of suspense and shock that Argento had displayed in GIALLO.
"I worked very hard to syncronize the music with the film. While the director of the film is Italian, the film itself shows many American influences. This is why I wanted to write an American-style film score in which the movements of the film and the music were perfectly syncronized. Even though one might recognize the influences of Herrmann, Williams, or Elfman, my own music style came out in the more melodic compositions."
Marco Werba's GIALLO compositions are richly thematic, although developed so that none of the themes wears out its welcome as the score develops. Besides the specific music requested for the prowling taxi scenes, he composed a "Love Theme" for Emmanuelle Seigner's character which is used in two scenes, a motif for a scene in which inspector Enzo Avolfi (Brody) has a flashback, and another one for the killer's childhood memories.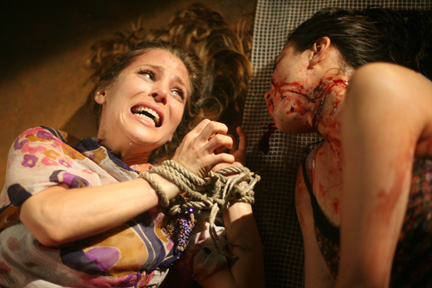 "I composed delicate and mysterious music for harp, cello, violin, and chamber orchestra used in one scene in which Enzo and Linda are interacting," said Werba. "There's also a long, dramatic sequence in which a woman tortured by the killer walks out of the killer's house in search of freedom. In this sequence I wrote an epic music motif, starting with strings and harp, going to a large orchestra with the horns playing the main theme."
For the various scenes involving the killer, Marco Werba chose to use different compositions for each individual scene. "In order to do this I chose to emphasize specific instruments," he said. "For example in one scene I used a solo flute with a few percussions. In another I used strings with glissandos etc. The final theme is called 'Giallo's theme,' which was used in only two scenes and in the end titles. This is the music that I sent to the producers as a demo, which led to my getting the job!"
In addition to the score's pervasive orchestral measures, Werba added a few electronic sounds to make it distinctive.
"I created a sound for a few suspense scenes that is something between an electric bass and a heart-beat," he said. "I also used an electronic vibration mixed with a female voice used in three scenes." Werba also recorded the sound of a knife to be used as a percussive element in the sore, but Argento decided against using that.
"I had a very good collaboration with Dario," said Werba. "He is a very intelligent person and he respects the composer. He does not try to impose his ideas. If the solutions that the composer is proposing are good, he will accept them at once. For example, there was a scene in the film in which Linda is taking a shower. Dario wanted to start the music from the begininning of the scene. I suggested to Dario, 'Let's start the music only when we see Linda inside the shower and leave a few seconds of silence at the beginning.' When he saw that my proposal worked with the scene he accepted it.
"To me, silence is very important," Werba continued. "Directors tend to use too much music. They are scared of using silence. Silence can help to create tension and emphasize the film score. If a director uses too much music, he will diminish its value. With an experienced and talented director such as Dario Argento, it is possibile to discuss the score in order to find the best solutions. I am very proud of the music in a scene in which a butcher is killed. It starts with the strings playing glissandos and then, after two seconds of silence, a very violent music starts with orchestral chords over a melodic line played by violins. Every orchestral hit is syncronized with the strokes that the killer gives to his victim."
With GIALLO completed, having made its debut at Cannes last week, and its British premeire scheduled for July, Werba is now composing the music for a science fiction action thriller called BRAINCELL, for first-time director Alex Birrell, who had been the cinematographer on DARKNESS SURROUNDS ROBERTA. Werba said that the score will be more electronic, "with a John Carpenter and Goblin touch." A number of other genre films are also in the offering, and it looks like Werba will be a mainstay in science fiction and horror scoring for some time now.
"Music in thrillers and horror films is very important and can help the film involve the audience emotionally," Werba said. "The tension comes from the silence, the sound effects and the music."
Werba said that his goal for the next five years is to be able to work on higher budgeted American film productions.
"I am no more interested in collaborating with productions that have difficulties in financing the recording of a symphonic film score," Werba said. "I would like to record one of my next scores in London with members of the London Symphony Orchestra, one of the best orchestras in the world."
[serialposts]