The Score: 2008's Most Notable Genre Soundtracks
Reflecting back on 2008's most interesting scores for science fiction, fantasy, and horror films, one can't help noticing once again how few genre scores (and, in fact, genre films) are recognized when the Oscars come around. While Thomas Newman's tune-pleasing WALL-E score and Alexandre Desplat's sublime music for THE CURIOUS CASE OF BENJAMIN BUTTON received Oscar nominations, a great many other worthy, effective, memorable, and downright excellent music scores have been neglected – but it's not unusual for the genre to get short shrift from the Academy of Motion Picture Arts and Sciences, whose voting members are mostly non-musical people who tend to remember tunes and songs more than dramatic underscore. On the other hand, a purist film-music specific organization like the International Association of Film Music Critics, while selecting its favored scores by genre, also listed its nominations for best score of the year – with four out of five choices being fantasy or science fiction films (horror scores almost never get included in generic year's best lists).
Academies and Associations aside, these are my choices, in no particular order of preference, for last year's most notable genre scores and soundtrack releases: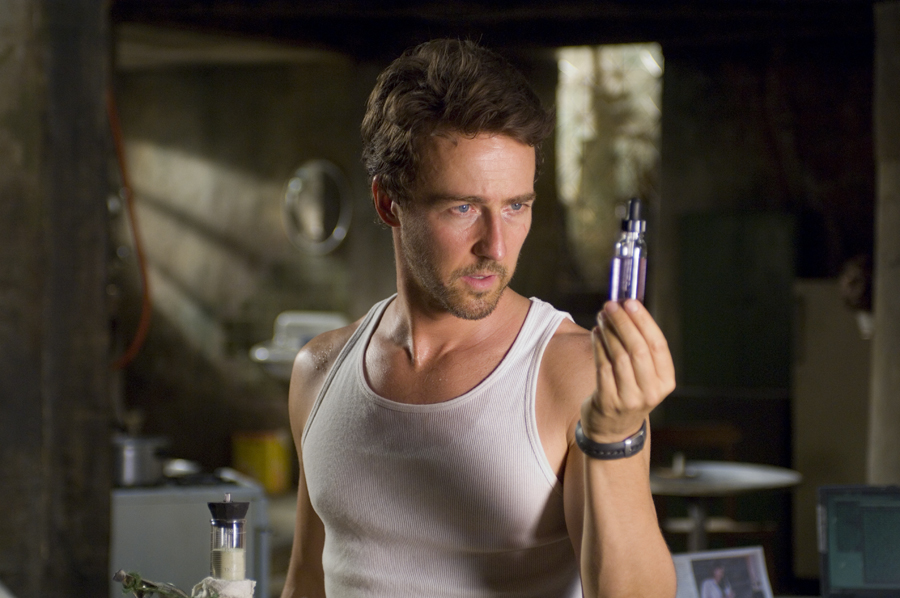 Probably my favorite action music of the year is Craig Armstrong's propulsive score for THE INCREDIBLE HULK, which is a marvelously energetic and pulsating exercise in thematic interaction. Armstrong's main theme is terrific, with its repeated, pronounced X-strokes of violin, and his 3-note Hulk motif, itself a kind of swervy reflection of that main theme transposed to a sinewy violin figure wrapped in thick cords, embodies the growling tonality of the verdant beast's voice in those deep and substantial cello strains, which themselves are echoed by a much higher reflective glinting of violins – all propelled by a driving pulse of strings and snarling horns. The music draws its relentless forward motion from these violin strokes, driven by a recurring, low-string ostinato. It's large and quick and powerful – an adroit embodiment of the green guy himself. In addition to these motifs, which characterize the duality of the Hulk, his brazen power and his transmutated cellular infrastructure, Armstrong has provided a secondary theme associated with the more diminutive and controlled Bruce Banner, a motif that shares the similar sensibility of the Hulk Theme but is more fragile. The military and their ongoing attempts to capture The Hulk are characterized by angular strokes of violin and aggressive tonalities of brass while the equally driven soldier Blonsky is depicted by a dark undulation of strings and synths, punctuated by highly reverberated percussion. Joe Harnell's poignant piano theme, "The Lonely Man," from the 1979 INCREDIBLE HULK TV series, is nicely incorporated into the score during a reflective moment. Throughout the score, Armstrong provides music that is both sensitive to the story's underlying drama and sustaining of the film's action set pieces. It is melodically rich, provocatively vigorous, and thematically compelling.
Hans Zimmer and James Newton Howard spread dark wings over a shadowy sky in THE DARK KNIGHT. Their score develops the motific rhythms and texture introduced by the composers in BATMAN BEGINS and carries them into darker territory. While relying more on chord progressions and layered textures than rhythms and melodies, they provide a gracefully chaotic score that perfectly fits what the film is doing. The music brilliantly captures the duality of the characters as depicted in the pairing of Bruce Wayne/Batman and Harvey Dent/Two-Face: the hero as recognized hero, and the hero as hated lawbreaker, willingly accepting that role for the better good. The film is Bruce Wayne's journey, as was BATMAN BEGINS; but where the earlier film showed him emerging from darkness of depression into the light of heroism , THE DARK KNIGHT takes a kind of reverse excursion, from hero to tainted champion, doing the right thing but taking the fall while doing it. The score's main motif is a rhythm-based riff, carried over from BATMAN BEGINS but given a somewhat corroded aspect. It's not as optimistically heroic; this Batman is mired in dissolution and disconsolation. It's not even a theme, as such, since there is no recognizable melody; the composers provide a two-note rhythm pad that develops progressively through orchestration, tempo, and intensity. While the motif lacks the melodic flavor or musical interest of Danny Elfman's theme from BATMAN or Elliot Goldenthal's from BATMAN FOREVER, the Zimmer-Howard motif is nonetheless highly effective at casting the hero in very dark shades of grey and building a progressive heroic stature through rhythmic development. Aside from this primary motif, the score for THE DARK KNIGHT as a whole is a musical study in dualities. Each of the score's three motifs has two sides: Batman the Good, Batman the Dark Knight; Joker the Brilliant Strategist, Joker the Madman; Harvey Dent, Gotham's incorruptible icon of law and order, Harvey Dent, Two-Face, disfigured and disgruntled terrorist. Zimmer and Howard provide a brilliant thematic accompaniment to these ideas, not so much through melodic themes (although partly that in Howard's case) but through a development of rhythm, texture, and a feeling of sound that breeds a fascinating musical psychology.
The antithesis of DARK KNIGHT is surely Alexandre Desplat's sublime, wistful, and transcendent musical design for THE CURIOUS CASE OF BENJAMIN BUTTON. For David Wincher's moving metaphysical fantasy about a man living life biologically in reverse, Desplat (noted for the fragile lyricism he has invested in prior scores) has come up with an enchanting score that floats, wafting above the storyline like a tangible sunrise, aglow with a buoyant brightness, always in constant motion. That idea of movement coincides with Benjamin's journey, aging backwards through time, and although the music is moving forward, the score stays fairly unobtrusive, a sustained flash shining down on the character, a sense of spirit driving him on despite his bizarre condition. A separate but similarly inspired love theme resonates with a poignant melancholy as the doomed love story plays out, along with a keyboard-driven motif that keeps the idea of the passage of time – with inevitable oblivion at either end – continuously if hauntingly in mind. Its fragile poignancy and suspended airiness informs the film with a sensation of wonder that inspires the storyline and defines its affecting sensibility.
Ramin Djawadi has scored big with his music for the latest big-budget Marvel super hero adaptation, IRON MAN. Even at its most orchestral, IRON MANis very much a hybrid – very percussive, very metallic, very industrial, elements selected to represent the iron-clad uniform that serves both as Stark's protection and his weaponry. The music develops along similar lines; a theme for "Mark I," associated with the first hero suit, rife with an urgent undercurrent of impatient percussion driving a slower-moving heroic motif, while still a bit edgy and dirty; while "Mark II" is a more refined, more gleaming variation for Stark's modified hero suit. An electronic rhythm pad drives the beat along with a variety of sampled percussion – synths, guitars, and orchestra taking their turns on the theme's melody. Eerie tonalities and echoes of Stark's heroic motif resonate in shadowy glimpses above the recurring and insistent strokes of violin, morphing into a low rumble of percussion, wisps of voices, and a sorrowful string figure, finally pulsing forth into a driving rhythm that propels the music into a very confident pattern of activity. As an origin story, albeit a very simplistic and predictable but a thoroughly entertaining one, IRON MAN is essentially and necessarily a journey – Tony Stark's journey from arrogance, survival, redemption, and ultimate self-confident heroism, and Djawadi's music makes for an apropos travelogue for this journey, building with clefs and staves of steel and iron the kind of confidence needed by this self-centered, womanizing and brilliant inventor, to become a true selfless super hero.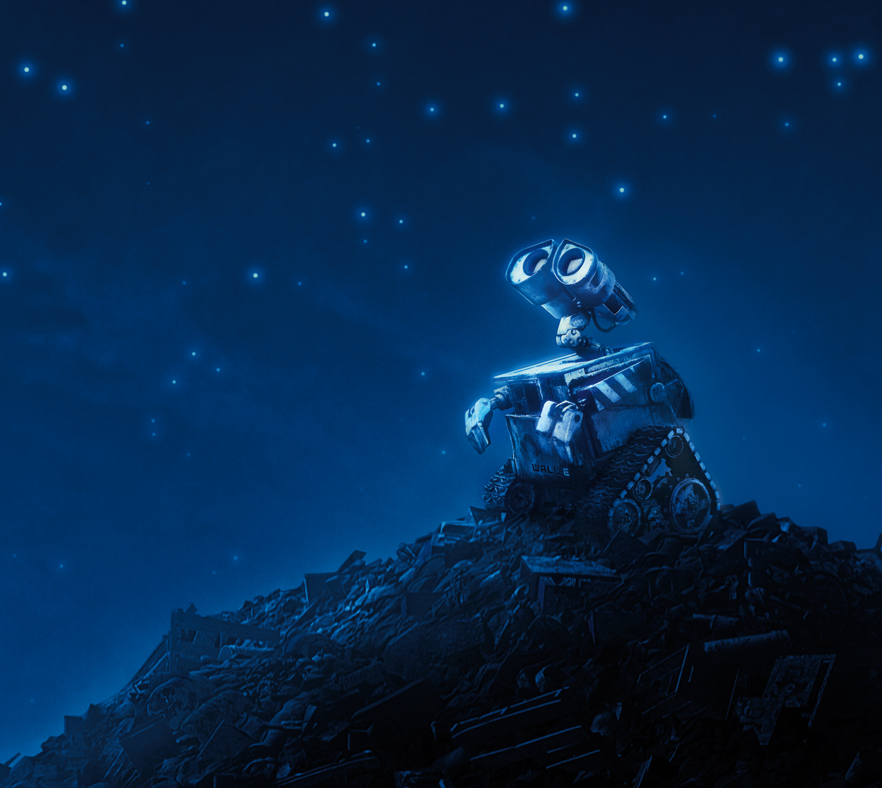 While cute anthropomorphic robots have never really been my thing, and for that reason I haven't taken the opportunity to see the film yet, Thomas Newman's score for Disney-Pixar's WALL-E – as it exists on CD – is splendid stuff. Newman engages in his classic musical trademark of deceptively simple patterns built on repeating progressions, transforming that style into a mixture of quirky orchestration and full-on orchestra bombast suitable for the story's science fiction environment. His main theme embodies an idiosyncratic piping woodwind motif punctuated by whistling chorus, harp, pizzicato strings, and weird percussive sonics that enhance the anthropomorphism of the WALL-E character with musical relish. The ensuing score abounds with the kind of quick-notation and rapidly plucked string or harp or piano notes that Newman has made his trademark, modified into the new setting in which WALL-E finds itself. Motifs grow from the staccato rhythm of plucked harp and beaten drum into an array of propulsive rhythmic textures, adding choir and pounding timpani, or from cyclonic string patterns over piping winds into a riffing of quickly plucked harp over lightly strummed acoustic guitar, laying down a pleasing pattern of musical activity and emotional urgency. Elsewhere, Newman embraces the bombastic orchestrations of STAR WARS as it defined futuristic space opera music. Brasses intone and woodwinds chirp and drums bellow, a definite Williamsesque swashbuckler yet shining through Newman's own stylistic vocabulary.
Harry Gregson-Williams' score for the second CHRONICLES OF NARNIA film, PRINCE CASPIAN, is a suitably massive and evocative development of his score for the first film, THE LION, THE WITCH, AND THE WARDROBE. The score retains the thematic structure of the first score with its elegant and crystalline theme softly resplendent from horns and choir. The score reprises the melodic Aslan theme from the first film, beautifully capturing its tawny nuances of heroism, sacrifice, honor, and majesty through horns, strings, and choir. The score's powerful main theme makes its presence known throughout the score, although the score as a whole is a darker animal than its predecessor, since the film itself comprises a darker period of Narnian history, and the pervasive use of choir gives it an edge that seems both epic and tragic; with the Aslan and Narnia themes rising in contrast heavenward with a rich sonority of French horn and violins. New themes for Caspian and his adversaries, the piratical Telmarines, appear but aren't as immediately appealing as the motifs reprised from the first film, which remain more dominant and far-reaching.
Mark Snow's expressive revisitation to THE X-FILES: I WANT TO BELIEVE follows in the footsteps of the television series and the first X-FILES movie, FIGHT THE FUTURE. The score carries on the mystique of mysterioso and melody that characterized his score for the show's nine seasons, expanded, as with FIGHT THE FUTURE, into the larger dynamic of the big screen, although this new score comprises not so much the brooding mysteriosos and spooky atmospheres than Snow perfected on TV, but the more melodic and passionate material that reorients the story towards the characters and their perspective. The score contains some of Snow's finest and most poignant violin writing, intoned over a high female choir and vocal soloist, which humanizes the events of the story and reiterates the essence of THE X-FILES as being a story about people and their interactions – reflecting here a very warm, positive, and humanitarian aspect, while much of the score in its darker moments is dealing with less favorable interactions. Snow proffers a couple of very subtle references to his original X-FILES TV theme, its melody played very slowly and deliberately by strings, evoking a mysterious atmosphere pregnant with discovery and revelation. A number of very interesting textural elements are inserted into the musical depth to give it a heightened degree of interesting musical grain as the score progresses. In the end, Snow provides the film's conclusion with a very poignant and warmly reassuring denouement, ending on a final musical suggestion of the familiar X-Files TV theme, which resolves the score as if with a gentle wink toward the show's devoted audience.
Randy Edelman's score for THE MUMMY: TOMB OF THE DRAGON EMPEROR is every bit the massive fantasy-action score as it needs to be. The composer's affinity for accessible melodies is well in evidence, as is his penchant for exotic and interesting orchestration. All manner of Chinese and Middle Eastern instruments have a part in this score (the low sonority of an 8-foot Tibetan Horn resonates mightily behind the orchestra and choir; the resonant sinews of er-hu – Chinese violin – is beautifully offset against orchestra; ethnic voice; an ensemble of multiple Chinese instruments; even an air of respectable British anglophilia in a few places, but all of this is wrapped up wrapped up in a splendid and old-fashioned styled main theme, very Indiana Jones-ish yet marinated with Edelman's own eloquent sense of style and melody (I suppose even the main theme seems to suggest a bit of old Britannia). But the score's central element remains the majestic main theme, a complicated eight-note melody that ascends and descends like the multilayered roofs of a Chinese temple, reprised throughout to reflect the once and now again glory of the Dragon Emperor, whose regained rise to power (not to mention, life) is the crux of this film's journey into mummydom. Edelman and melody have been close companions for many years now, and TOMB OF THE DRAGON EMPEROR is a rich widescreen tapestry upon which Edelman continues to flaunt his unabashed fondness for maid melody. The score is immediately accessible, as a result, and vividly larger than life in its bold orchestral strokes and thunderous motifs. The score may not necessarily be psychologically complex or subliminally interactive, but this film doesn't plumb those depths anyway; it called for a fun, adventurous, spectacular musical score and Edelman supplies that beautifully.
Another memorable score very much in the vibrant melodic corner is Andrew Lockington's music score for the new version of JOURNEY TO THE CENTER OF THE EARTH. Lockington, a comparative newcomer to Hollywood scoring, has integrating with his traditional orchestra and choir the unique orchestral percussion of the Japanese drumming ensemble, Kiyoshi Nagata, which provide the characters' descent into "middle earth" with their own thunderous accompaniment of gongs, bells ,clappers, shakers, and bamboo flutes. The explorer's arrival at the world at earth's center is represented by a fragility of high winds and sustained high strings, which grow into a surging and powerfully triumphant rendition of Lockington's magnificent main theme, its lyrical violin melodies intertwining among proud intonations of brass and, finally, reverent choir. The climactic volcano scene (lost world movies always seem to end with a volcano) spews out an undulating array of thick orchestration, flowing in rivulets across Lockington's soundstage, flailing violins, surging horns, pounding drums, powering to a midway crescendo that dissolutes into a fjord of hushed choir and sustained violins, only to propel forward anew, boiling and relentless, crested by a rendition of the main theme for men's choir and sparkling brass and culminating in a cyclonic eddy of violins and a final reprise of the main theme from horns.
Danny Elfman's score for HELLBOY II: THE GOLDEN ARMY is magical and muscular, richly and evocatively orchestrated, and a winning fantasy action score in every respect. Occupied by a raging and rhythmic legion of powerful horns and strings and percussion, the score is also embellished by an overarching tonality of horns and strings which give it a persuasive degree of melodic warmth for its second half. Replete will plenty of quirky touches – cool Theremin sounds and exotica rhythms a neat motif for sing-song choir over a very sturdy intensity of horns and percussion, driven by staccato strokes of violins and blaring trills of punchy, shouting brass, the score finds its most delightful evocation during director del Toro's marvelously inventive Troll Market sequence, with its dominatrix female choir and trilling winds. Climaxing with a cataclysmic array of mammoth horns and timpani, a gigantic shuffling figure of massive orchestral magnitude, supported by a thin arpeggio of strings, piano, and harp, moving into a Herrmannesque mix of raging orchestra and choir, progressing through a variety of surging motifs, figures, punctuation and counterpoint, and an ongoing deconstruction/construction of Elfman's primary musical elements in the midst of battle and triumph that can be quite breathtaking. This is a grand, energetic, and eloquent Elfman score.
Michael Giacchino's music for the Wachowsky's unique interpretation of SPEED RACER is a wondrous musical adventure interpolating elements from the old TV cartoon with the kind of modern, rhythmic material that seems to define contemporary action scoring – with Giacchino's own manic style elevating it to the n'th degree. The score essentially takes the film's title to heart and races along at a breakneck speed, demonstrating plenty of orchestral chops to manipulate, control, orchestrate, and drive to the finish line. Nobuyoshi Koshibe's Mach-Go-Go-Go/Go Speed Racer motif from the original TV show is fittingly laced throughout Giacchino's action music. SPEED RACER's score is derived from a variety of motifs and themes crafted by Giacchino or recalled from Koshibe and carefully chiseled into the high-octane rush of the action cues in a way that they all make sense and never fall into chaotic dissonance. Rhythm is the music's mainstay, straight-ahead and jet-speed rhythm, but there are moments of sublime eloquence remaining in the score. The score's mix of thematic elements, respectful and generous inclusion of material from the film's original source music, its pleasing fusion of retro with contemporary orchestral and jazz sensibilities, and its overall abundance of satisfyingly ferocious action music tinged with heartfelt poignancy makes SPEED RACER a thoroughly outstanding score.
Tyler Bates' score for Neil Marshall's post-apocalytic DOOMSDAY is a compelling hybrid of orchestra and synth, but it's nothing like what you'd expect from the "traditional" hybrid scores that you've heard before. It's epic and huge and yet it's also thin and synthy; Bates keeps his synths and his symphs at a distance from one another, and allows each to craft its own musical environment and attitude. While the score finds plenty of room for large scale orchestra, Bates also scores many scenes for synthesizers alone – resembling the tracks we heard back in the '80s when somebody's moog or synclavier that was all we had for musical accompaniment and nary an acoustic instrument was anywhere near the soundtrack. The final escape scene is a thoroughly thrilling composition merging together all the elements that have gone before: heavy orchestral surges, soaring horn ascensions driven by cyclonic swirling arpeggios of violins, barrages of synths, crystal clear electronic guitar soloing over female choir and solo voice, thunderous drumming, burbling pads of electronic textures – one of Bates' most compelling and interesting compositions to date. The score as a whole is really very appealing and attention-grabbing. Its calculated texture and orchestration is inventive and exciting, the score's musical integrity shining through at even its most chaotically dissonant.
In M. Night Shyamalan's enigmatic and ultimately unsatisfying thriller, THE HAPPENING, one thing that can be assured is that James Newton Howard's latest collaboration with director is solidly atmospheric and scary/spooky. The score begins by emphasizing what's happening to humanity, carrying a kind of DAY AFTER TOMORROW styled disaster-movie ominousness to them, a slow cadence of vaguely melodic tonality that evokes a sense of sorrow and loss; but once the nature of what's happening slowly begins to be revealed, the score turns darker and underlines the maliciousness of the phenomenon. Modular layers of tonality – strings and piano mostly – draft a sonic continuum of apprehension that keeps the listener/viewer pretty much on edge throughout. Cello is much in evidence in this score, performed by noted cellist Maya Beiser, which offers a pleasing, humanity-affirming respite to the alarming desperation of much of the score's pervasive apprehensivo. The score's melodic material comes to the fore in the final moments, where Howard's layers of melody ascend to a subtly powerful climactic resolution.
David Newman eschews the comedy spirit he has employed in so many movies of late and instead wraps himself in a dark, Gothic attitude for his score to Frank Miller's homage to Will Eisner's noir hero, THE SPIRIT. The score is as shadowy as the noirish Central City alleyways and concrete jungles that crimefighter Denny Colt inhabits in the film; the music plays it straight to Miller's SIN CITY-like interpretation of Eisner's brilliant graphic storytelling technique from the classic comics, with a score that inhabits a world initially quite similar to Danny Elfman's BATMAN, dark, massive, shadowy concrete and steel. Each of THE SPIRIT'S wily feminine foils is captured musically: the enigmatic and mysterious Lorelei Rox with an ethereal, sirensong vocal motif; Silken Floss with a silky cool, teasing lounge saxophone melody over jazz combo; Plaster of Paris with an alluring woodwind melody as sexily deceptive as the bellydancing character it accompanies; and Sand Saref, Spirit's lost love who now plays her cards on the opposite side of the law, with a sensual, sexy jazz melody just as sultry and bitter and dangerous as the Eva Mendez character. The motifs cling to each character like the tight, thin garments each of them almost inhabits. The major villain of the piece, Samuel Jackson's impeccably costumed criminal, the Octopus, is given a percussive motif made up of synth and string patterns layered over a jangly, metallic percussion – a kind of Gothic, dark industrial bling that Octopus wears with an arrogant pride. In addition to the characters, the environment of City itself has its own motif, a low rumbling bass guitar riff, that reverberates like liquid shadows around and between stone, brick, and mortar, humming with the life of the City in which these characters conduct their business, commit their crimes, capture their enemies, and fall in love. . But the heart of the score – and the story – remains in the Spirit/Sand Saref relationship, and these moments are where the score really soars. Sand's sultry theme echoes throughout the flashback moments their final kiss opens up the orchestra into a rapturous crescendo for French horn and strings, giving the motif its fullest and most virile musical moment. In the end, though, it's The Spirit's true mistress – the City – that wins the day, and Newman's score closes with a resolute reprisal of the Spirit Theme, in full DARK KNIGHT semblance, fused with the bass guitar licks of the City Theme. It's one of Newman's best scores and shows him to be his father's son: right at home in film noir.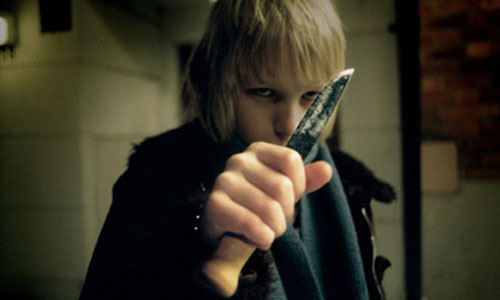 Swedish composer Johan Söderqvist has crafted a very personal score for Tomas Alfredson's striking vampire love story LET THE RIGHT ONE IN (Låt den rätte komma in) that juxtaposes elements of melodic beauty with dark and ominous textures (including the use of the unusual instrument, the bass waterphone). Söderqvist's score floats in the air like a crystal fog, a fluid mélange of melodic tonality that wafts down like freshly laundered bedsheets to give the film a soft and comforting atmosphere that belies its dark underbelly, just as the love story betwixt boy-meets-girl, boy-falls-for-girl, girl-happens-to-be-a-vampire-which-kinda-complicates-matters glistens with its own airy lightness above its romantic yet dark underbelly. The score's darker moments lay down a pervasive and weighty gloom through their low register and sustained tonalities. The boy is given a pensive and slowly-awakening motif for solo piano, reflective of his growing and very personal affection for the girl, whose loveliness of character is emphasized through a lilting theme for violins, rich in the passion for life and love. This is a very nice score, rich on pervasive atmospheres and compelling melodic phrasing.
James Horner provided THE SPIDERWICK CHRONICLES with a vibrant high fantasy score, brimming with adventurous melodies and passions. Musical flavors of HARRY POTTER and NARNIA, the film's conceptual brethren, inevitably find their way into the music, a moment here, and filigree there, but Horner's overall composition is expressive and elegant. With a trio of children as the film's protagonists, the musical approach is one of innocence and youthful decency, represented through a fine melody of violins. This lush, romantic flavored theme emerges out of a chaotic and entwined forest of wicked horns and winds. The motif, ascending slowly, becomes an airy and enchanting flight through the fantastic landscape of Spiderwick. Set against this light-hearted and innocently heroic theme are a series of darker orchestral intonations associated with the goblins and wicked faeries inhabiting the estate to which the kids come to live. The goblins are represented with an interesting, fast-tapped vibrato keyboard figure that punctuates the motif's martial cadence, progressing into a massive series of descending horn chords over a cyclonic swirling of strings, a huge measure of epic scope that emphasizes the strangitude of the developing story. SPIDERWICK CHRONICLES brings back the Horner of COCOON and CASPER, KRULL and WILLOW, gentle fantasies and morality plays with simple clear-cut and vastly likable melodic, larger-than-life scores.
Murray Gold continued to provide musical gold for the 4th season of BBC's new incarnation of DOCTOR WHO. For Series 4, Gold provided a richly melodic score that maintains and intensifies the style and scope of the first three seasons. Gold's "Doctors Theme Season 4" is a marvelously powerful and noble melody, orchestra and choir, reprising the Season 1 theme in a wonderfully expressive manner. DOCTOR WHO simply contains some of the best television scoring anywhere, from its melodious sonorities to its darker, harsher ambiances, its percussively-driven rhythm and harsh vocal chantings to the energetic scherzo for winds and strings for Donna, the Doctor's new companion for Series 4, and the fuzzy electronica and chaotic piano embodying the theme for Davros. In the end, though, it's the heroic music for Doctor Who, the timelord, that best characterizes the show's sound design and gives the series its anthemic signature.
Gold's music, composed in concert with his DOCTOR WHO arranger/conductor Ben Foster, is equally winning for the sister series, TORCHWOOD. An assemblage of full-blooded orchestral compositions, the TORCHWOOD soundtrack features an array of powerful and attractive dramatic melodies. More of a contemporary thriller than its Tardis-traveling bigger brother, TORCHWOOD (the title is an anagram of "Doctor Who") has to do with a former Time Agent battling hostile extraterrestrial and supernatural threats in early 21st century Cardiff. The music, therefore, is more of contemporary action vibe that WHO's more overt fantasy and science fiction accommodations. The score is edgier, often including a rock and roll pulse. While Gold and Foster share equal billing, it is reported that the bulk of the composition on TORCHWOOD is Foster's bailiwick, and here he shines. The music is highly melodic, very expressive. It introduces, accompanies, and often says goodbye to major characters while supporting the show's action with a solid contemporary vibe. All of the character themes are lovely melodies, very nicely nuanced and relayed, while the main TORCHWOOD theme is a straight ahead action rendering for keyboards and percussion over a very interesting bed of active synth textures. Captain Jack's Theme, which comprised the show's title music, is modern, confident, maybe even a tad arrogant, and contrasts nicely with the audacious poignancy of many of the show's melodies and motifs.
While boasting the most enigmatic title, dullest poster image, and most controversial title song in 007 history, the latest James Bond action fest, QUANTUM OF SOLACE, contained another first rate score by David Arnold. The title song, "Another Way to Die," written by The White Stripes' Jack White and sung by he and modern pop diva Alicia Keys, may be rougher around the edges than the graceful sensuality of, say, Shirley Bassey's "Goldfinger" or k.d. Lang's "Surrender" (which, while relegated to end-title status in TOMORROW NEVER DIES, is arguably the best James Bond song of the last decade), it's not as bad as many critics have decried, and offers a clear fusion of Bondian brasses and contemporary rock songsmithing. As for the score proper, Arnold's latest approach is consistent with that of his last four go-arounds, splendidly Barryesque, massively orchestral, and rich in powerful melodies that drive the action cues and lend an elegance and an allure to the film's flamboyant energy. The music retains a fluidity even when at its most dissonant activity, and conveys a melodic tonality that keeps the music romantic despite its muscular intensity. Action scenes area steady riot of orchestral propulsion, punches of brass driven by pounding drums, pulses of winds, and entwining stretches of strings. It takes on a pleasing rhythm that in itself is rather controlled even though the pulsating bits that make up that rhythm, the fragments and phrases of Arnold's Bond motif and other elements, are fairly energetic and fast-paced. In QUANTUM OF SOLACE, David Arnold's music continues to embody both the propulsive action and the masculine sensuality of the James Bond character; it's an extremely appealing score which embraces that duality and provides a charismatic intensity that mirrors the essential allure of the 007 character and his ongoing adventures.
Trevor Rabin's music for new GET SMART movie is an appealing mix of modern Zimmeresque action movie propulsion and retro 60's action material – lots of hybrid epic action drive and lots of 60's electric guitar wafting around it all. Rabin makes a lot of use of Irving Szathmary's 1965 TV theme, giving it a modern edge and dynamic, and it is the anchor upon which Rabin hangs the rest of his score. The score incorporates the usual kind of rhythmic fusion of synth and symphs that Media Ventures acolytes continue to pave their scores with – and I say that without real denigration as I tend to like that approach to deriving epic-styled dramatic hero-action music even though it's become a little too pervasive in contemporary film scoring. But once Rabin lets his angelic strings and French horns part the way and he launches into a furious, rock-driven variation of the GET SMART TV theme we know we're in for a good sounding time. There are four ensuing and distinct variations of the get Smart theme, each of them takes the Szathmary theme into different musical directions and each is a refreshing bit of retrograde refurnishing in which the TV theme sits well in a new environment of, say, funky R&B grooving or Latin percussion riffing, or a bluesy Schifrinesque urban groove. Max Smart's relentless march down the corridor of multiple doors has never sounded so dynamic. The rest of the score is a marvelous compendium
The music of Rob Lane and Rohan Stevenson for the UK miniseries MERLIN is, as one might expect from a fantasy adventure about the age of King Arthur, a lavish composition brimming with full-blooded orchestration and choir. The score is richly romantic and splendid swashbuckling, while evoking through mysterious chorale strains the more mystical elements of the Arthurian sorcerer. The score shifts moods frequently as dictated by the direction of the story, and is a thoroughly engaging composition, wonderfully melodic and orchestral.
Relishing the Rarities: 2008's Restorations & Reissues
Also of note are these soundtrack restorations and reissues of older scores, released during 2008:
The inaugural soundtrack release of the new label Elysee Productions, issued the world premiere soundtrack of the 1969 Philippines horror exploiter, THE MAD DOCTOR OF BLOOD ISLAND (also known on the reissue circuit as TOMB OF THE LIVING DEAD and GRAVE DESIRES). This was the second film of the "Blood" quadrilogy that began with 1968's BRIDES OF BLOOD and would spawn 1971's BEAST OF BLOOD and 1972's BRAIN OF BLOOD; but MAD DOCTOR was the first to have an original film score (BRIDE used ill-fitting classical excerpts as a budget-saving measure). The BLOOD films, through their mixture of sex, gore, and jungle exotica in some surreal narrative packages have become cult favorites among exploitation and Asian horror cinema fans. The score to THE MAD DOCTOR OF BLOOD ISLAND is classic horror music, quite potent on its own and it stands up well against the work that such notable Hollywood B-movie composers as Paul Dunlap, Ronald Stein and Les Baxter were doing at the same time. Composer Tito Arevalo began as an actor who worked in the Philippine film industry since the 1930s, moving into musical direction and composition in later decades. His last original film score was 1979; he died in 2000. Composed for orchestra enhanced with chorus for the Main Titles and a couple of Steiner-worthy native dance cues, the music has a slightly exotic edge while enhancing the film's excitement and the danger of the zombies created by Blood Island's resident mad scientist, Dr. Lorca. There are a number of excellent renditions of ferocious monster music that really enliven the score and give the film's low-budget a big added value enhancement. MAD DOCTOR OF BLOOD ISLAND is a first rate horror score by any measure, and one that Elsee's producer Tim Ferrante strove for two decades to bring to CD. The 8-page CD booklet discusses the history of the film, the soundtrack, and Arevalo's place in the pantheon of internationally notable film composers.
Emmy-award winning composer Christophe Beck scored, mixed and produced BUFFY THE VAMPIRE SLAYER – The Score CD, released by Rounder Records. After several song-based Buffy music albums (songs used in the shows), Beck's outstanding underscore can now be appreciated outside of the several bootlegs it had previously been available on. The Score contains 29 tracks, all drawn from seasons two, three, four, and five. While the alt rock performed by various bands provided much of the Buffyverse's angst, Beck's music provided both its soul and its bite. From traditional if only slightly Gothic-tinged horror music to the warm, emotive melodies that really endeared the show and its characters to audiences, Beck brought all of the VAMPIRE SLAYER'S multifaceted components to life. With 29 tracks from three seasons (more than half of the album comes from Season 4), the selections cover many of the most significant musical moments of the show. You don't need to be a Buffy fan to appreciate the powerful fragrances of Beck's music from the show; it's strength and emotive intensity is evident on its own; and capably relayed through this important collection of musical moments. With a handful of song-based albums, we've waited far too long for a true score album to emerge. Thanks to Beck and Rounder Records for having finally filled the gap.
FSM released an ambitious 8-CD box set that gathered together all of the music for the SUPERMAN franchise of the 1970s and '80s, from John Williams seminal and signature music for Richard Donner's SUPERMAN: THE MOVIE, through its three sequels and onto its life as an animated series on TV. All of the music is drawn from Williams' 1978 themes; adapted by Ken Thorne into the scores of SUPERMAN II (1980) and SUPERMAN III (1983), by STAR TREK'S Alexander Courage into SUPERMAN IV: THE QUEST FOR PEACE (1987), and by Star Trek: TNG's Ron Jones into the animated show (1988). The eighth CD contains a plethora of alternate tracks from the first three SUPERMAN movies and a fistful of very dispensable disco songs written by Giorgio Moroder for use in the latter movies. The 8-disc set is thorough to the point of overindulgence; but for those eager to savor every second of soundtrack music, it is a noble and very definitive set and recommended for those like me who must have it all. A very thorough cd-sized 160-page hardback book analyzes the films, the music, and the CD tracks in voluminous detail.
One of the year's most extraordinary archival restorations is Max Steiner's expressive score from SHE, Merian C. Cooper's 1935 adaptation of the H. Rider Haggard fantasy novel, released as the third volume in the newly launched Tribute Film Classics series (following 2007's MYSTERIOUS ISLAND and FAHRENHEIT 451). Fully reconstructed by the masterful John Morgan and recorded by the full prowess of the Moscow Symphony, conducted by William Stromberg, this new presentation of the score allows Steiner's breathtaking composition, restricted in its original recording to a small orchestral size, musical passages truncated during editing, and the limited range of mid 1930s recording technology, to be expressed in its fully intended scope for large orchestra of up to 60 players and spectacular digital recording technology. At the same time, the Morgan/Stromberg team are true to Steiner's musical intent for the score, embiggening its sonic dynamic without imposing any improper nuances that its composer hadn't intended. The clarity of the new recording allows the score's striking textures and orchestrations to be fully heard and appreciated across the breadth of the soundscape; hearing the score thus is like lifting the veil off of the hidden land of Kor itself, allowing the music to be fully realized for the first time.
Percepto Records' release of the complete score from Georges' Delerue's masterful THE DAY OF THE DOLPHIN finally gives this wonderful score its due. The score remains one of Delerue's most beautiful scores – and that's saying a lot, as he wrote plenty of them. But the romantic fragility of his main theme, whether played by flute, strings, or plucked harp, is hauntingly attractive and unforgettable. Delerue, known for his lush romances, was an unusual choice but proved to be on the mark, emphasizing not the dark political turmoil of the film's subtext but the more implicit love story between man and dolphin that is its center. Yet his exquisite love theme is contrasted by plenty of dark passages that underline the malevolent use to which the dolphins are to be put. Percepto's recording restores nine unreleased tracks and contains a hefty and well illustrated booklet with thoroughgoing notes.
Another notable score to receive its first valid CD release in 2008 was Elmer Bernstein's massive fantasy score for the 1981 animated feature film, HEAVY METAL, is finally given its due on CD through a nicely restored release from FSM. The label aptly refers to HEAVY METAL as "Bernstein's STAR WARS" which isn't far off the mark. It's a thundering symphonic work comprised of a wealth of disparate music for each of the film's segments. Performed by the Royal Philharmonic Orchestra, the music is powerful, persuasive, and poignant, as epic as the film tried to be (but failed). FSM's release presents the complete score, remastered from the original ¼" stereo tapes in the Bernstein collection at USC. The score is simply breathtaking, vivid with soaring melodies, earnest crescendos, and the kind of marvelous, surging melodies that nobody but Bernstein could do with such orchestral energy. There is swashbuckler aplenty, passionate and surging melodies, heroic measures and motifs – often in the same cue. HEAVY METAL is distinctly and definitively Bernstein and one of the best scores of his career; simply a must-have score for any serious filmmusicophile, and FSM has done a fine job presenting it on CD for the first time.
From Italy's Digitmovies, which along with DGM continues to restore and release a fistful of significant Italian fantasy and horror scores of the 60s and 70s. Digitmovies' May release of Sante Maria Romitelli's persuasive score for Mario Bava's potent 1969 Euroshock thriller, HATCHET FOR THE HONEYMOON expands the previous CD release of the score by adding 13 previously unreleased tracks. Romitelli's score ranges from a sweeping classical waltz that opens the film to cacophonic riffing of electric guitar and shimmering electronics, and an intriguing fusion of melody and atonality from both acoustic and electronic instruments. A delightfully pop-ish variation of the main waltz recurs several times from flutes and harpsichords, giving it a quite compelling texture. A secondary motif proffers a mix of light melody from flute over electric bass drumset, and mixed percussion that takes on a lullaby characteristic evocative of the main character's youth. Whereas the stereo tracks culled from the prior RCA release emphasized the score's lighter side through gentle melodies, melodic waltzes, and compelling musical intimacies, the new tracks included on the Digitmovies release really emphasize the striking use to which Romitelli has put the electric guitar as a significant element of his musical pallet here. Not unlike the pervasive use of that instrument in the same year's ONCE UPON A TIME IN THE WEST, which forever linked the electric guitar with wild west gunfights through Morricone's brilliantly realized score, Romitelli's powerful profusion of solo and emphasized electric guitar in HATCHET FOR THE HONEYMOON is commanding; his score is a mesmerizing and psychedelic alteration of traditional horror scoring with a fascinating fusion of classical, early electronic, lounge/pop, and straight ahead rock and roll.
La-La Land Records has released a sumptuous 3-CD collection of original soundtrack scores from the classic 1965 TV series, THE OUTER LIMITS. Featuring suites from nearly a dozen episodes and a plethora of variations on the main title theme, with and without the famous "Control Voice" opening and closing narrative, the new release includes Dominic Frontiere's music from the show's first season (the second season had a complete change in management, with music brought over from Harry (ONE STEP BEYOND) Lubin). While OUTER LIMITS was the work of a single composer rather than the shared effort of many composers like its older cousin, THE TWILIGHT ZONE, it shares many of the same musical attributes as that legendary Rod Serling series, intricately phrased mysteriosos, moody phrasings associated with characters' psychologies, and all manner of melodies and instrumental textures befitting each individual story. Frontiere, who reused some of the music for his underscore on THE INVADERS, drew a deft hand when composing for macabre, fantastic, and horrific subjects, the music from THE OUTER LIMITS demonstrates the versatility of a capable composer and reflects the creative environment of the group of talented artists who gave us a compelling anthology series.
Another very noteworthy release from La-La Land Record's is their 2-disc premiere collection of Mark Snow's music from the TV series MILLENNIUM. While a much darker show than THE X-FILES, Snow's other collaboration with creator Chris Carter, the music is actually among his most passionate and heartfelt. Snow crafted an elegant sound design that captured the show's duality between dark and light, good and evil, while also providing unique approaches for each episode during the show's three seasons. Comprising 26 tracks from 19 episodes over four seasons, this is some of the most affecting music you'll ever hear on television. From the eerily beautiful violin theme that opens the show and characterizes the brightness of the Yellow House in season one, to the eclectic variety of music – menacing choral and synth atmospheres, a disturbed children's piano melody, deliciously spooky Halloween music, the mesmerizingly beautiful soprano nymph's theme from "Omerta," the hilarity of Snow's demonic tunes (including a brilliant parody on his own X-FILES theme) for one of Darin Morgan's humorous episodes, to Snow's delightful retake on an X-FILES score in the jazzified "Jose Chung's Doomsday Defense," this is a thoroughly compelling and interesting collection of eloquent and atmospheric music.
Intrada, which rescued about 30 notable scores from oblivion last year and released them in its Special Collection series, provided one of Christopher Young's best science fiction scores last year with SPECIES. Previously unavailable except via a short suite on a compilation disc or on a limited promotional CD issued by the composer, SPECIES after thirteen years made it to CD in a splendid package. The music is brooding and action-oriented, with fine mysteriosos and an ongoing atmosphere of menace and danger, giving the film a consistent tension for nearly all of its running time and intensifying the story about cloned alien DNA seeking reproduction of its species. The score is rippling with hybrid synth and acoustic textures, seething low chords sparring against ethereal choral passages and insistent string figures. There are massive dissonances, rhythmic chord-progressions and eerie tonalities, avant-garde and atonal measures, bells and blasts and sinewy strings and pounding percussion and almost every other truck in the book, but it all works together beautifully; the SPECIES score is provocative and unsettling, passionate and potent, a muscular horror score with a pervasive femininity, since after all the alien monster is a female, albeit an exceeding powerful female. Young's musical sound for Sil evokes both aspects of her purpose-driven life. The breadth of its orchestration is remarkable, evoking a fusion of musical elements that crafts a creepy and consequential musical composition. Young continues to tread the outer reaches as well as the forefront of filmscoring with scores like this; he has shown his capabilities in virtually every genre, but can't help but return to his first love with scores like this. The Intrada soundtrack provides both Young's orchestral score as well as, separately, a trio of synth-and-percussion tracks in a more contemporary style that were used for scenes of Sil prowling the streets of Los Angeles. Comprehensive notes from Jeff Bond complete an excellent package.
Also of note is one of several compilation album England's Silva Screen released in 2008. The Essential Harry Potter Film Music Collection contains a fine assortment of music from each of the (so far) five HARRY POTTER movies spread across two discs. Very finely performed by the City of Prague Philharmonic, the first disc contains the John Williams' exuberant and enchanting music for SORCERER'S STONE (under its English title, PHILOSOPHER'S STONE), CHAMBER OF SECRETS (as adapted by William Ross), and PRISONER OF AZKABAN, while disc 2 contains Patrick Doyle's GOBLET OF FIRE and Nicholas Hooper's ORDER OF THE PHOENIX, both of which elaborate Williams' initial ideas into new but compatible styles of their own. Disc 2 also includes a closing reprisal of Williams' "Hedwig's Theme" which makes a suitable coda for the collection. The double disc set is thorough yet concise, gathering the significant thematic and cinematic moments of the five films into a very likable collection of fine film music.