Producer-director Roger Corman's fourth Poe film (the third starring Vincent Price) benefits greatly from the anthology format, which allows Edgar Allan's Poe's stories to reach the screen with relatively less embellishment; consequently, the strengths of the previous films (atmospheric camerawork and production design) are retained, while the weaknesses (limited settings and padded stories) are overshadowed. Price is given three distinct characterizations to show off his range, including one that showcases his comedic talents; the script by Richard Matheson (who previously dramatized HOUSE OF USHER and THE PIT AND THE PENDULUM) introduces a touch of comic relief, an element that would emerge more fully in the follow-up THE RAVEN. Also, the success of the previous Poe films led to a budget increase that allowed for a stronger supporting cast, which included horror veterans Peter Lorre and Basil Rathbone. Overall, the film is a lavish-looking, stylish piece of work that can still hold an audience's attention. The fear factor, however, is decidedly mild, mostly taking the form of a general sense of dread and decay; the two major shock sequences (Morella's attack on Locke and Valdemar's attack on the hypnotist) are not bad, but neither one is a match for the pendulum sequence in PIT AND THE PENDULUM.
Three half-hour episodes are linked together with brief snippets of narration from Price: "Morella," "The Black Cat," and "The Case of M. Valdemar." The first segment plays out like a condensed version of the previous version of Matheson's first two Poe scripts, with Price as Locke (his name in the credits, which is not heard on screen), yet another obsessive agoraphobic (a la Roderick Usher), locked in an old house visited by an unwelcome guest, in this case an adult daughter whose birth caused his wife's death decades ago. Locke's late wife returns to possess her daughter and take revenge on her husband—a variation on a plot element from Poe's "Ligeia"—before the ancient manor inevitably burns down (using stock shots from HOUSE OF USHER).


The episode exemplifies both the strengths and weaknesses of Corman's previous Poe adaptations: nifty tracking shots, good sets (by Daniel Haller), atmospheric photography (by Floyd Crosby), and Price's performance; counterbalanced by the weakness of the supporting players. Maggie Pierce, who plays Locke's daughter, is adequate, and Leona Gage is stunningly beautiful as Morella, but she is unable to register a convincing level of menace on screen (where, oh where, is Barbara Steele when you need her?).
"The Black Cat," which incorporates elements from "The Cask of Amontiallado," was an intentional effort by Matheson to inject humor as a change of pace in the middle of the three-part film. Peter Lorre (the title character in Fritz Lang's M) plays an inebriate whose search for wine leads him into a tasting contest with Fortunato Lucresi (Price). Forced to bring the drunken Montresor Herringbone home, Fortunato begins an affair with his wife Annabel (Joyce Jameson). Realizing what has happened, Montressore kills Annabel and walls her up, along with Fortunato who is still alive. Unfortunately for him, he also walls up the titular feline, whose screeches reveal the hidden bodies to the police. Price and Lorre, along with co-star Joyce Jameson, do a good job of playing the script for laughs. The tasting contest, in particular is a highlight, thanks to Price's outrageous facial contortions as he savors each mouthful of wine, which contrast with Lorre's off-handed throwaway lines (e.g., "from the better slopes of the vineyards").
Of working with Lorre, Roger Corman recalled, "It was great! I must say Peter Lorre was one of the funniest people you would ever meet. And highly intelligent and very well educated. So you're talking with a man who could come up with great ideas for full-out farce, and at the same time justify it intellectually and thematically in terms of Poe. It was immensely stimulating. Peter Lorre's background was different from Vincent's. Vincent had gone to the Yale School of Drama; he was very much trained as a classical actor. Peter came out of Germany, had worked with Bertol Brecht, and was very much into the German version of the Stanislavsky method, which was very close to the American. Their styles were distinctly different, but they were both intelligent and very sensitive actors, and they were able to work together very well, particularly in the wine-tasting sequence. In that scene, I said, 'Peter, it is totally improvisational; you're off the wall. Vincent, you're totally classical.' When the film first came out, that scene got a great reaction from the audience. I said to the semi-expert [wine taster], whoever he may have been—I don't even remember—'Talk to Vincent; stay away from Peter.'"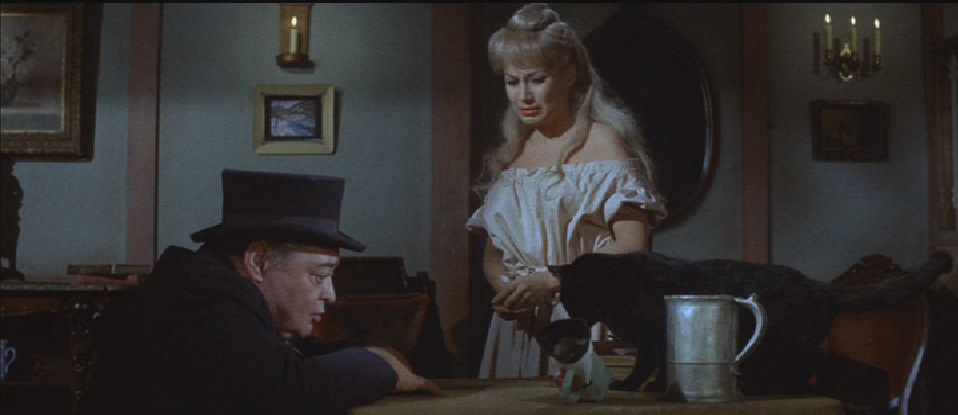 Price, on the other hand, recalled his co-star as "a sad little man," adding. "He wasn't very happy: he'd put on too much weight; he was not well. He never really learned the script; he felt he could improvise and make it better, and in many cases he did. He had been an actor once, but by this point he had become a caricature: he'd do his own imitation by holding his nose. He'd become this character, 'Peter Lorre," and he figured that's what the audience wanted to see, so that's what he would give them."
The final episode, "The Case of Mr. Valdemar," features Basil Rathbone (famous as Sherlock Holmes in films and on radio) as a mesmerist who hypnotizes Price's character on his deathbed, thus prolonging the actual moment of death. The script adds a twist, with the mesmerist using his influence over his patient to try to gain control of Valdemar's wife (the beautiful and desirable Debra Paget). Fortunately, Valdemar comes out of his trance and manages to throttle the evil mesmerist before melting into a "liquid mass of loathsome…detastable putrescence." Despite decades as a horror star, this appearance as a living corpse represents Price's first supernatural monster character. The eerie sense of death delayed but not averted is effectively conveyed, and the resurrection scene is reasonably well done, with some blurry lap-dissolves preventing the camera from viewing the makeup too closely; the scene feels slightly truncated, however, and therefore anti-climactic (the camera cuts away before Valdemar actually gets his hands on the hypnotist). The script shows some evident Matheson touches (Valdemar thanks his wife for sharing "the sweat measure of her soul" with him—a line Matheson would paraphrase in his novel WHAT DREAMS MAY COME), and David Frankham and Paget provide solid support in the acting department, making this a reasonably powerful climax to the three-part film.


Price recalled that his co-star Rathbone had changed over the decades (Price and co-starred with Rathbone and Boris Karloff in 1939's THE TOWER OF LONDON). Rathbone, like many aging actors from Hollywood's Golden Era, found it difficult to keep working in an industry now looking to appeal to the drive-in youth market.
"I think he was very disillusioned, very bitter, because he really had been a great star. People forget that, because they think of him as Sherlock Holmes, or they think of him as a villain. But he had been a great Shakespearian actor, a great star in the theatre and in movies. And he suddenly found himself—as we all did when Jimmy Dean and Marlon Brando and those people came out, and there was a kind of speaking in the vernacular, and all of us spoke with trained accents and trained English—if you wanted to stay in the business, you bloody well went into costume pictures. And Basil rather resented that."
Roger Corman had this to say about working with Rathbone: "Basil would be immensely well prepared, with a fully developed performance and would play the script to the letter, so that just a small amount of discussion [was needed]. A very meticulous and a very consistent actor—from take to take it did not vary."

Also shot, but never shown, was a brief sequence of Valdemar's soul trapped in Limbo. "It didn't work," Corman has said. "I shot it, put it together, and for whatever reason I made the decision to take it out. It was a short sequence, and I was dissatisfied with it, and I don't even remember why. It may have been for this reason: these pictures really were rather low-budget films. We tried to make them look more expensive than they were, but they really were quite low-budget. I think when I looked at the Hades sequence, for five minutes, it really didn't look right."
Corman added, "We used certain colored gels and filters. The work we did, we thought was good for the 1960s; it pales by comparison to what can be done with the press of a button with computer graphics today. There were two reasons for the Hades sequence: one was to illustrate what Valdemar was going through. Also—and this was a problem with all of the Poe pictures—they were very much interior; they were shot in one or two rooms, and I was always worried about a claustrophobic feeling, that you were almost having a stage play photographed. I would take any possible way I could to break out of the confines of those rooms. That is the reason for some of the [dream/hallucination] sequences and one of the reasons for the 'Hades' sequence."
Although successful, the profits did not match those of previous films. "TALES OF TERROR did well, but not as well as the others, and we felt it was because we had gone to the trilogy format," Corman recalled. "We did a little research and found that in general the multi-part films had not been a successful genre. In the age of television, the audience maybe—I don't know—thought they were seeing three half-hour television shows."
TRIVIA
Price, Lorre, Rathbone, and Jameson would reteam, along with Boris Karloff, in the 1963 film COMEDY OF TERRORS, also written by Matheson.
The two-part Poe anthology TWO EVIL EYES, from Dario Argento (SUSPIRIA) and George Romero (NIGHT OF THE LIVING DEAD) is virtually a two-thirds remake of TALES OF TERROR, featuring episodes based on "The Case of M. Valdemar" and "The Black Cat" (although done in contemporary, not period, settings).
DVD & HOME VIDEO DETAILS

TALES OF TERROR has never been released on Blu-ray. Fortunately, the film is available as a stand-alone DVD and also as one of MGM's Midnight Movie Double Bill DVDs, paired with TWICE TOLD TALES (an obvious imitation, with Price starring in three episodes based on stories by Nathaniel Hawthorne). The disc offers TALES OF TERROR in a good widescreen (2.35 aspect ratio) transfer. The soundtrack is monophonic with English dialogue, with options for Spanish, French, and German subtitles. The only bonus features are coming attractions trailers for both films. TALES OF TERROR is also available on Netflix Instant View.
TALES OF TERROR (AIP, 1962). Produced and directed by Roger Corman. Screenplay by Richard Matheson, based on stories by Edgar Allan Poe. Cast: Vincent Price, Peter Lorre, Basil Rathbone, Joyce Jameson, Debra Paget, David Frankham, Leona Gage, Maggie Pierce, Wally Campo. Allen DeWitt.
NOTE: This article copyright 2005 by Steve Biodrowski. Some of the material herein is derived and adapted from the cover story on Vincent Price that Steve Biodrowski co-authored with David Del Valle and Lawrence French for the January 1989 issue of Cinefantastique magazine.
[serialposts]